Dr Giovanni Picker
Lecturer in the Sociology of Inequalities

(Sociology)
telephone: +44(0)1413301774
email: Giovanni.Picker@glasgow.ac.uk

https://orcid.org/0000-0002-5789-9139
Biography
I am currently a Lecturer (Assistant Professor) in the Sociology of Inequalities. I received my Ph.D. in Sociology and Comparative Urban Studies from Milan-Bicocca University (2009), and a B.A. + M.A. (Laurea) in Political Sciences and Cultural Sociology from the State University of Milan (2004).
Research interests
As an ethnographer interested in urban life, politics, economy, and culture, I examine dominant logics and shared understandings of belonging, moral worth, incorporation, and exclusion. I am especially interested in race as a principle of social organization, and the ways in which racism plays out at the crossings of everyday life and urban politics.
Since 2005, I have been researching and teaching these social phenomena across a number of European cities in Kosovo, Romania, Italy, France, the UK and - more recently - Germany. In 2017 I published Racial Cities: Governance and the Segregation of Romani People in Urban Europe [Routledge], a monograph which ethnographically and historically explains the genesis and persistence of segregated residential areas in European cities, that are typically stigmatized as "Gypsy urban areas".
I then co-curated a series of thematic collections on the relationships between urban spaces, the state and everyday forms of domination, always with a view of critically enlarging the theoretical horizon and to decentre typically West-centred perspectives. Two of these edited collections are
Racialized Labour in Romania: Spaces of Marginality at the Periphery of Global Capitalism [Palgrave, 2018], edited with Enikő Vincze, Norbert Petrovici, and Cristina Raţ. A series of empirical and theoretical studies critically examining the making and persistence of impoverished areas at the margins of Romanian cities since the late 1980s.
European Cities: Modernity, Race and Colonialism [Manchester University Press, 2022], edited with Noa K. Ha. A collection which rethinks European urban modernity by engaging multiple combinations of global urban studies and postcolonial, decolonial and race critical theories from various historical perspectives.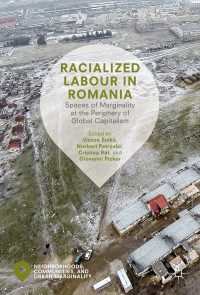 My next research projects continue in different ways and empirical contexts the efforts towards understanding and explaining the intersectional relations between race and contemporary European urban societies.
Related research interests
Ethnographic/Sociographic theory and writing
Anthropology of policy
Global and European histories of the Left
Theory and history of Socialism and Postsocialism
Supervision
PhD Students I am currently supervising:
Chase Beecroft - Race Critical Theories
Leslie Molina - The Racial State and Migration in US and UK
Rohit Rao (CoSS) - Race and Education
Nichelle Santagata - Black Women's Mental Health
Concetta Smedile (Cordoba) - Romani Women and Activism in Sicily
Teaching
2022-2023
Global Inequalities (BA) Contributor - Semester 1
Racial Justice and the City (MA) - Semester 1
Ethno-graphing Race and Racism (BA Hon) - Semester 2
Additional information
I am a Fellow of the Higher Education Academy
I am the coordinator for Central and Eastern Europe and Russia of the Summer School on Black Europe: Interrogating Citizenship, Race and Ethnic Relations. For any information on the Summer School, please email me. All details here: blackeurope.org
More information on my work is available on my personal website.