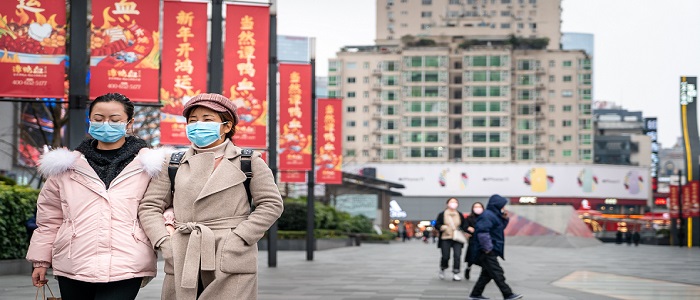 COVID-19: Understanding Chinese government containment measures and their societal impacts'
Research
Research
The Centre brings together researchers specialising in China in universities across Scotland. Its distinctiveness and strength in research come from its multi-disciplinary range, pulled together currently into three strategically significant and cognate areas:
Governance, Public Policy and International Politics
This cluster brings together expertise in:
Chinese public policy and governance (Duckett, Snape, Wang and Struve)
Environmental politics (Munro, Chng)
Urbanization and housing (Wang, Madgin)
Projects include:
ESRC Standard Grant Scheme, 'Performance evaluations, trust and utilization of health care in China: understanding relationships between attitudes and health-related behaviour', £508,678. Duckett, PI, with Munro, Hunt (MRC) and Sutton (Manchester), 2012-15
ESRC Rising Powers Grant, 'Rising Powers: Unequal Powers, Authoritarian Powers, Unstable Powers?' £574,174. White, PI, with Munro, Duckett, and McAllister (ANU), 2012-15.
ESRC Rising Powers Grant, 'Expanding, Not Shrinking Social Programmes: The Politics of New Policies to Tackle Poverty and Inequality in Brazil, India, China and South Africa' £327,597. Manor, PI, with Duckett, Tillin, Pereira, Howell. 2012-15.
EuropeAid, European Environmental Governance Programme, 'Public participation in environmental governance: the Jiaxing Model and it applicability in Zhejiang Province,' Euros 420,000. Partnership of Center of Environmental Education and Communications of Zhejiang Province with European Foundation for Social Quality, University of Glasgow (Munro), University of Leeds, Zhejiang University and Zhejiang Gongshang University, 2012-14.
International Economic Relations, Business and Law
This cluster brings together Glasgow expertise in:
Competition law (Furse)
Economic growth and development, corporate investment and finance (Ding)
The influence of networking behaviour on the internationalization process and strategies of Chinese small and medium-sized enterprises (Tang)
Employee branding in Chinese organisations (Zhang)
Doctoral student research in this cluster examines:
Chinese lending and the Belt and Road Initiative (K. Zhang)
Anti-monopoly law (Z. Wang)
Merger control law (Y. Li)
Collectively this research grouping focusses on the experience of economic transformation on the evolution of Chinese business and entrepreneurial practices, and on understanding the implications for Scotland/UK of China's developing banking and financial services sector and international trade.
Projects include:
ESRC Small Research Grant Scheme, 'Understanding Enterprise Investment in China' £74,420. Ding, 2009.
Adam Smith Research Foundation (ASRF) Seedcorn Fund Projects Award, 'Strategies for Success of UK Banks in Emerging Markets: A Case Study of HSBC in China'. £1990. Zhang, 2012.
New Zealand Postgraduate Study Abroad Award (NZPSAA), 'Contemporary Leadership Approaches in Chinese Enterprises' NZ$4000. Zhang, 2009.
Arts and Humanities
This cluster encompasses research by Professor Nick Pearce, Dr Minna Törmä and colleagues in Art History, as well as research on modern Chinese culture and its intersections with Europe by Dr Hongling Liang.
It includes the China Art Research Network, which brings together art historians, archaeologists, museum and art world professionals who specialise in China and who work on object-based research in disciplines including history, technical art history and conservation. At the core of CARN is research, with an emphasis on a range of materials from Chinese painting to jade carvings.
CARN was launched March 1, 2016 with a 24-month grant from Royal Society of Edinburgh (RSE) Art and Humanities Networks scheme and it is led by Dr Minna Törmä, History of Art. For more details please see https://carnuk.wordpress.com.
Doctoral student research in this cluster examines:
Patterns of collecting (Knittler), Art exhibitions (Steuber), Design (Y. Wang), Criticism (Hu), and Conservation (Lu).