Dr Brian Smith
Senior Lecturer

(Molecular Biosciences)
telephone: 01413305167
email: Brian.Smith@glasgow.ac.uk

B4.20 Level B4, Molecular Cell & Systems Biology, Joseph Black Building, Glasgow G12 8QQ
https://orcid.org/0000-0003-3363-4168
Research interests
NMR spectroscopy
Nuclear Magnetic Resonance spectroscopy is the only technique that can determine high-resolution structures of macromolecules in solution, and can also probe molecular motion and intermolecular interactions. Brian's group use the technique to study the structures and functions of proteins and nucleic acids involved in interesting processes in a variety of systems. They are also interested in developing NMR methodology. They have a recently updated 600 MHz NMR spectrometer (2013) equipped with a cryoprobe. High-resolution molecular structures are normally determined in vitro, but Brian was part of the team that solved the first structure of a protein inside living cells. We collaborate widely with other biologists and chemists and currently have particular interests in the biophysics and application of natural surfactant proteins, in fatty acid binding proteins from nematode parasites, in the structural basis of epigenetic gene regulation, in the regulation of viral life cycles, in the molecular basis of endotoxin sensing, and in ultraviolet light perception by plants.
Natural surfactant proteins
Surfactants are typically small molecule amphiphiles, but these are typically disruptive to cells. Proteins that act as cell compatible surfactants have arisen independently several times in evolution. Brian's group study ranaspumins found in the foam nests of tropical frogs and the salivary and airway surfactants, equine latherin and human SPLUNC1. The conformational transition that these proteins undergo to convert to their surface active forms sets them apart from other classes of protein surfactants. The group are also exploring biotechnological applications of surfactant proteins.
Collaborators: Prof Malcolm Kennedy, Dr Mathis Riehle, Prof Cait MacPhee (University of Edinburgh), Prof Matt Redinbo (UNC Chapel Hill, USA).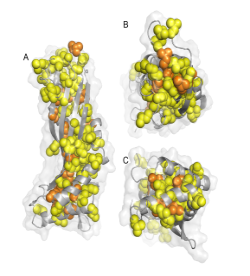 Figure 1 Three views of a cartoon of the structure of the solution form of the surfactant protein latherin showing the locations of the many leucine (yellow) and isoleucine (orange) residues as spheres. (PDB:3ZPM)
Novel fatty acid binding proteins
Brian's group studies the structures and ligand binding properties of novel fatty acid binding proteins from parasites. Parasitic nematodes are responsible for some of the most widespread and pernicious diseases in the developing world as well as causing losses in agriculture. The parasites must scavenge metabolites, including fatty acids and retinoids, from their hosts and maintain a reservoir of fatty acid binding proteins in their pseudocoelemic fluid. Brian's group have determined the structures of nematode polyprotein antigen subunits (NPAs) and fatty acid and retinoid binding proteins (FARs) and more typical FABP proteins and are examining their lipid binding in detail.
Collaborators: Prof Malcolm Kennedy, Prof Betina Córsico (INIBIOLP, Argentina).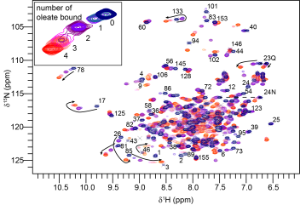 Figure 2 Fatty acid binding by Na-FAR-1 followed by 15N HSQC NMR spectra. The peaks arising from the amide NH of each amino acid residue are seen to jump from one position to another as oleate is titrated into the protein indicating that it can bind multiple ligands, adopting a distinct conformation in each case.
Structural basis of epigenetic gene regulation
Epigenetics describes heritable changes in gene expression that do not involve an alteration of the DNA sequence. For example, as a complex organism develops, its cells differentiate from stem cells into specialised cell types in which groups of genes are down regulated in a heritable fashion. This down regulation requires specialised forms of chromatin (DNA and the proteins that package it) that prevents the transcription machinery from gaining access to the genes. Molecular signals including DNA methylation and modification of histone tails are key to these processes. Brian's group study the structures of the proteins that recognise and interpret these modifications.
Ultraviolet light perception
UVR8, the protein through which plants sense ultraviolet light, is unusual in using tryptophan residues, rather than an additional chromophore. The group are trying to understand the mechanism of UV perception and the conformational changes in the protein that effect downstream signalling.
Collaborators: Prof Gareth Jenkins, Prof John Christie.
Grants
Grants and Awards listed are those received whilst working with the University of Glasgow.
Facilitate the use of NMR spectroscopy by scientists based in Scotland
University of Edinburgh
2022 - 2023

Co-ordinated Photoreceptor Engineering for Improved Biomass Production
Biotechnology and Biological Sciences Research Council
2020 - 2023

Role of reversible modification of methionine residues in the regulation of protein function
Biotechnology and Biological Sciences Research Council
2020 - 2023

Scottish High-Field NMR Facility
Engineering and Physical Sciences Research Council (EPSRC)
2018 - 2021

A novel mechanism of protein uptake in Gram-negative bacteria
Biotechnology and Biological Sciences Research Council
2014 - 2018

Assessing the predictive value of quantitative high-throughput NMR metabolomic analysis for CVD events in a major study of diabetes: ADVANCE
Chest Heart and Stroke Scotland
2013 - 2016

How does the plant UV-B photoreceptor UVR8 initiate signalling?
Biotechnology and Biological Sciences Research Council
2013 - 2016

Final structure refinement and functional analysis of Na-FAR-1
Boehringer Ingelheim
2012 - 2012

Structure determination and functional analysis through Nuclear Magnetic Resonance
Boehringer Ingelheim
2012 - 2012

The application of a high-throughput NMR metabolomics system to the study of insulin resistance (ISSF Catalyst)
Wellcome Trust
2011 - 2014

Interaction between the essential replication factor TopBP1 and human papillomavirus 16 E1: a novel antiviral target
Cancer Research UK
2011 - 2015

Identification of small molecule activators of EPAC1 to serve as novel anti-inflamatory agents in vascular endothelial cells
Scottish Universities Life Sciences Alliance
2011 - 2012

Quest for the Holy Grail of plant photobiology: a UV-B photoreceptor
Leverhulme Trust
2010 - 2014

Structural and biophysical analysis of novel lipid binding proteins from parasitic helminths
Wellcome Trust
2008 - 2012

The solution structures of newly discovered natural inhibitors of cystine peptidases from eukaryotic and bacterial pathogens
Wellcome Trust
2004 - 2008

Toward Understanding the structural basis of molecular recognition by methylated DNA binding proteins
The Royal Society
2004 - 2005

Establishment of high field NMR facility
Wellcome Trust
2003 - 2006

Additional information
Grant Advisory Board
2001 - 2009: BBSRC - Member of Executive Committee of CCPN (A Collaborative Computing Project for the NMR Community). Committee Chair 2007-2009
Invited International Presentations
2013: La Plata, Argentina - 8th International Conference on Lipid Binding Proteins: Session chair, Structural Biology of LBPs; Invited speaker, "Structures and ligand binding of all-alpha-helical lipid binding proteins from nematodes"
2009: Ambleside, England - Meeting Chair, 9th CCPN Meeting; speaker, "An overview of fast NMR methods and their practical aspects"
2008: Ambleside, England - Meeting Chair 8th CCPN Meeting
2007: Tokyo, Japan - Invited speaker, Symposium: "Application of advanced analytical techniques to chemical substances", Tokyo Metropolitan University
2007: Ambleside, England - Co-organiser and Session Chair 7th CCPN Meeting - NMR of problematic biological systems
2006: Ambleside, England - Co-organiser and Session Chair 6th CCPN Meeting - Effective and Rapid Structure Determination by NMR
2005: Ambleside, England - Co-organiser and Session Chair 5th CCPN Meeting - NMR and Molecular Interaction
Research Fellowship
1999 - 2003: MRC Career Development Fellowship