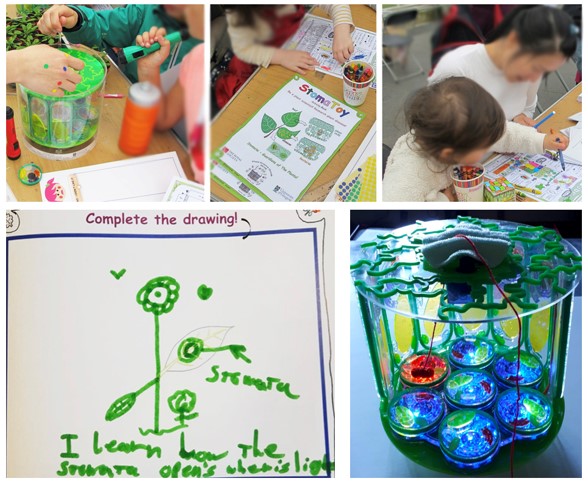 Plant Science Education-through-play
Did you know? Stomata are guardians of plants!
This outreach project will culminate plant science, art and music to develop tools to convey how plants defend themselves from disease causing microbes. We will be developing a toy using a culmination of science and art to communicate concepts of microbial infection and how plants fight and defend themselves as well as other fun activities!
A musical 'defence song' video will be created displaying the similarities between plants and humans in preventing infection, and the interactive toy for pre-school children will be designed and constructed to convey concepts of plant immunity using scientific research images acquired in Dr Rucha Karnik's lab. The team will engage with the public to translate the scientific concepts most effectively to the audience. Most importantly, this project will aim to evoke a fascination for plant science research.
The interactive toy will use organic, child-safe components such as paper, cardboard, colours and will use scientific images acquired during research experiments in Dr Karnik's lab to engage the attention of pre-school children and to explain the concept that plants are alive and to show how they defend themselves.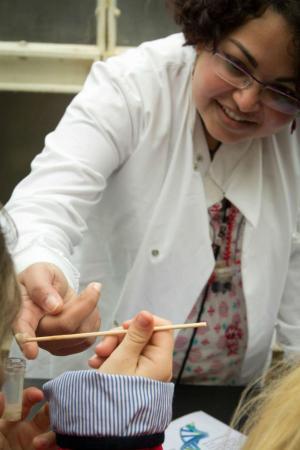 Dr Karnik plans to engage pre-school children in the power of plants to protect themselves from disease, and share what plants can teach us about harmful pathogens. Rucha said  'My research focus is to study the molecular mechanisms underlying plant responses to their environment. I develop tools for research and investigate at a molecular level, the responses in plants which result due to cross-talk between various environmental stimuli.'
Rucha and her team will develop various tools to explain key concepts of plant health to young children. Mixing art, science and music, the team will create toys and videos that demonstrate how plants protect themselves against microbes (harmful micro-organisms?).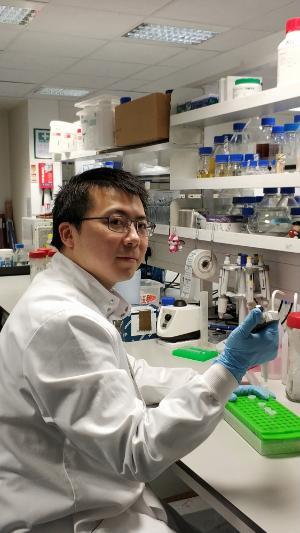 Lingfeng Xia
Linfeng is a PhD student in the Karnik lab. His research is focused on the plasma membrane proton pumps which energize osmotic ion transport at the plasma membrane and affect plant growth, stress responses and immunity. Lingfeng said about the project: 'It is quite exciting for me to participate in this outreach which is targeted at demonstrating plant defence mechanisms in a play and learn environment. Stomata can be found on the of leaves of land plants (with the exception of liverworts). It consists of paired guard cells and the pores itself which is called stomata aperture. Just like the mouth for animals, air enters plants through opening stomata by exchanging of oxygen and carbon dioxide.'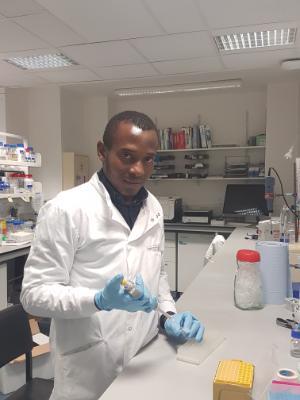 Vincent Ehichioya
Vincent is a PhD student in the Karnik lab and is interested in investigating the mechanisms of regulating the plasma membrane Proton ATPase in Plants for Growth, Nutrition and Immunity. Vincent said "I love plants and as a food security enthusiast, I am excited about the fact that this outreach will provide me with the platform to actively participate in engaging with pre-school children in the power of plants to protect themselves from diseases and share what plants can teach us about harmful pathogens".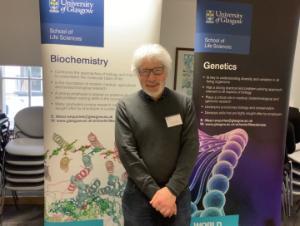 Dr Mathis Riehle
Dr Riehle is a cell engineer in the Institute of Molecular, Cell and Systems Biology and has created amazing doodle art images for Plant science outreach. He is extending his artistic skills for creating a StomaToy colouring book for pre-schoolers.
Dr Karnik is a Lecturer of Human Computer Interaction and part of the Interactive Systems Group at Lancaster University. He is collaborating with the Karnik Lab to construct the 'StomaToy' which will be used to demonstrate how plants defend themselves against microbes. Abe's expertise in Physical Computing and Physicalized Interface has been essential to the design of the physical StomaToy.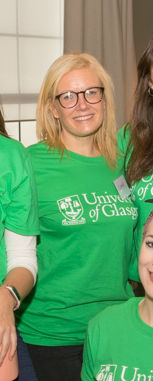 Claire Osborne
Claire is the Institute administrator and a Find A Better Way Project Administrator. She actively participates in outreach activities, co-ordinates public engagement events and manages Institute and FABW digital platforms.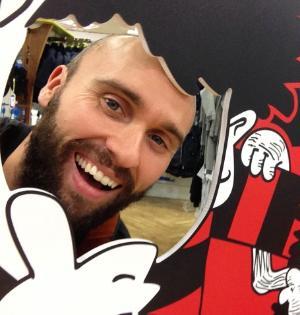 Craig Bruce
Craig is currently an MSc student at University of Glasgow, studying Human Nutrition. He has worked with the Karnik lab in the past and maintains close links with the group. Craig said "Plants have fascinated me since childhood. I hope that the StomaToy outreach activity will engage children in plant science from an early age".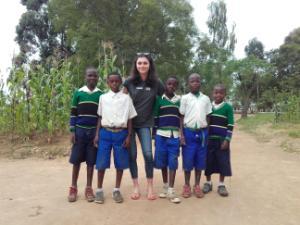 Flora Leask
Flora is excited about being part of the project, she said 'This project will further my understanding of the scientific process and the way in which complex information is communicated to the public, while also allowing me to bridge the gap between my two interests: science and the arts. The idea of targeting a very young audience to communicate this information to is a great way for me to use the skills I have gained in childcare, music and art and for the development of literacy skills and to experience project development and execution'.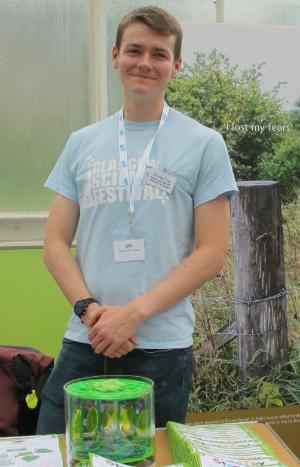 Moray Smith
Moray is a 4th year undergraduate molecular and cellular biology student at University of Glasgow.
His personal interest in plant science was fostered at an early age by similar outreach projects he experienced at school fairs, workshops, and science festivals. He now enjoys the opportunity of helping deliver the StomaToy project, where he hopes to inspire a similar sense of enthusiasm for plant science in the future generation of life scientists!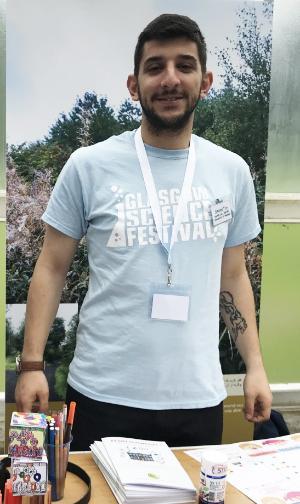 Konstantinos Athanasiadis
Konstantinos is an MSc Biotechnology Student at University of Glasgow.
He has always been interested in plants and he volunteered for the StomaToy outreach events to learn more about plant science. He is now all set to pursue his PhD in Plant Science!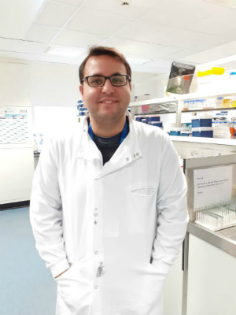 Dr Guillermo Baena
Dr Guillermo Baena studies regulation of membrane traffic for stomatal immunity in the Karnik Lab, and his research is funded by the BBSRC. Plant pathogenesis is a complex process and understanding molecular mechanisms underlying plant immunity has direct implications on plant growth and productivity. Guillermo says: ''As part of the StomaToy team, I enjoy sharing knowledge to the children on how plants function and cope with their environment, and to explain the importance of plant science.''
Dr Cecile Lefoulon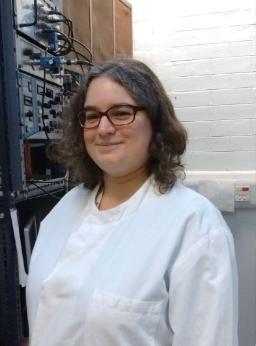 Dr Lefoulon is a plant electrophysiologist, ion channel biologist and a cartoonist! She joins the StomaToy team to help develop StomaToys II.
Credits
StomaToy Activity book concepts & design by
Dr. Rucha Karnik (@rucha_karnik), Plant Scientist
Dr. Mathis Riehle (@morenorse), Cell Engineer & Artist
Art by
Plant images by
Lucas, Harry & Matthew (students, Karnik lab)
StomaToy Project co-ordinator
Miss Claire Osborne, Admin & Public Engagement Co-ordinator, IMCSB
StomaToy is funded by
Royal Society Public Engagement Award to Rucha Karnik

StomaToy Activity book is funded by

Follow StomaToy on Twitter!
@Stomatal_2019