In-sessional Support for Current Students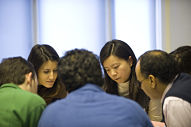 We offer the following classes and support services for current students and staff members whose first language is not English. Some classes are also open to non-University members.
Classes
English for Study and Communication (ESC): for all students
Courses for Credit: credit-bearing courses as part of, or in addition to, the academic programme of visiting students at the University (Year Abroad and Exchange students)
Advancing English for Business Student (Speaking): for taught Masters students in the Adam Smith Business School (credit)
English for Academic Purposes 1 - EAP 1 introduces and practises essential English language and academic skills to support your undergraduate study,
English for Academic Purposes 2 - EAP 2 develops skills acquired from EAP 1 and is designed to strengthen students' English language abilities in relation to their academic work.
Free classes: as part of TESOL teacher training; open to all
Other Services
These complement other support provided by the University: see our Other Support in the University page.
Classes for all
English for Study and Communication: for all students
Free classes: for international student as part of our own Certificate training course
Classes for Student's Spouses
Other Services
Essay Checking Service: a proof-reading service to correct common language errors
Individual consultations: for initial assessment & recommendations and to draw up a continuing programme of study (students must be referred by a member of staff)
Studying English on your own