English for Study & Communication
English for Study and Communication is a series of online workshops on a variety of English language skills and situations, both academic and non-academic, for all international students and staff.
These sessions are aimed at those whose first language is not English, but anyone is welcome to attend.
Visit the English for Study and Communication Moodle to view the workshop timetable. The timetable will be updated on a weekly basis.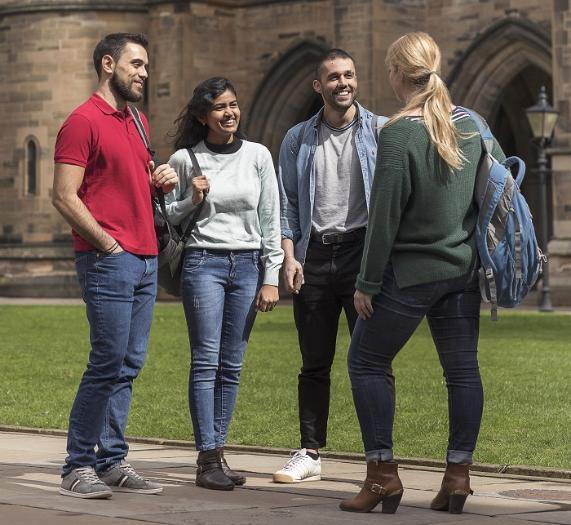 Semester 1 Programme
English Orientation Programme, Week 2 (w/b 26th September)
These workshops are designed to help you settle into the non-academic part of University life. Each session consists of a 1 hour workshop. There are four different topics and you can come to all four workshops if you wish.
Main ESC Sessions, Weeks 3 - 10
These workshops are designed to assist you with your studies. They are quite interactive and give you the opportunity to practise what you have learned. The sessions are not assessed and there is no fee.
– Workshops are 1 hour long
– There are two 'Discussion and Conversation' topics and two 'English Language and Study Skills topics.
– There is a choice of two sessions for each topic
– You can attend more than one lecture per week if places are available
– Workshop details will be available on the ESC Moodle from the Friday two weeks in advance

IMPORTANT INFORMATION
Workshops do not have to be booked in advance
They will not show on your MyCampus timetable
If there are any changes to the sessions, these will be announced on the Moodle News Forum
Peer Proofreader Register
Would you like someone to check your written English before you submit coursework, CV or a job/course application?
A register of Peer Proofreaders, who are native speakers with an interest in writing, is available to assist you. The Peer Proofreader Register is set up to help students connect with proofreaders who are familiar with the University of Glasgow system and who have the necessary skills to check particular texts.
If you are interested in using this service, more information can be found here: https://www.gla.ac.uk/schools/mlc/eas/otherservices/peerproofreaderregister/#