Medical and military memories
Medical and military memories
Professor TDV Lawrie (1920-2015)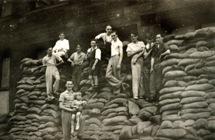 Retired (founding) Professor of Medical Cardiology, Glasgow Royal Infirmary, Graduate, BSc 1940, MBChB 1943. Listen to some of Professor Lawrie's reminiscences about being a student volunteer during the war years, watching for aeroplanes or fires starting. He remembers his first days as a house officer, his three gap years in the army and his career in Cardiology. read more
Sandbags at GRI, courtesy of Medical Illustration Services, Glasgow Royal Infirmary
Living, working, eating and sleeping with 750 skeletons
Living, working, eating and sleeping with 750 skeletons
Dr Dorothy Lunt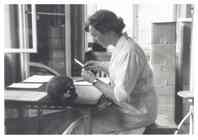 Part of the second intake of Bachelor of Dental Surgery students in 1948. Retired Dental School University Lecturer, Bachelor of Dental Surgery 1953, Master of Dental Surgery 1961 (Doctor of Dental Surgery 1980) Doctor of Philosophy, 1966.
Dr Lunt remembers being a student during the University's fifth centenary. Not wishing to inflict pain on her patients, Dr Lunt combined her own interest in archaeology with a career in teaching and research.
Photograph courtesy of Dr Lunt
Student in blazer to President in robes
Student in blazer to President in robes
Professor Andrew Ross Lorimer
Former President of the Royal college of Physicians and Surgeons (Glasgow) 2000 - 2005, retired Professor of Cardiology, Glasgow graduate MBChB 1960.
Professor Lorimer's interest in studying medicine came from a family history and the early days of the health service. In 1954, students wore blazers, flannels and university ties and you could get lunch for seven pence in the Union. A summer job in cardiology and residency at Glasgow Royal Infirmary got him interested in a specialty that was developing some form of intervention and treatment. After two years as a research fellow in Tennesse in nuclear medicine and biophysics, Professor Lorimer returned to the Royal and stayed till he retired, physician, cardiologist and administrative in charge of wards. He then donned robes of office and went to work in the Royal College of Physicians and Surgeons and to the Scottish Office to chair specialty committees.
Photograph courtesy of Carol Parry, Archivist Royal College of Physicians and Surgeons of Glasgow
Surgeon and GP, partners at home and overseas
Surgeon and GP, partners at home and overseas
Mr Alistair John Mack & Dr Alison Mack
Mr Mack (1937-2022) graduated from the University of Glasgow in 1960, MBChB and in 1965, MSc. He was awarded FRCS (Edin) and FRSC(Glas) in 1965. Being a student was great fun, he made long lasting friendships and met his wife. Working as a theatre orderly in the summer led to a career in surgery in the Victoria Infirmary with some time in between spent in the Royal Infirmary and with all the family in Kenya helping to start a medical school.‌


Dr Alison Mack (1937-2020) MBE MBChB FFFP FSA(Scotland) also graduated in 1960. She successfully juggled children and a career in School health and General Practice.



Following the trip to Kenya, she became interested in family planning and was innovative in changing attitudes and getting family planning and women's services into the medical curriculum. Other innovations included getting involved in the community, catching up with women and babies who didn't turn up at clinics and testing for HIV. ‌
‌Images courtesy of Mr Mack & Dr Mack
Student and Teacher
Student and Teacher
Ms Olivia Brittian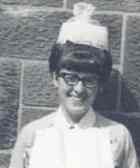 MCC RN RM ONC HV CPT, Director of Undergraduate Programme in the Nursing and Midwifery School, Ms Brittian originally trained in the Victoria Infirmary in 1963. She joined the University of Glasgow in 1987, following stints as a Midwifery sister in Nigeria and as a Health Visitor in Glasgow. Firstly as a clinical teacher, studied for her Masters in Community Care and progressed within the Faculty of Medicine. Ms Brittian talks about her nursing training, her career and the differences between a nurse graduate and a hospital trained nurse.
Image courtesy of Ms Brittian
An interest in medicine more than skin deep
An interest in medicine more than skin deep
Professor Rhona MacKie

CBE MD DSc FRSE FRCP FRCPath, Glasgow graduate 1963, Professor of Dermatology, Department of Public Health, University of Glasgow. Professor Mackie had childhood plans to become a vet but switched to medicine to look after people. Her interests in melanoma and in patient communication and treatment plans stemmed from meeting a patient while doing a surgical pre-registration job, who couldn't make himself be understood or understand what was going to happen to him. She was appointed Professor in Dermatology in 1978, the first woman professor at the University of Glasgow (after only 500 years). Read more..
Image courtesy of Professor MacKie
A pencil, paper and an empty room
A pencil, paper and an empty room
Professor PW Macfarlane
DSc FRCP(Glasg) FESC FRSE, Professor of Electrocardiology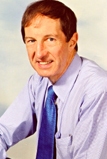 Professor Macfarlane joined the cardiology department of the Royal Infirmary after graduating in Mathematics and Natural Philosophy in 1964. He had always had an interest in health physics and welcomed the opportunity to work with Professor Sneddon (mathematics) and Dr Lawrie (cardiology) on ECG analysis and interpretation. In the early days of computing, they started with a pencil and paper and an empty room and frequent trips to the University of Glasgow computer, KDF9 located in the chemistry building. Read more..
Image courtesy of Professor Macfarlane
The one thing I said I'd never do
The one thing I said I'd never do
Ms Anne Jarvie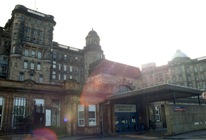 CBE RGN RM, retired Chief Nursing Officer (Scottish Executive) at present working with the Scottish Public Services Ombudsman and leader of a reference group commissioned by NHS Lothian to look into care of the elderly. Ms Jarvie's sister had spent time in hospital as a child and was not allowed visitors, even on her birthday. Hospitals seemed a cruel place. But after getting information from Glasgow Royal Infirmary, Ms Jarvie started her training and has had a distinguished career in nursing which she has not regretted.

Image of Gatehouse courtesy of Medical Illustration Services, Glasgow Royal Infirmary
History of ultrasound, the best thing since sliced bread?
History of ultrasound, the best thing since sliced bread?
Mr John EE Fleming

An Honorary Research Associate, Mr Fleming, an engineer from the south of England joined the Faculty of Medicine around 1968 to work with Ian Donald at the Queen Mum's Hospital. He moved from military to medical projects He retired after 30 years but is still enjoying working part time on the History of Ultrasound.
Images courtesy of Mr Fleming
A close shave
A close shave
Mr Robin Shaw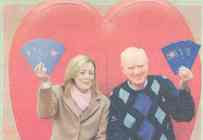 Mr Shaw, a retired electrical engineer from Kirkintilloch was one of the first patients to benefit from Scotland's Heart Transplant Unit at the Royal Infirmary in Glasgow. He was lucky number 27 in January 1993, and now enjoys competing in the Transplant Games, in golf, badminton and the walk and is a regular in the gym and Mabels tea room. He doesn't remember a thing about the operation but remembers the staff and what a difference they made (read more).

Image courtesy of Mr Shaw
Problem based learning - no problem
Problem based learning - no problem
Dr Selena Gleadow Ware
‌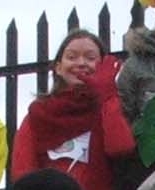 MBChB 2003 MPH 2000, presently, on psychiatric rotation at Levendale Hospital. Dr Gleadow Ware came from London to study having heard good things about the city of culture in 1997, the year after the new curriculum was introduced. She enjoyed the flexibility of the course in terms of learning and studying and arranging your social life. This left time for interesting extra curricular activities which have carried on into her professional life in psychiatry.
Image courtesy of Dr Gleadow Ware (on a sponsored walk)