Pathology

Western Infirmary
The Chair of Pathology at the Western Infirmary was founded in 1893.
Daniel F Cappell (1900-1976) was Professor (1945-1967) and Dean of Faculties (1970-1973). He encouraged specialisation in histopathology, and the development of departments of dermatopathology and neurological pathology. He also established the Scottish Bone Tumour Registry, continued by Dr Mary Catto. He was a key player in setting up the Royal College of Pathologists, of which he was one of the first Vice-Presidents, and served on many national and other committees.
John R Anderson (1918-2011) was Professor from 1967-1983. His research included work with Robert Goudie at the Royal Infirmary (see below) showing that non-tuberculous Addison's Disease was due to auto-immune destruction of the adrenal glands. He was appointed Vice-President of the Royal College of Pathologists in 1975, and subsequently was President (1978-1981). He was awarded the CBE in 1980.
Sir Roderick (Roddy) MacSween (1935-2015) was titular professor from 1978, then Professor (1984-1999). He was awarded an honorary DSc in 2007. He was President of the Royal College of Pathologists (1996-1999) and knighted in 2000. His main research interest was in liver disease and his textbook, Pathology of the Liver, ran to five editions.
If it's not in MacSween it's not in the liver

Barry Gusterson was Professor (2000-2009) and Associate Dean for Research and Head of the Division of Cancer Sciences. He was also head of the sections of Pathology and Gene Regulation and of Forensic Medicine and Science. His research work was on breast cancer and normal breast biology. He was a key player in building a new University department of Pathology at the Southern General Hospital and for the unification of pathology services across the City.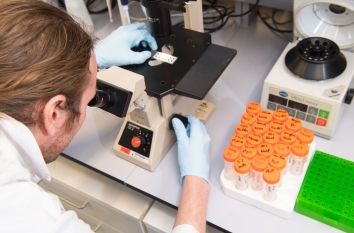 He was project lead and responsible for the building of the Wolfson Wohl Cancer Centre at Garscube (2013). He continued his research as Professor Emeritus and Honorary Senior Research Fellow in the School of Cancer Sciences.
Runjan Chetty was Professor from 2009 -2011. Professor Chetty left to be Director of Translational Pathology in Oxford.
Royal Infirmary
The St Mungo – Notman Chair of Pathology was founded in 1911 and endowed by the Governors of the St Mungo's College.
George L Montgomery (1905-1993) was Professor (1948-1954) (read more). He moved to become Professor of Pathology at the University of Edinburgh (1954-1971) and was awarded the CBE in 1960.
Sir Thomas Symington (1915-2007) was Professor (1954-1970) (read more). He established a BSc course in Pathology. In 1962, he was part of a working group sent to East Africa, which established medical schools in Nairobi and Dar es Salaam. Secondment of staff from Glasgow was encouraged, as was further training of African graduates in Glasgow. He left in 1970 to become Director of the Chester Beatty Cancer Research Institute in London. He was knighted in 1978.
Robert Goudie (1928-2004) was Professor (1970-1987). His research interests were mainly in immunology, including discovery (with John Anderson at the Western Infirmary) that non-tuberculous Addison's Disease was due to auto-immune destruction of the adrenal glands. Later (with Peter Pinkerton) he reported the discovery of a new auto-immune syndrome of the pituitary and thyroid glands. From 1965, he headed the Regional Immunopathology Laboratory in the Regional Centre for Rheumatic Diseases headed by Professor Watson Buchanan. With Fred Lee, he investigated the roles of T-lymphocytes in diseases such as rheumatoid arthritis, coeliac disease, and T-cell lymphoma. The chair was suspended in 1987, but he continued to work at an honorary level until 1993 (read more).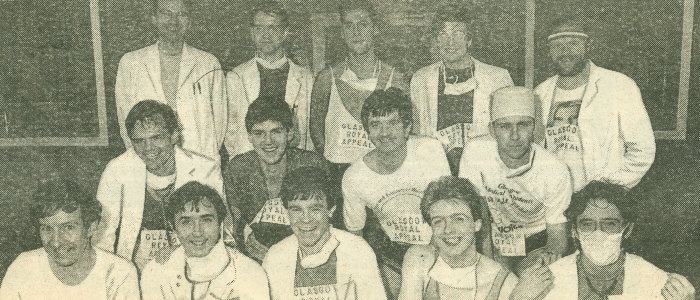 Front row - Peter Macfarlane, Stuart MacMenemin, Eamonn Brankin, James MacMenemy, John Devlin
Middle row - Alan Donaldson, Andrew Barr, Brendan Boyce, Matthew Checkett
Back Row - Billy Candlish, Peter Clark, Gerald Canning, Jonathon Caspar, Mike Wallace
Frederick Lee was consultant pathologist (1973-1994) and was appointed Clinical Professor at Glasgow University in 1992. His main research interests were in gastro-intestinal histopathology and malignant lymphomas. He initiated the Scotland and Northern Ireland external quality assurance scheme in general histopathology. He was President of the British Lymphoma Pathology Group in the 1990s; and President of the Association of Clinical Pathologists (1993-1994).
Anne Marie McNicol was Senior Lecturer and Reader (1985-2008). She left to go to a Chair in the Department of Molecular and Cellular Pathology, The University of Queensland, Brisbane, Australia. Her main areas of diagnostic and research interest were endocrine and molecular pathology. In endocrine pathology, her research focus was on the hypothalamic-pituitary-adrenal axis. She established the UK Endocrine Pathology Society in 1998 and was President until 2008. She was President of the International Pituitary Pathology Club (1992-1995) and of the Endocrine Pathology Society (2007-2008). She was Editor-in-Chief of Endocrine Pathology (2009-2014) and European Editor of Human Pathology (2006-2011). She established one of the first Diagnostic Immunocytochemistry (1985) and Molecular Pathology (1988) laboratories at GRI (find out more about working in the Pathology Lab).
Alan Foulis was appointed consultant pathologist (1983-2015) and honorary clinical professor (2010). Professor Foulis compiled the world's largest collection of autopsy pancreas samples removed from patients who died shortly after receiving a diagnosis of type diabetes. This was assembled in the early 1980s, and consists of nearly 200 cases across the UK. Study of these has been hugely influential in shaping understanding of its causes, eg hyper-expression of class 1 MHC antigens, detailed profiling of immune cells present within inflamed islet cells, and evidence that enteroviral infection of beta cells could contribute to auto-immunity. Upon his retirement in 2015, Professor Foulis transferred the collection to the University of Exeter Medical School for further studies.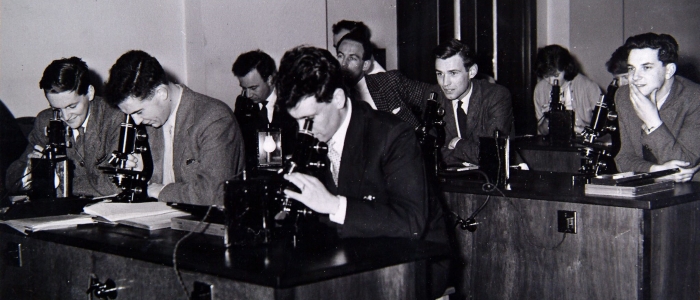 James Going was Senior Lecturer (1991-2015) and transferred to the Southern General Hospital, now the Queen Elizabeth University Hospital, where he is currently consultant pathologist and honorary clinical associate professor. His clinical and research interests are in breast and gastro-intestinal pathology, especially oesophageal and gastric diseases. He chaired the Scotland and Northern Ireland external quality assurance scheme in general histopathology. He received the Doniach Award and Lecture from the Pathology Society of Great Britain and Ireland in 2017 for lifetime contributions to pathology.
Massimo Pignatelli was Professor (2011-2013) and head of the School of Medicine. He moved to the Nazarbayer University School of Medicine in Kazakhstan in 2013.
Personal Professorships in Pathology were also held by Bernard Lennox (1965), Robert Patrick (1972), P Toner (1983), Keith Whaley (1984, read more) and Hugh Simpson (1988, who researched in chronobiology, and whose great-grandfather was Sir James Young Simpson, who introduced chloroform as an anaesthetic in Edinburgh in 1847).
Gordon Lowe, Alan Foulis, James Going, Barry Gusterson, Fred Lee and Anne Marie McNicol