Busby Primary School Visit – STEM Week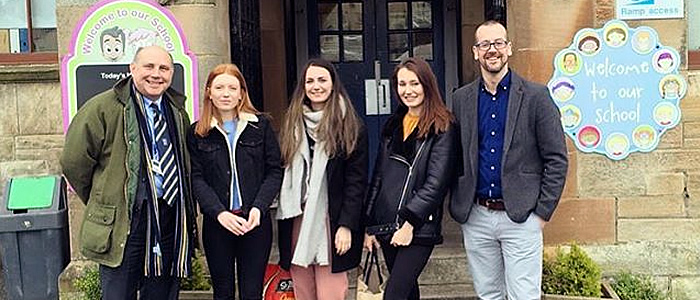 A small group of GOHISS members have been busy this past year collaborating with Big Smile Big Band to continue the legacy and promote good oral health in local primary schools. Of the 756 people who helped to create the world's largest smiles, some were children and teachers from primary schools, who all had a great day learning about the mouth and helping to break the Guinness World Record!
We recently visited Busby Primary School, located in the Southside of Glasgow, as part of the school's STEM week. As the name suggests, this week is all about promoting an interest in STEM subjects to the children and our job as representatives from Glasgow Dental School was to inform the children a bit about the role of a dentist and promote oral health.
Professor Jeremy Bagg and Dr Will McLean presented to the older students in primary 5-7 and the GOHISS volunteers set up an activity and experiments related to dentistry to engage the younger year groups.
All in all, the day was a huge success. The pupils and staff really seemed to appreciate the visit! A fun and educational day was had by all. Who knows, we could have inspired some budding young dentists!
---
First published: 16 March 2018