A Fond Farewell to Dr Cameron
Published: 20 March 2015
Dr. Donald Cameron retires after over twenty-eight years service teaching dental students in aspects of dental technology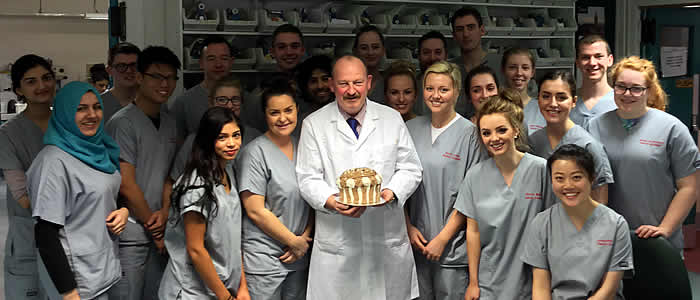 Dr Donald Cameron has decided to take early retirement after over twenty-eight years service teaching dental students in aspects of dental technology.
Donald took up appointment as a Dental Instructor on 1st October 1986 and became one of a team of seven Dental Instructors within the Department of Prosthodontics. During his time as a Dental Instructor Donald has been awarded the Youles Award by the British Institute of Surgical Technologist on three occasions, gained the Membership of the City and Guilds of London Institute (MCGI) and completed his MSc by research investigating the efficacy of mandibular advancement appliances in the management of sleep apnoea. In 2005 Donald was appointed University Teacher, Restorative Dentistry and completed his studies that culminated in the award of Doctorate in Education (EdD) in 2007.
He has undertaken a variety of external appointments during his time at the dental school including: Secretary and President of the Society of University Dental Instructors; External Examiner at Manchester Metropolitan, Sunderland, Malaya Universities and Leeds Dental Institute; Visiting lecturer University of Malaya and Universiti Teknologi MARA (UiTM).
Donald had responsibility for leading the dental schools initial venture into the realm of Dental Educational Research and Promoting Scholarship.
In 2012 Donald was awarded a Teaching Excellence Award by the University of Glasgow along with his colleague Robert McKerlie for careers distinguished by excellence. Donald was promoted to the position of Senior University Teacher in 2013.
The staff and students of the dental school wish Donald along with his wife Margaret a long and happy retirement and all the best for their next adventure.
---
First published: 20 March 2015