Methinee Suwannakit
Profile
Contact
PhD topic
Protection of privacy and personal data in the digital age: the case study of individual media users
Supervisors
Dr Thomas Margoni
Professor Martin Kretschmer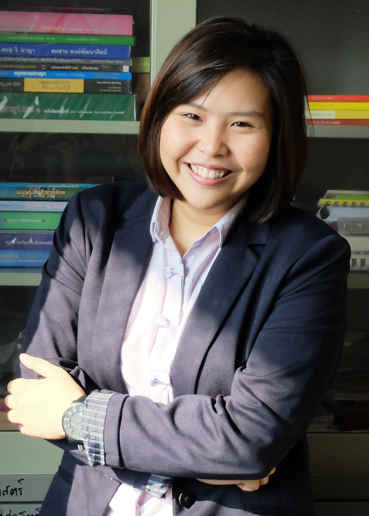 Biography
Methinee is currently a lecturer in law at Faculty of Law, Naresuan University, Thailand. She is responsible for several courses such as Property Law, Bankruptcy law and business rehabilitation, and Information Technology Law. Before joining Naresuan University in 2016, Methinee worked at Bangkok Broadcasting & Television Co., Ltd., to provide legal advice concerning media law, broadcasting law, intellectual property law, and other related commercial transactions. Before that, she worked at Bangkok Bank Public Company Limited as a legal officer to construct a short-term Trouble Debt Restructurings plan.
Methinee was awarded the Bachelor of Laws with second class honours by Thammasat University, Thailand. Before obtaining LLB, she completed a traineeship with Allen & Overy (Thailand). She also holds LL.M. in Intellectual Property with a thesis on Open Source Software from Aberdeen University and LL.M. in Commercial Law from Monash University. Moreover, Methinee passed Thai Bar exam and has become a member of the Thai Bar Association. She also holds Lawyer License from Lawyers Council under the Royal Patronage of Thailand and practised law at Nitipeerachat Law Office.
Research Interests
Privacy Law and Data Protection
Intellectual Property Law
Media Law
Commercial Law
Teaching
11 January 2016 - present: Lecturer at Naresuan University, Thailand.
Property Law
Bankruptcy and Reorganization Law
Information Technology Law
Awards
Scholarships from Faculty of Law, Naresuan University for following Phd in Law at University of Glasgow.
Young Researcher Project, grant from Naresuan University (2016-2017): Legal Measures to Protect Child and Juvenile from Cyber-Bullying.
Publications
Publicity Right: Whether it should be recognized in Thailand, Naresuan University Law Journal (January-June 2017)
Legal Measures to Protect Child and Juvenile from Cyber-Bullying, Naresuan University Law Journal (July-December 2017)
Book Reviews: Aurelia Tamò-Larrieux 'Designing for Privacy and its Legal Framework: Data Protection by Design and Default for the Internet of Things', International Data Privacy Law (2019) https://doi.org/10.1093/idpl/ipz013
Reports posted on CREATe blog such as data workshop and BILETA-conference
Seminars and workshops
I presented my research at CREATe Emerging Researchers Workshop, as part of the CREATe Research Symposium taking place at the University of Glasgow (8-10 October 2019).
Additional Information
I had an opportunity to collaborate with the Adam Smith Business School on the ongoing Darwin project for Connected and Autonomous Vehicles (CAVs) as a part-time research associate. My main task was to review existing data regulations (both personal and non-personal data), cybersecurity regulations as well as regulatory bodies for emerging technology.