Beril Taskin Kapusuzoglu
Profile
Contact details
b.taskin-kapusuzoglu.1@research.gla.ac.uk
PhD Topic
Regulating the Regulators
Supervisors
Dr Paul Scott
Professor Ruth Dukes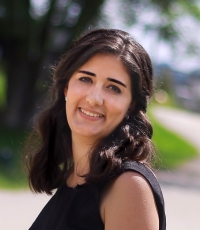 Biography
Beril graduated from the University of Ankara, Faculty of Law. During her LLB, she spent two semesters at the University of Regensburg, Germany as part of Erasmus programme. She also actively took part in European Law Students' Association (ELSA) for 3 years where she acted as the chairperson of the board for ELSA Ankara and member of the board for ELSA Turkey.
After graduation, she worked as an academic at criminal law departments of various law schools in Turkey -ultimately at the Turkish-German University, Faculty of Law- for more than three years. Having achieved an LL.M degree in public law with High Honours at Marmara University upon successfully defending her thesis on criminal liability of accessories, Beril joined the University of Glasgow in 2017.
Research Interests
Limits of powers of regulatory agencies
Sanctions imposed by regulators
Principles governing the regulatory investigations
Publications
Published Book and Section in Edited Book
The Accessoriness Principle in Participation to Crime [in Turkish]
On Iki Levha, Istanbul, 2017.
ISBN: 9786051524719
Die Rechtsmittel im deutschen und im türkischen Strafverfahren [in German]
in "Die Entwicklung von Rechtssystemen in ihrer gesellschaftlichen Verankerung, Nomos, Baden-Baden, 2014, p.171.
ISBN: 9783848702350
Published Papers in Refereed Journals
Bank embezzlement according to Banking Act, no.5411 [in Turkish]
Journal of Erciyes University Faculty of Law, Volume: VIII/I, 2013.
Analysis of CCTV in the light of fundamental rights and principles [in Turkish]
Kazancı Law Journal, Volume: 77-78, 2011.