Bartolomeo Meletti
Profile
Contact
2180826m@student.gla.ac.uk / Bartolomeo.Meletti@glasgow.ac.uk
PhD Topic
Fairness in Copyright Law: The Role of Creative Practice in Defining Legal Standards
Supervisors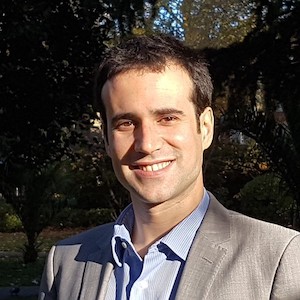 Biography
Bartolomeo works as Creative Director for CREATe (part-time, 3 days per week), the UK Copyright and Creative Economy Centre at the University of Glasgow, where he is currently researching his PhD thesis. Since 2012, he has led the development of CopyrightUser.org, an independent online platform intended to make UK copyright law accessible to everyone. He is also the Education and Research Executive at Learning on Screen, a charity and membership organisation specialised in the use of moving image and sound in education and research. In addition, Bartolomeo is the Director of Worth Knowing Productions, a digital creative team specialised in making complex knowledge accessible through research-based visual tools.
Previously, Bartolomeo worked at the British Film Institute and the Digital Catapult on secondment from CREATe, and held research and media production positions at CIPPM, the Centre for Intellectual Property Policy & Management (Bournemouth University), where he is currently a Visiting Fellow; and at CEMP, the Centre for Excellence in Media Practice (Bournemouth University).
Research Interests
My research interests are in the areas of copyright law, legal education and media production, with a focus on copyright policy, copyright exceptions, emerging technologies, the process of re-using copyright works and the public domain. Currently, I am investigating whether and how creative and cultural practice can play a role in defining legal standards such as fairness; and how individuals' and businesses' decisions around the reuse of existing works might change depending on their type and level of knowledge of the law.
Teaching
Learning on Screen (04/2018 - Present)
Running a series of copyright courses - including Copyright and Creative Reuse in Education and Copyright for Creatives - mainly aimed at copyright specialists within UK HE institutions.
CCPR – CREATe, University of Glasgow (11/2018 - 03/2019)
Teaching UK copyright law as part of the Intellectual Property Law course (LAW5033) offered to the students of the MSc Creative Industries and Cultural Policy.
University of Bologna – Course Leader (10/2016 - 05-2017)
Running a course on Web Reputation and Privacy as part of a 2-year Master's Degree in Public and Corporate Communications (School of Political Science).
Guest lectures
Regularly delivering talks and guest lectures on copyright and creative reuse at various institutions, including the guest lecture Copyright & Creativity delivered every autumn to the students of the Masters in Innovation Creativity & Leadership students at Cass Business School, City, University of London.
Publications
Research reports or Papers
Leung, R., Kretschmer, M. and Meletti, B. (2020) 'Streaming Culture', AHRC Creative Industries Evidence & Policy Centre Research Report. Documentation. Nesta, London.
Kretschmer, M. , Meletti, B., Singh, S., Green, B. and Chitty, A. (2018) IP & Collaborative Agreements in the Creative Industries: Interim Report. Other. Arts and Humanities Research Council, Swindon.
Deazley, R. and Meletti, B. (2016) Copying, Creativity and Copyright. Working Paper. CREATe / University of Glasgow.
Audio
Deazley, R. and Meletti, B. (2018) The Game is On! – Episode 6: The Adventure of the Photographer's Stratagem [video]. [Audio]
Deazley, R. and Meletti, B. (2018) The Game is On! – Episode 5: The Adventure of the Unreliable Narrator [video]. [Audio]
Deazley, R. and Meletti, B. (2018) The Game is On! – Episode 4: The Adventure of the Missing Note [video]. [Audio]
Deazley, R. and Meletti, B. (2017) Copying & Creativity [video]. [Audio]
Deazley, R. and Meletti, B. (2017) The Game is On! - Episode 3: The Adventure of the Forger's Apprentice [video]. [Audio]
Meletti, B. and Towse, R. (2017) Going for a Song [video]. [Audio]
Deazley, R. and Meletti, B. (2016) The Game is On! - Episode 2 – The Adventure of the Six Detectives [video]. [Audio]
Deazley, R. and Meletti, B. (2015) Copyright Bites [video]. [Audio]
Deazley, R. and Meletti, B. (2015) The Game is On! - Episode 1 – The Adventure of the Girl with the Light Blue Hair [video]. [Audio]
Blog posts (selected)
Report – CREATe Public Lecture by Professor Lionel Bently on Copyright and Quotation: Beyond the Textual Paradigm, CREATe Blog (30 July 2020)
Report: CREATe researchers present on copyright exceptions for education and research at SCURL conference (Part 1), CREATe blog (9 July 2020)
Report on AHTV 2020: Exploring documentary filmmakers' fair practice, CREATe blog (18 February 2020)
A new chapter in the history of The Game is On! – The UK IPO publishes new educational resource, CREATe Blog (14 June 2019)
The Game is On! Copyright and creativity with Sherlock Holmes, Intellectual Property Office Blog (13 June 2019)
CREATe at the Law and Technology Consortium (LTC) in Trento: The Game is On! – Lawful copying under UK copyright law, CREATe Blog (22 May 2019)
Lawful Creativity or Creative Lawfulness: CopyrightUser.org at the EYE International Conference 2018, CREATe Blog (5 June 2018)
Report on the EnDOW Final Conference, CREATe Blog (22 May 2018)
Exploring Copy Ethics with CopyrightUser.org, CREATe Blog (31 July 2017)
Chronicling Collaboration: CREATe, CopyrightUser.org and the Digital Catapult, CREATe Blog (11 June 2015)