Sheekha Saha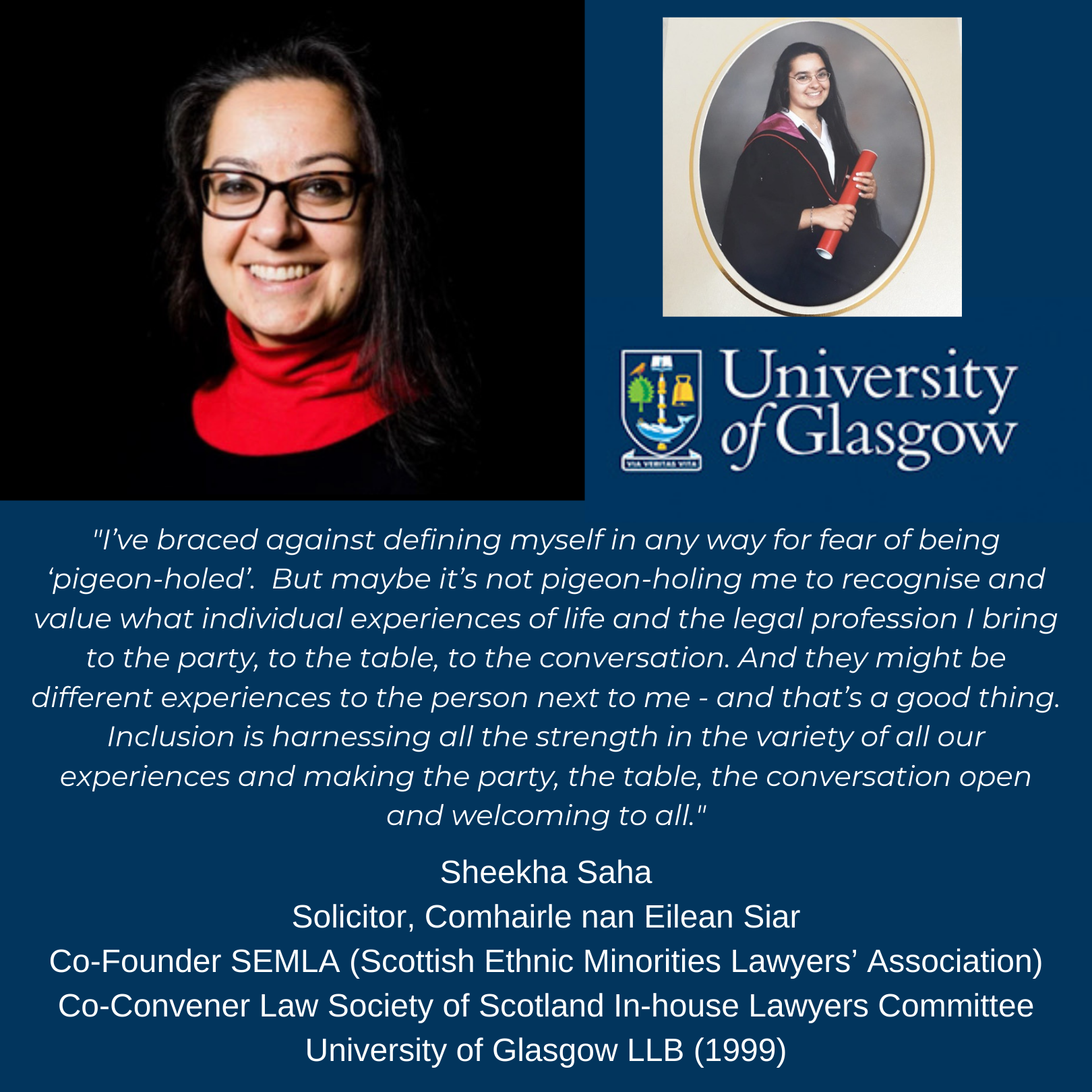 100 Years of Women in Law. What a Milestone! What a shock it was to me, to learn that it was only 100 years ago - as recently as that - that women were admitted, permitted to practise law in Scotland. Law was required to allow that to happen?! Following the passing of the Sex Disqualification (Removal) Act 1919, in 1920 Madge Easton Anderson, Law Graduate of the University of Glasgow, was admitted as a Law Agent, making her the first woman in the UK to become a professional lawyer. It is an honour to be able to contribute my voice alongside others' in recognition of this and what has been achieved as a result.
I was born to my Scottish Mum and Indian Dad, first of two siblings. We lived between the UK and India embracing the culture on both sides - from Holi Puja to Christmas and back again! My Dad had come to the UK specifically for his University education, not intending to remain here long term, but then met my Mum. After a few years commuting, we emigrated (well for my Mum, sister and me; Dad was just going back home of course). We settled into life there, my sister and I attending the local school which was quite an experience in itself - but that's a whole other story!
Life has its ups and downs and ultimately my Mum returned to the UK with my sister and I, to start over again here. We joined a tiny little school with little in the way of ethnic diversity and kids teased me about my 'funny name'. I eventually stopped answering them when they asked me to say it again and again. And my wonderful, fiercely protective little sister (a fellow UofG graduate - sadly for Law, not in Law) used to speak for me. My Mum had made a wise choice though: the small school we joined was great. I will remember with respect and huge affection, the teachers there, for the rest of my days. They were teachers in the truest and best sense. It was a happy wee school that coaxed me out of myself a wee bit.
My Mum worked full time and beyond, to support us; my Gran moved in with us to help with child care for my sister and I. We had a tiny two-bedroom flat for the four of us and very little in terms of money and material things, but what we 'lacked', if you see it that way, was made up for in spades with love and strength. I know Mum often asks herself whether she could have done more, did we miss out? I can tell her, no she could not and no we did not. We never went hungry - sadly not to be taken for granted even in this country - and had unconditional maternal love, belief in us, a sound value base, work ethic and that's all worth so much more I think, than the latest Barbie doll!
I was about 10 when I decided I wanted to be a lawyer. We watched a lot of legal dramas with my Gran and I was fascinated: fascinated by the solemnity, the levity, the twists & turns, the linguistic artistry. With an almost obsessive passion for fairness, equality of arms, and reasoned debate (or persistent contrary argument as my Mum might have described it in my formative years!) I knew it was what I wanted to do.
University
The transition to University in 1995, from the wee school I'd attended was a shock and a half. I was now in a class of 200+ at one of The Great Ancients in University terms, the weight of my own expectations weighing heavily. I was away from home; I was the only one from my school studying Law and the only one at Glasgow Uni. My first class: an enormous lecture room and where clearly some had arrived as part of a large peer group from some of the big 'posh' schools in Glasgow - established support groups all laughing and joking together. No need for them to reach out and make friends with a new face. It was intimidating.
I was almost paralysed with self-consciousness and Imposter Syndrome in spades - not that I knew of that term, then - just that constant voice at the back of my mind and from the bottom of my heart telling me I wasn't good enough; certainly wasn't as good as those around me. How could I be? And if exams mean anything as a means of assessment, that voice won in my first year: I barely scraped through. I was mortified. This wasn't me? This wasn't what I was used to: I was a 10/10, A-grade student. It was a shock to the system but a lesson in breathing deep, picking up, dusting off.
Why keep going? Well, a mix of duty - Mum had given SO much for getting me here and I couldn't let her down; my own sense that changing course would be failure and I didn't want that; didn't want to quit. And I had this palpable, driving will to be a lawyer and help people, so, so, so much that I just HAD to keep going. Even then, I had this vague sense that this - uni and all its difficulty - was not 'it'. It was just another bit of the journey to getting where I really wanted to be and if I could just 'get through it', then I would be able to come up for air in a space that was more me and more the dream.
Mum gave us everything she had and I worked hard both in term time and through the holidays to help, money-wise. My kids laugh at me: "is there a job you haven't done?" I've been a hotel receptionist, a chambermaid, a barmaid for functions and pub trade (and they are different, I've learned that!) hairdressing assistant, toilet attendant and tour guide (I kid you not and loved it!), a nanny, office cleaner (4am starts!), a trainer, had any number of customer care and call centre jobs. I managed some placement time in law firms too, but they just didn't provide the income I needed so were short and few. Was it hard? Yes and at times very. Would I have it any other way? No: I think all of these jobs, all of the hours have helped shape me in to the person I am and I'm ok with me, most days!
University was fun too and I made some great friends there, truly friends for life. I will remember forever too, the late, great, Professor Joe Thomson: a genuinely brilliant and very kind man who seemed to understand the terror in me and took time to help. I still smile thinking of the wee group of us, up for hours the night before his wedding at the University Chapel, us in the Law Workshop cutting out hundreds of paper hearts in all shades of pink, to decorate all the windows the length of the Stair Building for the happy couple to see as they would come out of the Chapel across The Square!
Work and beyond
Somehow(!), I graduated and in September 2000, got a traineeship with Comhairle nan Eilean Siar, the Local Authority for the beautiful Western Isles. There I found myself in a small, friendly and really busy team. It meant another move, another new start with no connections, this time to the far North West, where again and at that time, there wasn't huge ethnic diversity, but communities with a strong and identifiable cultural heritage of their own. I settled in to the team and the community and am still there today. I've worked in many of the areas of Local Authority legal practice and now specialise in Social Work law, across Child and Adult protection and I love it. In a small team we can't afford to be exclusive in our areas of work and I really enjoy the challenge of the sheer variety that means.
Law Society
An opportunity arose in 2006 and I put myself forward for the Law Society of Scotland Council. I didn't think I would have much to bring but despite my very best efforts with the 'Elders' of our local Faculty, I couldn't find anyone willing to fill the seat and I couldn't bear the thought that it would sit vacant; a lost chance for our local voice to be represented. So with some (a lot of) trepidation put a tentative foot forward. I was so nervous come the first meeting, my beloved other half came to Edinburgh with me and walked me to that big, glass door at Drumsheugh Gardens, my mouth dry and legs literally trembling. It's as well he did - I may not have gone in otherwise! And it's one of the best things I ever did. I found myself in a room packed full of people, literally from all over the country, different life and professional experiences, practices big and small and in-house like me, but one common factor that came bursting out that first meeting: everyone had passion for our profession and the role we have; an enthusiastic willingness to roll up sleeves and get stuck in to giving back, supporting colleagues and building for the future.
In 2019 to my enormous delight I was elected on a joint 'ticket' with my great friend Vlad Valiente, to co-Convene the Society's in-house Lawyers' Group. Supported by a fantastic Committee we are championing the significant value of the often shy, in-house Legal community.
The Society has in many ways changed enormously over the years that I've been closely involved with the work, but that sense of collegiality, of wanting to do more, to serve better, remains vibrant and fundamental.
SEMLA
As my practice experience grew, so too did my 'bigger-picture' understanding. In 2017, I replied to a call for interest (from Usman Tariq, Advocate) in being part of a group looking at the lack of ethnic diversity in the profession at all stages, to understand this and seek to be part of changing that landscape and together with Usman, Naeema Sajid, Omar Ali and Imran Bashir, SEMLA (the Scottish Ethnic Minorities Lawyers Association) was born. Three years on and we have achieved a lot: The Law Society of Scotland and the Faculty of Advocates together with many of the big firms in Scotland have supported and engaged with us, with open eyes and ears and a keenness to play their part in making positive change happen.
There have been many highlights with SEMLA. On an individual basis, the feedback from students who've benefitted from SEMLA's support is incredibly humbling and rewarding. On a wider basis, the decision of the Law Society this year, to collect equalities demographic data from the Solicitor profession in terms of ethnicity among other characteristics, is a real triumph: SEMLA has called for this almost since its inception; how can we understand what needs to happen and the impact of our actions, if we don't know where we are starting from? The Society wasn't disinterested previously, but there was an understandable anxiety around privacy, in particular a Members' right to not tell the Society this information. Ultimately it was resolved simply by seeking the information but not making it mandatory to provide. We await the data for this first year but indications are that the Profession has responded with willing understanding.
More to do
Today I'm an in-house lawyer of 20 years vintage, invited to share something of me and my thoughts, alongside this incredible sisterhood of Alumni, for such a significant landmark in our history both as women and as a legal profession. I can't help but wonder about the future and in 2119, what would a 200 Years of Women in Law event make of our actions and ambitions today? What progress will we have made in the ambition for a truly diverse and inclusive profession, reflecting the society we serve?
We are rich as a nation in diversity, and whilst this is wonderful, diversity is not the end-goal of itself. Diversity does not itself automatically create an inclusive society. We have to engage actively, collaboratively to be inclusive, to guard against exclusion and marginalisation. The legal profession is a vital part of society, but we know from the Profile of the Profession research that the legal profession is not as diverse as the society, as the public that we serve. The challenge for the profession is considerable; how can it be more diverse and how can it create (and recreate) inclusivity within its ranks?
Inclusion means having courageous conversations about challenges and confronting those challenges together; the challenges our LGBT+ colleagues face are not confronted just by flying a rainbow flag on Pride; meaningful inclusion of members of differing religious faiths is not achieved just by tweeting 'Eid Mubarak'.
We know that as human beings, we relate to commonality of experience. I think we are really beginning to understand the value of relatable role models. The broadcast media has cottoned on to the power of this and more and more we see on screen, increasing diversity in those in front of us in the media, in sport in particular. It's great! I used to think 'you don't need to be me to be able to represent me' and as lawyers we are in the business of representing people from all walks of life, but the more understanding I have of diversity and inclusion the more I understand the value of visible role models. We need to celebrate those within the profession and reach out to support colleagues to come forward.
The legal profession and practice of law is a brilliant and stimulating environment for forensic minds, for those with a passion for justice, for strong and respectful debate and challenge; we need and want richness of talent in this profession. None of the attributes of a fantastic lawyer are diminished by the person's gender, faith, race, socio-economic background. In fact, the profession, legal debate and the evolution of legal thought, is only enriched by the inclusion of members across the spectrum of diverse life experiences. It's better for the profession and for society as a whole in the making of laws and for the public we represent that we are diverse and inclusively so. A profession which exists to uphold the rule of law and the rights of the person, surely must practice what it preaches and demonstrate valuing those rights, by its own inclusivity.
I'm the only female in my legal team. I have braced at being roped into things as the gender-balancer; for being female; I said earlier that I am mixed race - that's huge for me to say not because I'm not proud, I really am and I feel very lucky, but I've braced against defining myself in any way for fear of being 'pigeon-holed'. But maybe it's not pigeon-holing me to recognise and value what individual experiences of life and the legal profession I bring to the party, to the table, to the conversation. And they might be different experiences to the person next to me - and that's a good thing. Inclusion is harnessing all the strength in the variety of all our experiences and making the party, the table, the conversation open and welcoming to all.
To see real change in the profession, gender equality can't be seen as a women's issue just as racial equality isn't just an issue for BAME people. We need to have courageous conversations about the fact that there is so little diversity, and that it's worse the more senior in the profession we look. Surely we all want a profession and working cultures that create space for – and reward! – practices, policies and behaviours that allow all people not only to bring their fullest self to work each day but to lead out confidently with their very best contributions. Not scoot, head down, past the water-cooler, where they feel whispered about in hushed voices, just for being themselves. I've experienced and seen exclusion and bullying first hand and I've seen what it can do to a person: push your spirit to breaking point; reduce your confidence and self-worth to nothing. We need to eradicate this and create welcoming, equal, inclusive workplaces. We need to ensure that equality is seen as something for all that benefits all.
Clearly 2020 will go down in history and memories for many, many reasons: it has been quite an incredible year in many ways and globally so. The Black Lives Matter Movement, amplified significantly by international outcry and uprising in response to the tragic death of George Floyd has really brought a front-of-mind presence to long-standing and some deep-rooted racism that - to the surprise, anger, sadness of many - still exists today. We have the opportunity to make change: to lead change.
Law serves many purposes but fundamentally it protects and balances rights: rights of people, rights of legal persons. To do that with credibility, the profession itself must stand in service of equality and do so genuinely and demonstrably, from its core. For me that does not mean that there must be 'x' percentage of women or of men or of LGBT+ persons or of BAME persons; it does mean that there should be equality of access; that the choice to study and practise law should not be limited because of our gender or faith or ethnicity or socio-economic background.
I am proud to be a woman in Law today, because of the sacrifices of others to get me here, because of the giants who've gone before and beside - from Madge Easton Anderson to my Mum and sister - paving the way; because of the huge need in society for people who can stand up and be counted and make sure those less able are counted too. I am proud and excited to be a woman in Law today because I feel an awakening in this time, a surge, an energy, perhaps as was felt by Madge Easton Anderson and fellow foremothers, with the passing of the Sex Disqualification (Removal) Act 1919. I stand proudly beside colleagues in the profession today - of all genders, ethnicities, ages and stages and sectors of practice, feeling the vibe, the drive for positive change; excited and optimistic for the future shape of this wonderful, wonderful profession.