Rupa Mooker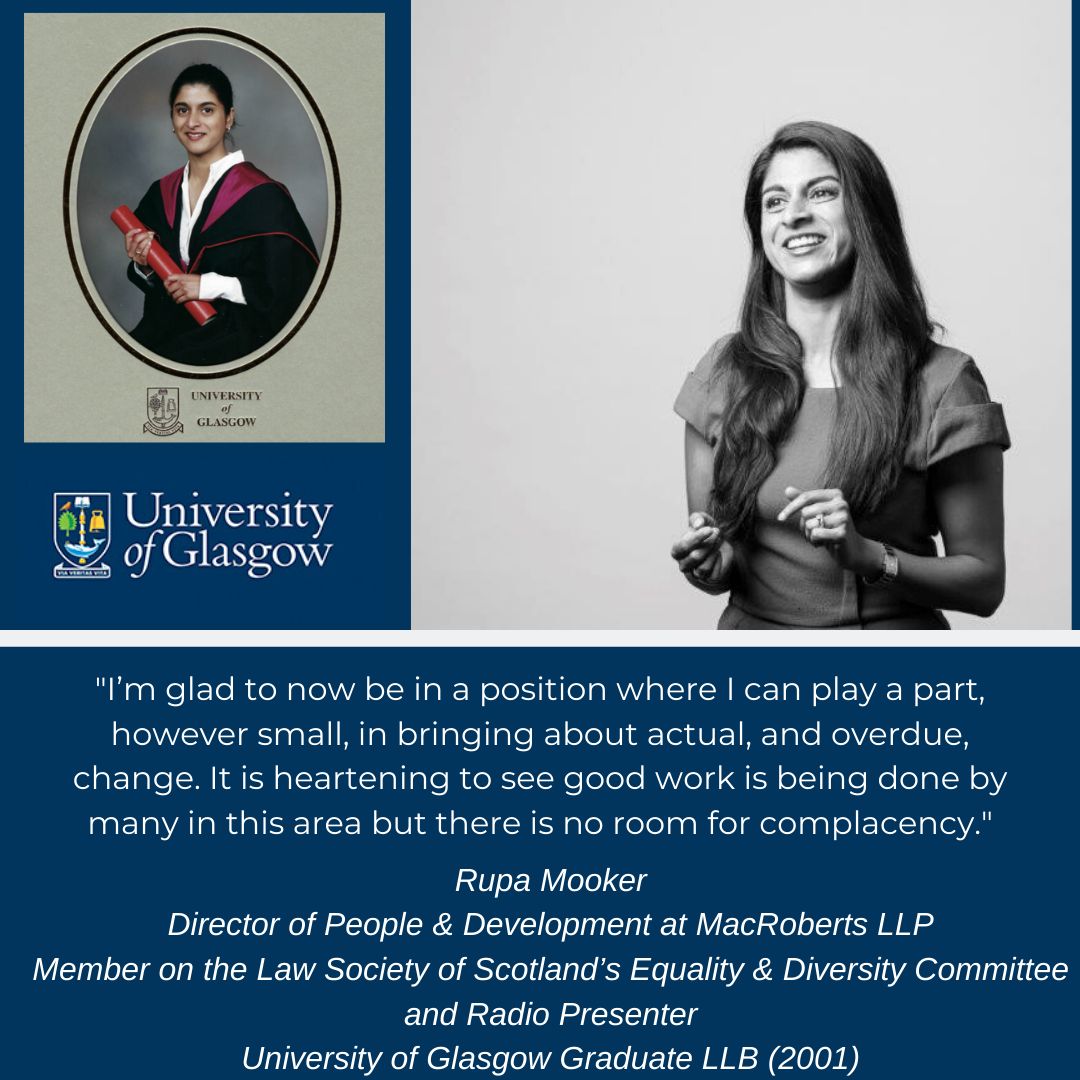 Anyone who knows me well knows that it was never my dream to become a lawyer - I wanted to be a TV star! However, aged 17, and guided by my parents, I was advised it would probably be a good idea to have a backup plan in case my quest for stardom didn't quite work out. Also, I'm Indian. If I wasn't a doctor, lawyer, dentist or accountant, it was not going to go down well in the community….
And that was how I found myself studying law at the University of Glasgow in 1996. I was fortunate enough to have a beautiful, world class university in my home city – why would I go anywhere else? The next 4 years at UoG passed in a whirlwind of lectures, tutorials, assessments, exams, exemptions combined with lots of fun and laughs along the way with my new friends. I graduated in 2000 and after a lot of umming and awing about it decided to do the Diploma too. With all my studying completed by the summer of 2001, I was at a genuine loss as to what I was going to do with my life. My friends had already managed to secure traineeships or had a good idea of what career path they were taking. I hadn't applied for a single job as I still wasn't convinced law was for me!
So, I did what any sensible person would do and decided to enter a nationwide competition on MTV to be a TV presenter. Obviously. By some miracle, I won the Scottish heats and made it to the final 8 in the UK. At the same time, I applied for one traineeship (back-up plan) and was lucky enough to be selected for interview. I didn't win the MTV final so thought I might as well give the law a shot!
The panel who interviewed me didn't open my CV or ask me very many 'law' questions. We just talked about my extra-curricular activities and the fact I was doing a radio show at the time. I left the interview thinking there was no chance I'd be offered a traineeship. However, 2 hours later there was a voicemail on my 'house phone' saying I had a job That was 18 years ago and I've been with MacRoberts LLP ever since!
I qualified in 2003 and decided to specialise in Employment Law as, although it was not a subject I had studied at all at UoG, it was the seat I most enjoyed in my traineeship. I was fortunate enough to be offered a job and work with a fantastic employment law team as well as some brilliant, high profile clients and do some really interesting work. I worked my way up from trainee to Senior Associate, got married and had 2 wonderful boys along the way. All was going well but in 2016, I wanted a new challenge and decided to take some 'time out' It wasn't an easy decision but my team at MacRoberts were understanding.
While I was working my notice period, a vacancy came up internally for the HR Director role. The (then) Managing Partner, who also happened to be an Employment Partner, offered me the job. (Spoiler: he'd also interviewed me in 2001). Apparently, the Management Board had discussed matters and thought that I was a good choice for the role – I had been there my whole career, knew the place inside out, liked working with people and my Employment Law background was a huge advantage.
I accepted the offer and after one of the most epic leaving nights ever (I did technically leave a department….) and a short career break, started as Director of HR in 2017.
Career-wise, the last few years have the best and most fulfilling for me. I am fortunate enough to work with an excellent team and suggest and implement strategic decisions across the Firm, making real change for our people where it is needed. Coming from a 'fee earning' background is advantageous as it means I fully appreciate how things impact on both lawyers and support staff.
The area I am most passionate about working in is Equality, Diversity and Inclusion within the Scottish legal profession From increasing the number of women in senior positions to encouraging more representation within the legal sector from those of a BAME background, from ensuring those who are from different socio-economic backgrounds are on an equal footing to simply making the profession a 'safe space' to work in I'm glad to now be in a position where I can play a part, however small, in bringing about actual, and overdue, change.
It is heartening to see good work is being done by many in this area but there is no room for complacency. The results of the Law Society of Scotland's (LSS) 2018 Profile of the Profession survey were astounding in some aspects. Whilst there has been improvement within the profession over the last few years, there is much work to be done. It is a continuous process and one which I am driven to contribute to in a wider capacity as a member of the LSS Equality and Diversity Committee. I am excited about developing my career at the same time the legal profession is moving forward.
I've been fortunate enough to be invited to share my thoughts at a number of conferences in my career on these matters including the UoG 100 Years of Women in Law conference earlier this year. It was slightly surreal for me to be back at university sitting on a panel with one of my lecturers with some of my other lecturers in the audience. So, although I still work in radio, it looks like the backup plan worked out alright in the end.