Rosa Greaves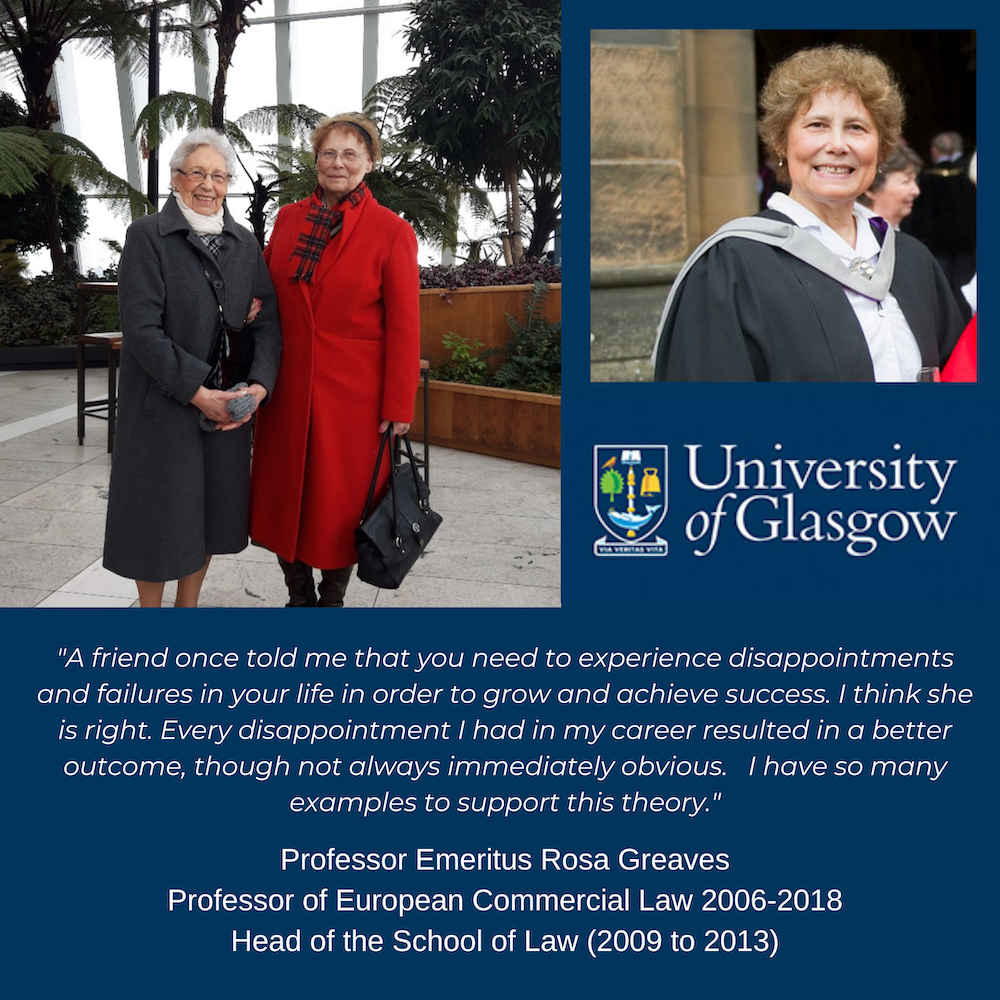 I am a foreigner who arrived in the UK in 1963 when my father was transferred to the London office of the company for which he worked. I was a very unhappy eleven year old, puzzled as to why she had been uprooted from a sunny island to a misty and cold land, away from her school friends and family members, living in London, a huge and noisy city with public buildings covered in dark soot and smog, and surrounded by people whose language she did not understand. Fast-forward some decades to 2018 when I retired from the University of Glasgow with wonderful memories of a very full, happy and rewarding career. I still remember with delight being on a train between Glasgow and Edinburgh when the then Head of School, Professor Tom Mullen, called me to offer the job at the University of Glasgow. I accepted the offer on the spot and the smile on my face had to be seen to be believed. I had a wonderful time in Glasgow and retired from the University completely fulfilled. The circle of my working life was complete. But let's start at the beginning...
I started my academic career at the University of Southampton where I spent seventeen and half years, followed by an appointment as the Allen & Overy Professor of European Law and Director of the Durham European Law Institute at the University of Durham which I held for twelve and half years and then onto the University of Glasgow for a further twelve years. I was also lucky to have had close links with the University of Oslo for about thirty years including a part-time professorship appointment for 15 years. I treasure the honorary doctorate that the University of Oslo awarded me in 2000. Over the years, I have lectured all over the world and to all kinds of audiences (students, academics, law practitioners, judges and civil servants). I met wonderful and very interesting people, many of whom are now firm friends. I also took breaks from my academic life to experience how EU competition law was applied by practising lawyers and enforcers. I was then able to take what I had learnt in practice to the classroom and lecture with confidence to the benefit of my students. I had a very long academic career (42 years) but was it all plain sailing? Did it all go according to plan? Of course not, how could it have!
A friend once told me that you need to experience disappointments and failures in your life in order to grow and achieve success. I think she is right. Every disappointment I had in my career resulted in a better outcome, though not always immediately obvious. I have so many examples to support this theory but will select only one.
I went to the University of Leeds to study law and to become an international lawyer. That unhappy eleven year old had been nonetheless totally committed to this goal. I studied hard, including going to school on Saturday mornings to fit six languages into my schedule. The plan was going well … until it faltered. Unfortunately, my grade for the International Law course I took at Leeds was too low to enable me to go on to study for an LLM in international law. So, apologetically, the Dean of the School of Law suggested I apply to study for a new LLM in European Legal Studies which had just been launched at the University of Exeter by a friend of his, a Professor Dominic Lasok. The year was 1973 and this was the first UK LLM programme specialising in this new field of law. The Dean told me he would put a word in for me...old boys' network...and the rest is history.
I have been asked by friends and colleagues whether I felt discriminated either as a woman or as a foreigner at any time during my working life. I have thought hard about this question, but I do not have a clear answer. Indeed, there were a number of times I encountered unfairness that caused me distress and affected my progress. For example, when I qualified as a barrister I intended to practise but London Chambers then were just beginning to embrace women barristers among the brotherhood, permitting only one female (the so-called token woman) per Chamber. I was offered a tenancy but the offer was withdrawn within a week when the Head of Chambers realized that another female, who had close family links with the Chambers, would also be applying. Chambers were only taking one woman and so I was informed that it was not going to be me. I was heartbroken at the time but the consequence of that rejection was that I applied for an advertised lectureship in European Law at the University of Southampton and never looked back. Similarly, my promotion to Senior Lecturer at Southampton University was delayed by two years because I was unaware there was a pecking order. Two names would be submitted each year for promotion with the second named person knowing their application would fail but it would be top of the list the following year. I had been in Brussels for two years working at the European Commission and so failed to put my name forward in year one so that I would be top of the list the following year. I was furious at the unfairness of the system and certainly this disappointment spurred me on to aim for a professorial appointment which is how I arrived at the University of Durham in January 1994 as the Allen & Overy Professor of European Law.
I feel privileged to have been part of three wonderful Schools of Law and in the right order. My early years at Southampton were hugely influential in shaping the kind of academic I became. In my first years at Southampton I was exposed to a range of experiences not generally known in other UK Law Schools at that time: seminars of 20 students in the first year; compulsory dissertations for final year students; innovative methods of assessment such as the 3 day take home exam paper and the essay/problem solving style of examination; a student undergraduate body comprising not only of school leavers but also of a significant number of mature students (quite a few females) and international students (mainly from Cyprus and Norway); postgraduate students studying for an LLM in Maritime Law; close contact with local and London law firms; research, teaching and publishing in new fields of law (e.g. Women and the Law, co-authored by my then colleague Susan Atkins, with Brenda Hoggett (now Baroness Brenda Hale)). In addition, there were a good number of female law academics as well as a very international environment. Not only did I have colleagues from all over the world but many foreign academics visited regularly. Within four years of my appointment I had been a Visiting Lecturer at Universities in Rouen, Hamburg and Western Australia. It was an energetic, enthusiastic and supportive environment where staff and students jointly promoted extracurricular activities such as launching a Legal Advice Centre.
At Durham my experience was different but equally valuable. It was a much smaller and more traditional Law department with a less diverse group of students and an embryonic LLM programme. My arrival was momentous for the University of Durham as I doubled the number of female professors. My chair and my office team (research assistant and secretary) were fully financially supported by Allen & Overy. This was the time of significant expansion for Durham so the two female professors were extremely busy sitting on senior and professorial appointments all over the University since all appointment committees were required to have a female member. All of this was done alongside teaching and being Chair of the Law Department's Board of Studies (Head of School). It was a tough initiation but what an opportunity to understand how the University worked, to integrate with academic and administrative colleagues from very different disciplines and to observe the strategies used by my male colleagues to get what they wanted. It was lonely to be only the second female professor at Durham and there were not many females in the Law Department or elsewhere to show empathy. I still remember how apprehensive I felt when attending senior University committee meetings, knowing I would be the only woman member. It was hard work. I had to be extremely well prepared, concentrate hard on how the discussion was evolving and then strategically voice my opinion, often taking care to come across as if I was confirming something that a male colleague had already proposed. Not an easy task and, at times, I had to be devious! However, I gained plenty of experience of how my male colleagues operate, the enduring importance of the old boys' network and the after-work drinks culture of decision making. I like to think that I learnt useful skills. Having been in Brussels for two years, it was at Durham that I first experienced the refocusing of Law Schools from teaching institutions where the welfare and progression of the students was paramount to a research-led teaching mantra and a focus on publications (outputs in modern language), interdisciplinarity and internationalisation of the curriculum and of the student body. It was also the beginning of the centralisation of decision-making away from academic units.
Arriving in Glasgow was in some ways returning to what I had experienced in Southampton. I was back in a more diverse School with a large number of academics and the same buzz that I had experienced in my early years as an academic. There were lots of things going on at Glasgow. It was wonderful to see a large undergraduate cohort, many joint undergraduate degrees and a healthy number of LLM programmes, an extensive undergraduate student exchange programme, an international group of academics and an ambitious research focus. The icing on the cake was that there were a good number of female colleagues. During my period as Head of School, the University was fundamentally restructured and major changes took place in the School itself, such as the return of the Diploma in Professional Legal Practice, the strengthening of teaching and research in international law and a significant expansion of LLM programmes. My 'training' in Durham was very useful as well as the fantastic support I received from my Glasgow colleagues (male and female) during my period as Head of School, which included one or two challenges!
In reflecting on my career I have to acknowledge that I had an excellent start. My parents believed in me, encouraged me and supported me through the ups and downs. I was very sorry that my father died about a year before I got my professorship but my mother, a teacher herself, has been able to share my journey with endless support and patience. In times of great joy, and in times of utter despair, she has always been at the end of the telephone listening, counselling and helping me to see the wood for the trees. My father gave me confidence in myself at a very early age. I do record receiving a lower mark than I had expected for a school essay and arriving home in a flood of tears. He took me for a walk and simply asked me if I was crying because of the opinion of one person in the whole world. He told me that I was giving far too much importance to that person. Similarly, when something negative happened, he would ask me to think of something worse that could have happened. For example, I recall having an accident and badly damaging the passenger door of the family's brand new car. When he saw the damage his response was simply to say it was lucky that neither he nor my mother were in the car at the time. When things have been particularly hard in my career, indeed my life, I have remembered his words and it always makes me feel better.
Thinking back, I am also very grateful to the supportive mentors I had along the way. They were mostly male but not all. It was a male colleague who urged me to apply for the Durham professorship, a male physics professor who mentored me during my first period as Head of Department in Durham and it was two male colleagues who reshaped my CV and gave me grilling interviews in preparation for the Glasgow chair interview. However, it was a female professor, Valentine Korah, who gave me the best career advice. She encouraged me to take time off from academia to experience practice if I wanted to make my research and teaching in the field of competition law relevant. I took the advice and spent periods of leave in a law firm in London, in the European Commission and in the Court of Justice of the European Union (Chambers of Judge David Edward). It was another female in a firm in Brussels, Gilly Shelley, who taught me the skills of negotiation and persuasion and it was female colleagues who supported me most during some challenging years as Head of School at Glasgow.
In conclusion, what would be my advice to female law academics at the beginning of their career today? First, never worry about disappointments. By all means rage and cry your eyes out but turn the experience into an advantage by thinking positively about what you can achieve. You know yourself better than anyone else. Secondly, never turn down an opportunity because you cannot see its immediate benefit to you. Almost everything you experience and do will be useful sometime in your life. Thirdly, seek out a positive mentor with whom you can share your concerns and aspirations and from whom you can gain advice and support. Fourthly, contribute to a Law School that values collegiality and diversity, for that will be the best work environment you can have to enable you to flourish and progress to whatever heights you aspire. Last but not least have fun, enjoy your life wherever your career takes you.