Rachael Purvis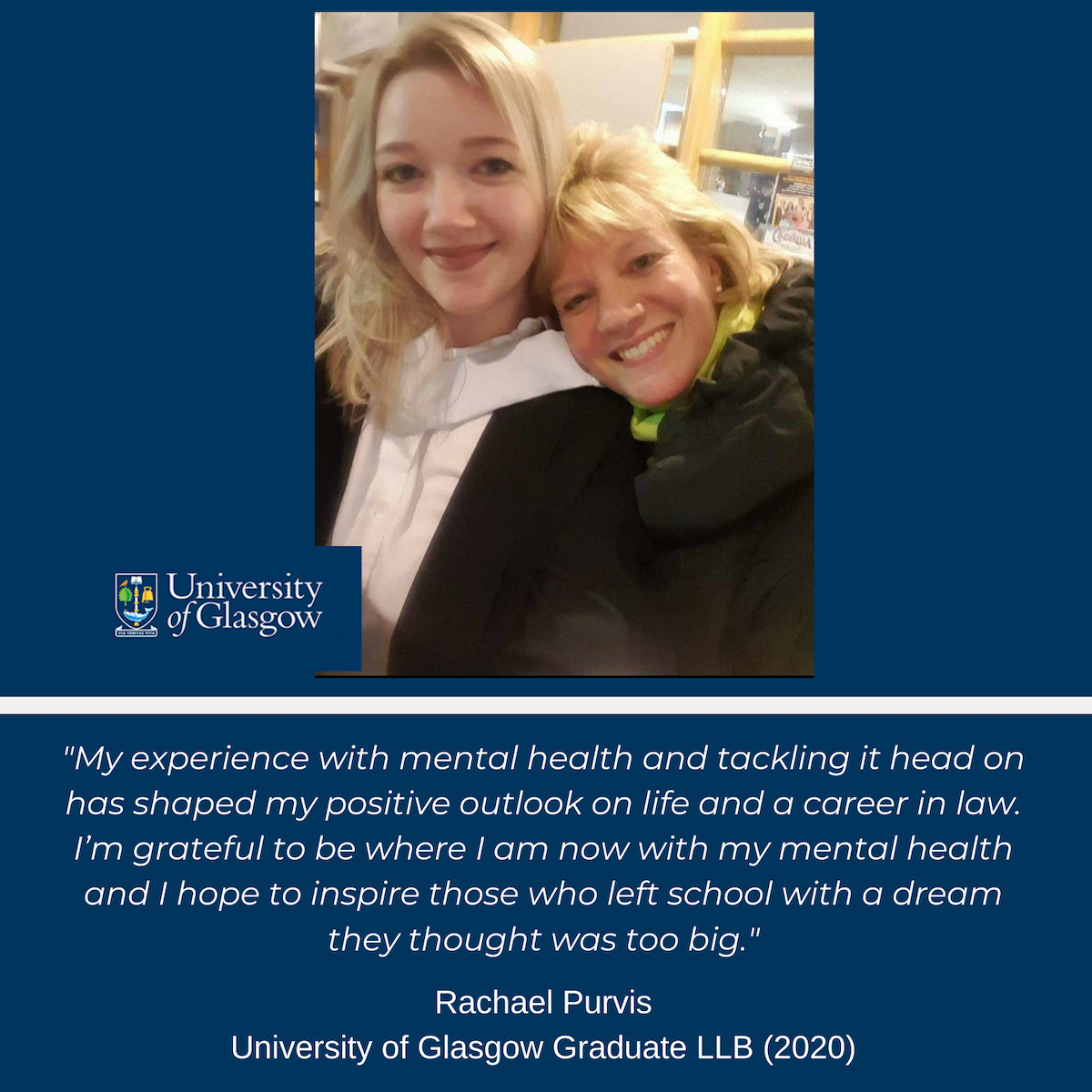 My name is Rachael Purvis and I graduated in 2020 with a Scots Law LL.B from the University of Glasgow.
I didn't follow a traditional path to the profession, despite how much I wished I had for years. Having left school in 2011, I worked as a carer for 3 years before discovering the Legal Services course at City of Glasgow College which would allow me to progress onto university. It was a dream to study law at the University of Glasgow since I was a child – I always found the rules in society interesting and found the University and the West End beautiful, a world away from the SMID 3 area where I attended secondary school.
I was always studious, I enjoyed school and did well, winning an award for my performance in 1st year of secondary school. During 2nd year, I began to struggle with low mood and slowly stopped enjoying school, hobbies, even being around friends. I was diagnosed with depression in my 3rd year, but I continued to struggle. I realised once I received my 4th year results that my dream to study law, let alone at Glasgow University, was gone. After 2 years on medication, I began to feel like myself again and I decided to do my best in my Highers, despite not achieving what I had hoped to.
I left school in 2011 with 4 Highers, scared of the path ahead and feeling as if leaving school was standing at the edge of a dark, steep cliff. I watched my friends apply to university and college and, in a last ditch effort, I applied to a local college to study Social Sciences. I quickly realised I had made a mistake and left my studies – something I had never imagined doing. I continued to be impacted by depression and felt downtrodden as my friends were moving away for university, beginning their new chapters while I felt left behind. I decided that perhaps university and studying law weren't for me and spent some months making weekly visits to the Job Centre, whilst my friends were attending university classes.
I found a vacancy for a full-time carer in the community role and decided to apply. I was interested in working as a carer as my interest in law primarily comes from standing up for people. As a carer, I knew I would directly be helping people in their daily lives and believed that my further interest in law could enable me to stand up for some of the most vulnerable in society and help them access their rights. I prepared hard for the interview, bought a new dress and my mum gave me a lift to their office. I had no work experience or qualifications in care, so relied on my friendly personality and hoped my natural empathy would shine through.
I was successful and attended various training days in areas of Glasgow I was visiting for the first time as a sheltered 18-year-old. I felt I had taken on more responsibility than I had realised but I quickly adapted by transferring my interest in studying to preparing for my new role. I studied my clients' Personal Development Plans, studied the training I received, and used Google to find legislation about social care.
On my first shift, I was escorting a client on public transport (a journey of over an hour) to a club they attended, in an area I was entirely unfamiliar with. I studiously researched the location of the club, the bus to take and my client's care plan, but this was by far the easiest part! No amount of studying could have prepared me for the fact my new client enjoyed singing "Mamma Mia" by ABBA at all times (a song I also unabashedly know word for word). I was flustered as I felt all eyes on us and worried that I was being judged by others for being a 'bad' carer. I remembered my training and tried to distract them. They began to get upset and, feeling in over my head, I quickly forget everything I had studied. I calmed down and thought about the situation. I remembered that the client was used to visiting the club in a car with their ABBA CD playing, and realised that this routine felt comfortable for them. I moved us upstairs on the bus so we could quietly sing ABBA together and the rest of the shift went smoothly, a win-win!
I developed a close rapport with that client and their family on a personal level, which helped me to feel like myself again. I continued to enjoy studying legislation and working to achieve best practice, but the fulfilment I drew from supporting my clients in their daily lives, to achieve their goals and to build genuine relationships with them was unparalleled.
As I began to come into my stride as a carer, I couldn't shake my curiosity about what students were learning. My friend in 1st year of the LLB invited me to stay with her at her dorm for a weekend. I relished the opportunity to experience law and university, even briefly and on a second-hand basis. This piqued my interest, but I continued to suffer with depression and was plagued with self-doubt – carers don't go on to become lawyers, I told myself.
However, after 2 years working full-time as a carer and trying different antidepressant medication and therapy, I began to feel better and came into my stride. I began to research how to study law and found a way to attend Glasgow! I learned that by studying a Higher National Diploma in Legal Services and achieving AAA (as well as sitting the LNAT), I would be able to attend Glasgow to study Scots Law. I was 20 years old at the time, weighing up my options to study law full-time for 7 years (2 at college and 5 at university), taking a huge reduction in pay, the risk of failing and 7 years of education possibly not resulting in anything. But I had to follow my dream. I worked hard on my application and personal statement and received my acceptance e-mail on the back of a bus between shifts.
I relished going into Glasgow every day, meeting like-minded people who also wanted to study law, and I thrived. I went from strength to strength in college, focused on my goal to graduate with AAA. During the 2nd year of college, I researched the University of Glasgow and the LNAT process by myself. Others in my class were interested in Glasgow, but ultimately intimidated by the LNAT exam. No support was given by college to students who hoped to attend Glasgow University, as college students did not ordinarily go on to study at Glasgow. I was similarly intimidated, but to combat nerves I approached my research as I had approached my work – I researched the LNAT myself, sat mock exams and improved my critical thinking skills. My score exceeded the median for the year and I had achieved AA by February. I was ultimately the only student in my cohort to be offered a place at the University of Glasgow.
Energised, I studied for months and ultimately graduated from college with AAA, accepting my place at Glasgow. At the same time, I began part time work in the fraud department of a high street bank as I had taken an interested in financial crime during college. My experience from my first shift as a carer taught me that it is essential to take a hands on approach to learning. I spoke directly to victims of financial crime and having come from 3 years of working with a variety of clients and communicating in a variety of ways, I was able to deal with clients calmly and professionally. I was able to build an exceptional rapport with customers and sought to make their experience with the bank a positive one. I found the job intellectually stimulating and enjoyed learning about the FCA and money laundering regulations. This role allowed me to grow my working knowledge of financial crime.
When I started university, despite the hurdles I had overcome to achieve my place, I suffered from imposter syndrome. However, I do think being a few years older than those in my year, I was more certain about my goals which made me a more confident person than I would have been had I attended university 5 years ago. I used this confidence to my advantage – I embraced group work, I spoke openly in front of my cohort about mental health and eventually, imposter syndrome. I hoped to be able to be a voice that would encourage others to open up and understand they weren't alone. I particularly found that the qualities I learned as a carer were useful in law and I began to embrace my 'scenic route' to university.
As I progressed through the LL.B, I was a member of the Alumni Association at college and college students began to reach out to me online about university. I realised college students were at a disadvantage in terms of researching university and the process of applying, so I got in touch with the college legal services department. I now mentor several students and help them at all stages – UCAS applications, LNAT preparation, CVs, scholarship applications, etc. My involvement with mentoring at college grew my confidence and I've embraced speaking about my mental health and encouraging others to do the same.
Studying law at Glasgow has been one of the most important and profound experiences of my life. From the wonderful opportunities afforded to me, such as the Professional Skills Programme, to the brilliant lecturers and students whom I've had the pleasure to meet over the last 4 years, Glasgow has helped to shape me into the person I always hoped to be. I'm looking forward to helping more college students in the future attend Glasgow and overcome the imposter syndrome I felt as a college student. I hope in my role as a Legal Cheek Ambassador in the coming academic year that I have the opportunity to meet more students to discuss mental health and the importance of self-care at university.
My longer journey to law is a direct result of my struggles with depression. My experience with mental health and tackling it head on, as I learned to do all those years ago as a carer, has shaped my positive outlook on life and a career in law. I'm grateful to be where I am now with my mental health and I hope to inspire those who left school with a dream they thought was too big.
Graduating with my LLB would also not have been possible without the opportunities which have been created in recent years for those from different social backgrounds. The University and legal profession's commitment to social mobility has allowed me to be where I am today.
I believe it's so important when doors begin to open for you to hold them open for others. Not only is it personally fulfilling to help others but to create greater social mobility in the profession we need people from different backgrounds to flourish professionally.