Naomi Gowans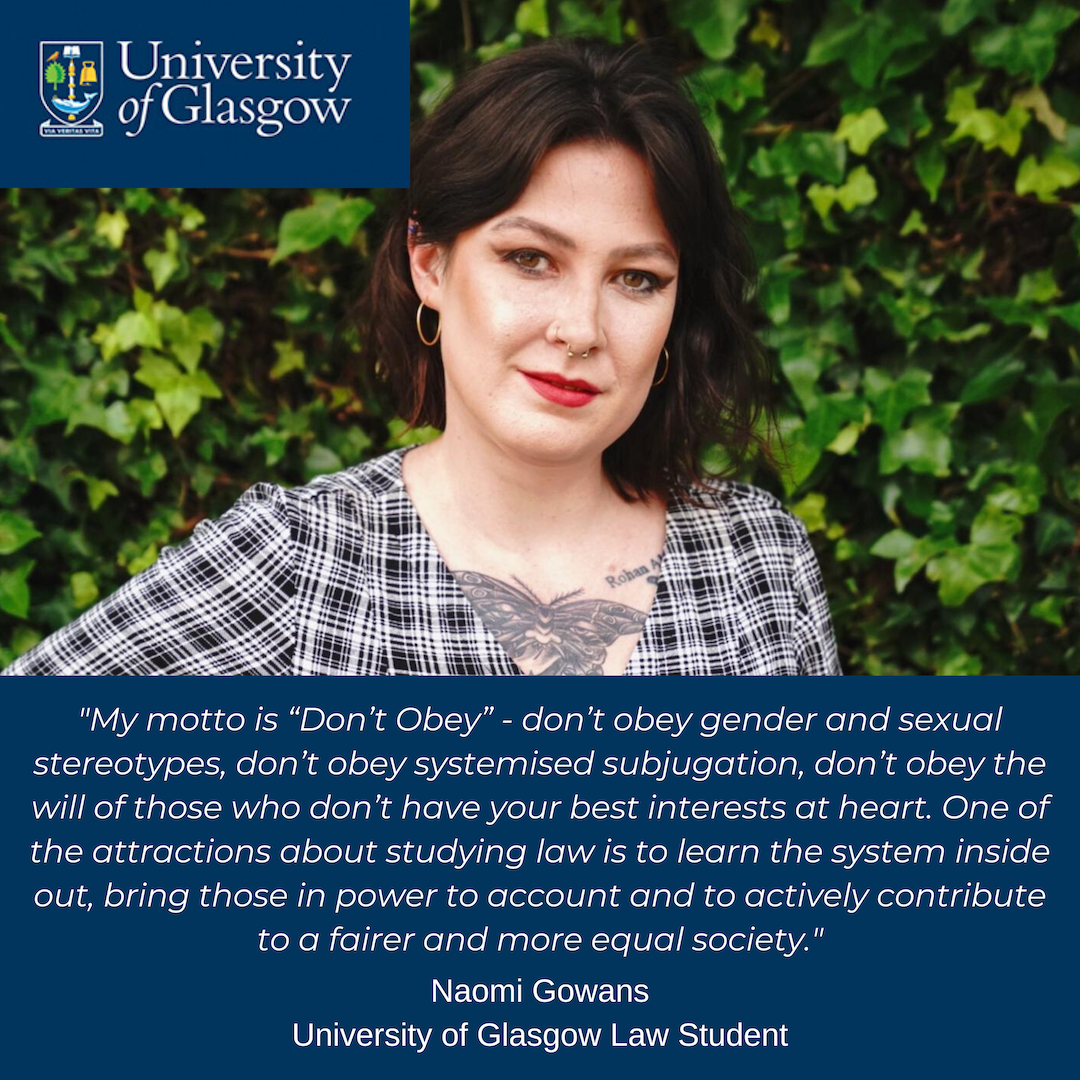 Content warning: mention of domestic abuse, homelessness, mental illness
I am at the very beginning of the formal path of legal studies having just completed my first year as a Law & Philosophy undergraduate at the University of Glasgow. It's slightly intimidating sharing the same platform with such experienced and highly educated women but I'm honoured to have been asked to share my story. I hope that my accumulative life experience, which has ultimately inspired my decision to pursue a career in law, is worthy of inclusion among these voices.
My teens and early twenties were difficult, I struggled with several mental health episodes following a move to London and the sudden death of one of my closest friends. I dropped out of university and cut myself off from family and friends. The 2008 recession meant it was virtually impossible to find work, sometimes I didn't eat for days at a time and I was made homeless more than once. I was eventually successful and secured a job working as a property administrator. I thoroughly enjoyed my job and quickly worked up the ladder gaining my professional certificate as a property manager. I moved jobs to a luxury estate agency in Kensington & Chelsea. While the work was varied and interesting, the work culture was relentless, and I was particularly critical as some of the properties we managed were priced at a weekly rental more than my annual salary! My work gave me an insight to land & property law and the importance of contracts. During this time, I helped prepare evidence and statements for landlords whose tenants were in rent arrears or damages and had gone to court.
Despite finding a well-paid job, it took three months for me to save up enough money for a deposit and first month's rent in advance. I was sofa surfing in a particularly deprived estate in London which was an exceptionally difficult experience: I encountered first-hand the devastating effects of drugs, alcohol, prostitution, unemployment, poor housing and its facilitation for violence against women. I myself was also trapped in a violent and abusive relationship.
Inequality and poverty breeds trauma and disillusionment: the system is not broken; the system is a carefully curated machine designed to keep power selectively within the grasp of elite white cis males. Our collective voices can challenge and dismantle it: I am encouraged and inspired upon reading the voices of women in law who have fought the last 100 years (and are still fighting) for their position of equal footing with their counterpart.
My biggest fight was when I summoned the courage and reported my abusive ex-partner to the police in early 2015. The "Me Too" movement hadn't broken yet and I felt isolated. Going to court was frightening. I was told I would only have to be there for a day or two, but it got dragged out for over a week. Having to recount each painful encounter and systematic abuse was terrible and it was even worse being cross examined. I remember looking on in horror as an army of court assistants marched in with foot high printed copies of every text message, email and social media message which had been edited and contrived to persuade the jury that I was lying, I had made everything up, that I had asked for it or that I was deranged. Nothing can prepare you for having every detail of your private life dissected in court.
I know I was one of the "lucky" ones: he was found guilty and is now serving a lengthy prison sentence. I don't feel lucky. I know that one in three women will experience violence and sexual abuse. I also know that statistically convictions for rape and abuse in England and Wales are shockingly low: austerity and systematic cuts have decimated the justice system.
I wanted to use this opportunity to speak out to women and men who have suffered abuse: take courage, speak up, don't let perpetrators hide in embarrassment and shame. Your courage and strength is greater than that of your abuser. There is nothing to be ashamed of being a victim and a survivor. My motto is "Don't Obey" - don't obey gender and sexual stereotypes, don't obey systemised subjugation, don't obey the will of those who don't have your best interests at heart. One of the attractions about studying law is to learn the system inside out, bring those to account and to actively contribute to a fairer and more equal society: my privilege means I owe a debt to those born into less fortunate situations.
After spending nearly seven years in London, I moved back to Scotland, met an amazing man and unexpectedly fell pregnant with my son. Being a mother has brought me the greatest joy - it is also a most exhausting and demanding job! I had been working in Glasgow and returned to work after maternity leave - only to face harassment and inflexible working arrangements from male management. I've found that despite equalities legislation, sexist and exclusive attitudes still exist within the workplace 50 years on. I took the difficult decision to leave that job and dedicate my focus on something ultimately worthwhile.
I started volunteering with Scottish Refugee Council, running presentations on how to access Housing and also volunteering with Citizens Advice. There I met lawyers who inspired me to learn more about the legal system: I decided that I wanted to pursue a legal career and applied for an Access to Law course at Glasgow University. In 2018-19 I was working as the area manager for a student accommodation provider, juggling mom duty, volunteering, and studying an Access course in the evenings at Glasgow University. Balancing all of this is my greatest achievement to date! I was delighted when Glasgow University accepted me on a joint undergraduate degree to study Scots Law & Philosophy in 2019.
GU is an incredibly supportive environment; they have a nursery for my son and the staff really go out of their way to help. My boyfriend works away a lot, so being an independent mother means I have significantly less time to study. I'm learning to work smarter and set realistic goals. It is difficult in many ways: sometimes I feel I'm spending too much time away from my son and feel guilty for not being there, other times I feel guilty for taking too much time away from studying! Ultimately, I want a better fairer world for him to grow up in; he is my motivation and inspiration to keep going. For the first time, I feel I am where I should belong - studying law and philosophy has brought me the academic satisfaction and peace of mind I've been seeking. Here's to the next 100 years!