Mashal Aamir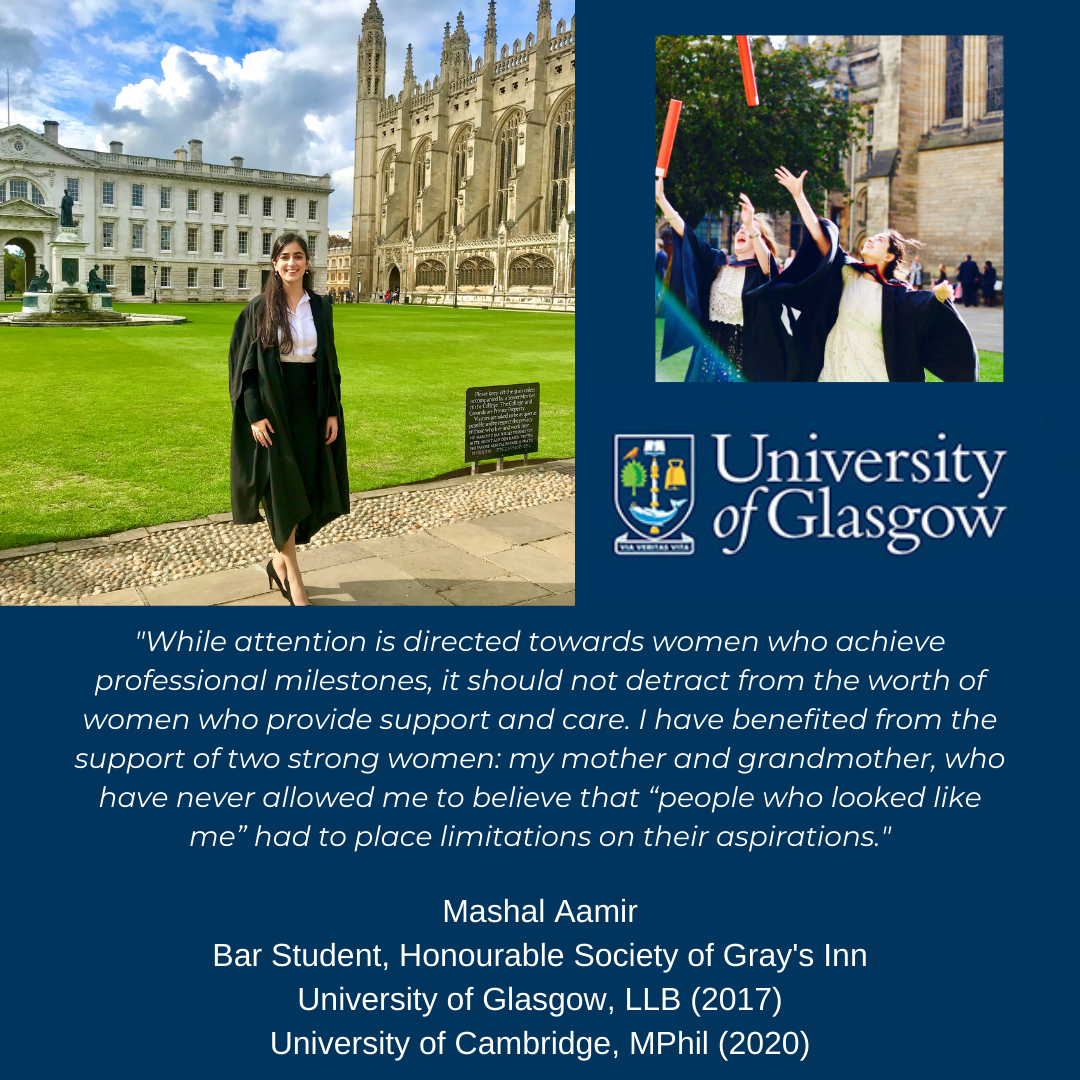 I studied for my LLB at the University of Glasgow, graduating in 2017. Throughout my time at Glasgow I was kindly guided by my advisor of studies, John Finlay. In my final year I was particularly fortunate to be supervised by Emilios Christodoulidis and taught by Ruth Dukes, Rosa Greaves and Lindsay Farmer. I was so inspired by the passion they each had for their field. They instilled in me the importance of reflecting on the current state of the law and always made my contribution feel valued while challenging me in a way that developed my analytical skills.
As a student, I also realised the power of the pen while serving as Editor of the Glasgow University Magazine. I went on to work for the largest news organisation in Orange County, USA, where I interviewed the first Turkish Nobel Prize winner in Chemistry, Professor Aziz Sancar, for my piece on Girls in Stem. He told me that the most inspiring teacher he ever had was a woman, who first taught him maths at school. My piece was published as a cover story. When I saw it in print, I thought about how people reading it may see stereotypes being challenged as they read about the recent recipient of a Nobel Prize, praising the woman who taught him maths.
I have lived and worked in five different countries in the past six years in order to broaden my horizons both professionally and culturally. I worked at a leading International Law firm in South Korea; for the British Government in London; at the International Criminal Court in The Hague; and on various pro-bono projects in America, Pakistan and Scotland. In my experience, in each of these places a common theme is that society places particular expectations on the role of women.
There is an automatic tendency to draw subconscious inferences from what we see. This heuristic processing technique, while intended to be a mental shortcut, can come at the cost of perpetuating presumptions against others. As a Scottish woman of Pashtun ethnicity, I have borne the brunt of uninformed assumptions. This includes from a leading UK law firm, where I was told that there was a hiring quota for people who looked like me.
As discouraging as this is, I have never let it detract me from my aims. It taught me that we have to shape our own perception of ourselves in order to then pursue, accomplish and participate alongside our male counterparts. As women, instead of acquiescing to societal parameters that are drawn around us, we should set our own boundaries.
I was first introduced to criminal legal practice by Frances McMenamin QC, the most senior woman at the Scottish criminal bar. It is frequently assumed that someone who deals with serious crimes cases must be "tough" but this could not be further from the truth when it comes to Frances. Her care and guidance shaped my own journey as I undertake training to be a Barrister. She represents that a woman can be sensitive and considerate, while also being a prominent figure of authority in a serious profession.
At the International Criminal Court, I was one of the youngest stagiaire in the history of Trial Chambers. During my time there the Chief Prosecutor was Fatou Bensouda, who has been frequently listed as one of the most influential people in the world. Not only was her leadership inspiring but the value and respect I received from my colleagues, including the three male Judges I worked for, helped me challenge the limits I felt as a young, Asian woman. While it can be hard defying being stereotyped, it is very easy working in a field you are passionate about.
I keep in mind the goals of being informed and inclusive in my current work. During my Masters I was Associate Editor of the Cambridge Human Rights Law Review. My writing currently explores feminist legal theory in the global south, transgender rights in the criminal justice system, and a project that advocates expanding the criminal law teaching curriculum in the UK to include marginalised voices.
While studying in Chapel Hill, USA, I met Hilary Clinton through supporting her 2016 Presidential Campaign. She had flown in from a political engagement across the country and took to stage to speak to the crowds right away. I saw that the job of a mother has unending office hours because she paused, right before going on stage, to quickly video call her young granddaughter and say goodnight. This small gesture was indicative of the many roles that women have to juggle and how easily it can be overlooked, be it as a prominent political figure, a wife, mother, grandmother and friend.
While attention is directed towards women who achieve professional milestones, it should not detract from the worth of women who provide support and care. I have benefited from the support of two strong women: my mother and grandmother, who have never allowed me to believe that "people who looked like me" had to place limitations on their aspirations. It is also important to remember the role that men have in supporting women in law, a role most exemplified in my life by my father who has been unfaltering in his encouragement and belief in my abilities. As the late Ruth Bader Ginsburg said, "Women will only have true equality when men share with them the responsibility of bringing up the next generation." Therefore, I believe equality is not simply about the unmet demands of one gender but rather, it should be a unified aim that we collectively aspire towards.
I am proud to be a woman in law because of the men and women who see beyond the stereotypes that ethnicity and gender may present and instead value my work. I am grateful for the support I have received but I remain mindful of those who do not receive such encouragement. We must be mindful of the varying hurdles that different circumstances entail, and I hope that my work contributes to bringing both awareness and accommodation of these differences.