Mary Fullarton Fyfe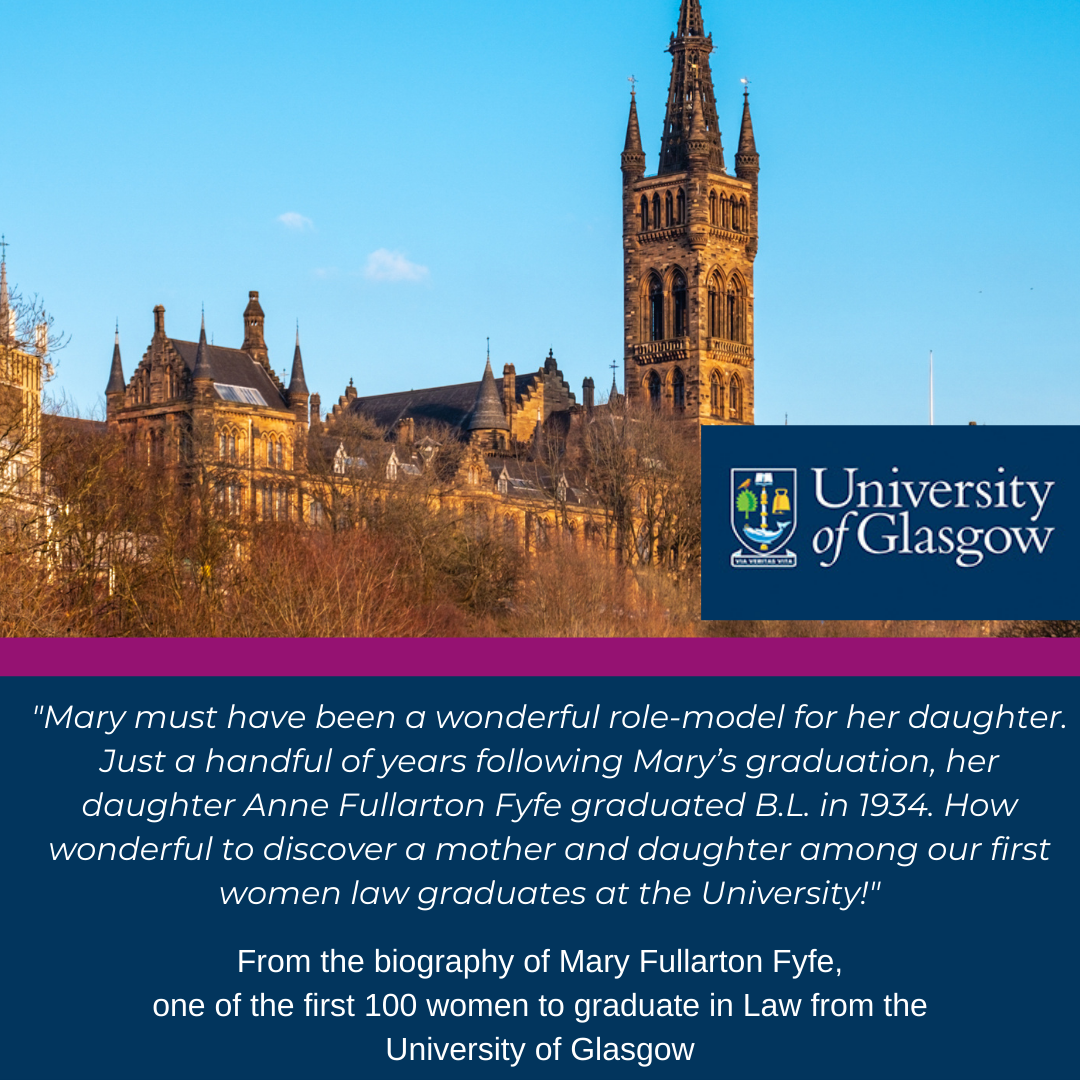 Mary Fullarton Fyfe was one of the first 100 women to graduate in Law from the University of Glasgow. She was a mature married woman when she matriculated in the Faculty of Law in 1925. She was born Mary Armour in 1883, the daughter of Annie (nee Fullarton) and James Shearer Armour. She had taken an Arts degree (M.A. Glasgow, 1907) and married David Fyfe, a physician and surgeon (1910) before taking the decision to return to university to study Law. She was then 42. Unsurprisingly, for lack of relevance, she left that part of her matriculation form that asked for her father's occupation blank. He was not a lawyer, however, but a timber measurer.
Mary Fyfe was an excellent student and her name appeared frequently on the prize-list. She gained an Honours mention in Scots Law, a first class certificate in Civil Law and Forensic Medicine, 3rd place in both Jurisprudence and Constitutional Law, 9th place in Evidence and Procedure. She graduated B.L. in 1928 and LL.B in 1929, interestingly, alongside another fellow mature student in her forties, Marion Young Reid.
Although Mary was academically well qualified to consider a career in law, possibly marriage and age combined to keep her from entry to the profession. She certainly continued to have an active civic life. In 1953 she was appointed M.B.E. for political and public services in Glasgow, having served as a J.P. in the city.
Mary must have been a wonderful role-model for her daughter. Just a handful of years following Mary's graduation, her daughter Anne Fullarton Fyfe graduated B.L. in 1934. How wonderful to discover a mother and daughter among our first women law graduates at the University! Like her mother, Anne was a good student and turns up in the prize list. She went on to graduate in Medicine in 1943 and to become a GP in Glasgow, perhaps this time influenced by her father's chosen medical career. Anne married Reginald Basil Baldwin in 1944. He is described as being a 'holder of stocks and shares' in the marriage certificate. They had two children after which she may not have carried on her career. There is still more work to be done to uncover the stories of these fascinating women of law.
Some of this account can be found in The University of Glasgow Story. Grateful thanks to Pat Lucie whose archival research has uncover this part of Mary and Anne's story. If you know any more about Mary or Anne Fullarton Fyfe, or know someone who might, the School of Law would love to hear from you.