Mairi McAllan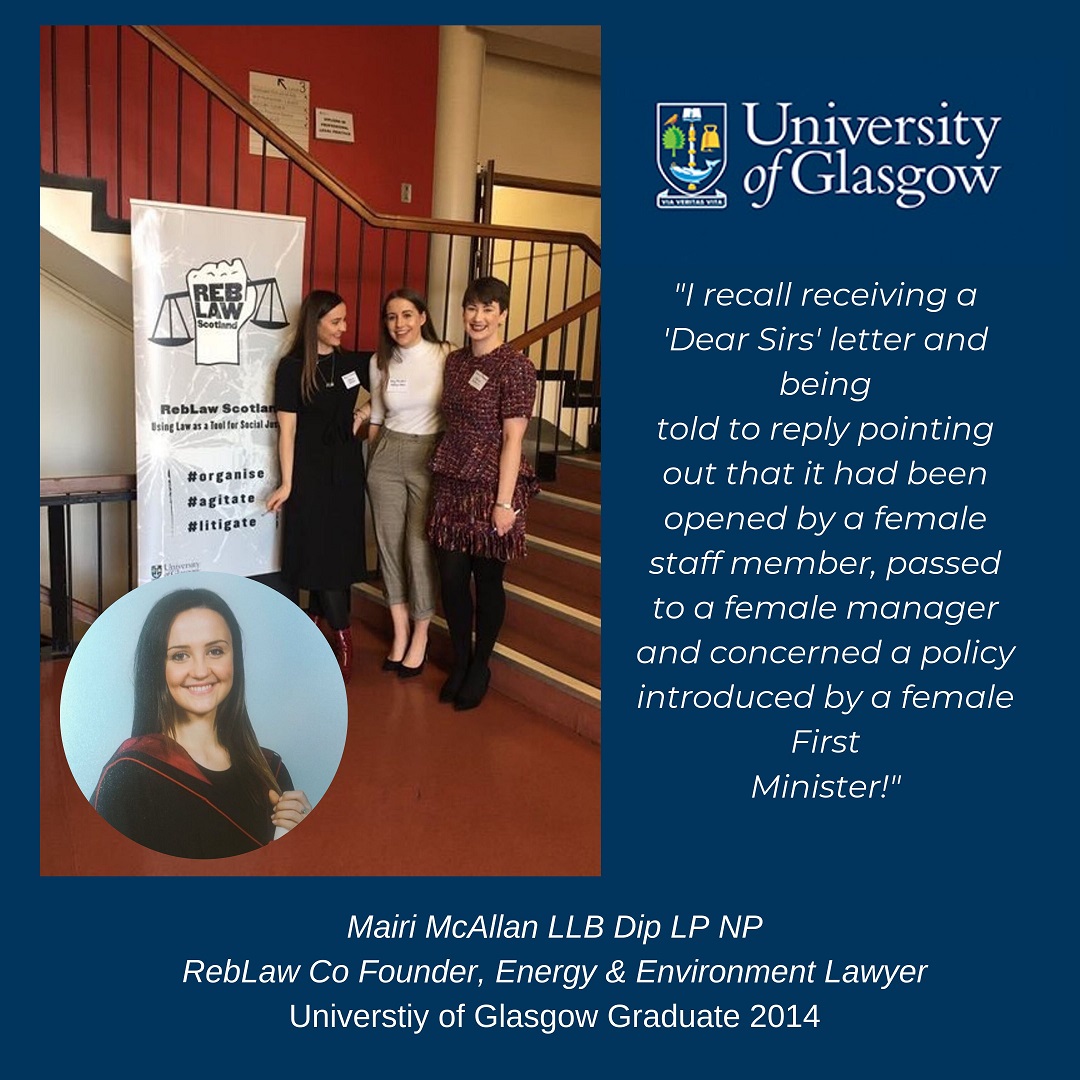 Being a woman in law is such an honour. After 5 years of study at the University of Glasgow and 2 years in training, receiving my practising certificate in 2018 was the culmination of a lot of hard work and a very proud moment. The year since then has been full of learning curves and new experiences and for the opportunity to keep learning, I am really grateful.
Being a woman in law is varied and stimulating. Already I have used my legal skills in so many different ways. Day to day life involves assisting individuals and organisations as they navigate the law in interesting and challenging matters. But beyond this, my skills and experience have also equipped me for other challenges including in launching a human rights organisation and standing for election to public office at just 24 years' old. Now, as a solicitor specialising in energy and the natural environment, I have the immense privilege of working for a fantastic firm in an industry which is dynamic, innovative and central to the future sustainability of our planet. And with young women like Greta Thunberg to look to, who could fail to be inspired!
One of the greatest joys of my short career so far has been in co-founding human rights organisation, 'RebLaw Scotland' with my friends and fellow solicitors, Seonaid Stevenson and Katy MacAskill. Our mission is to 'organise, agitate and litigate' for a Scotland – or rather, a world – where vulnerable communities are well served by a legal system which is modern, robust and fit for purpose. Our rebellious movement has grown rapidly since our inaugural conference in 2017 and we have so many exciting plans for the future. Katy and Seonaid inspire me every day and knowing we will move through our careers together brings me great strength and assurance.
So being a woman in law is indeed an honour – as it is varied and exciting and thanks to pioneers such as Madge Easton Anderson we have come so far. However 100 years after lady lawyers were first allowed, the legal profession in 2019 can still feel like a man's world. A microcosm of this can be found atop the many formal letters which solicitors exchange on a daily basis. Yes, I am referring to that most archaic of salutations, 'Dear Sirs'.
It wasn't until a period working in politics that it struck me how inappropriate the greeting really is. I recall receiving a 'Dear Sirs' letter and being told to reply pointing out that it had been opened by a female staff member, passed to a female manager and concerned a policy introduced by a female First Minister! I appreciate there are a great many gender (and indeed, class) based injustices which remain to be addressed and 'Dear Sirs' can seem trivial in comparison but the language we use is one tool in tackling inequality and the legal profession has a duty to lead the way in this regard. I, for one, refuse to be whitewashed from the face of a profession in which my gender is now the majority and would ask any man reading this, who might think it inconsequential, to consider how he would feel if all his correspondence began 'Hi ladies'.
'Dear Sirs' is a #throwback to a time when our profession was exclusively male. When women were prohibited from being admitted and when Gwyneth Bebb, with all her proven capabilities, was refused entry to practice on the basis that she wasn't a man and so could not be regarded as a 'person' in terms of the admission rules (needless to say the adjudicators in this case were all men). And although it is only language, it is just one of the vestiges of this boys' club era which persists today.
The legal profession is still largely based on traditional hourly-rate billing and so success in the industry remains intrinsically linked to working long and unpredictable hours. And because child care and other home and family related tasks (now acknowledged as unpaid, 'emotional labour') still largely fall to women (because we are 'just better' at remembering birthdays, allergies and vet appointments) many brilliant women do not make it to the top of our profession - not for want of ability but for want of time. Add to that a lengthy commute (because you moved out of town for your kids' schooling) and 1 or 2 days' menstrual agony each month and you begin to understand why women can feel defeated when, despite having proven ability and working like dogs, in practice, they fall behind their male counterparts in terms of salary and rank.
And make no mistake; while the caregiving and domestic expectations of women are societal, there is a structural problem within our profession which perpetuates the problem. And this is particularly true of private practice. Put simply, unless you believe that men are plainly more intelligent (in which case you should promptly return to the 18th century where you surely belong) then you must recognise the oddity that while the majority of law students are women (who excel academically), most of the top players in practice are men. Clearly everyone faces personal challenges and many great men have worked through adversity of their own kind. Likewise, this gender based discrepancy is not unique to law however since it is our industry, we love it and we have worked bloody hard to get here, we should all try to do better.
Our firms, chambers and universities must commit to creating work environments where, if you are an inspired thinker, a scrupulous problem solver and a brilliant communicator then you will make it to the top; womb or no womb, caregiver or otherwise. And those who lead the way in this regard will reap the rewards for they will end up with the most talented people - of whatever gender – in their senior roles. This, in turn, is proven to lead to happier clients and better balance sheets with the economic benefits of diversity now very well documented.
So change is urgently required and it is not likely to come fast enough from the top down. That means it is up to us as individuals to be the change we wish to see. My advice to anyone starting out is to remember how valuable you are and to shop around for an organisation which recognises that. The firm I work for now are modern and progressive and I truly feel that they see individuals and not genders (of course this is no accident on my part, having considered their gender pay gap report before applying for the job I currently fill).
As a junior solicitor, it's important to me that the women coming behind me feel valued and empowered as they enter our profession. It is up to us all to make sure that no more girls and women spend 7 years studying, working and excelling in pursuit of legal qualification, only to achieve it and soon realise that their profession doesn't want them at the top. The glass ceiling must be consigned to the past and as women in law we must recognise our value, demand better standards and, crucially, support one another. If we commit to this then, together with our many male allies, we will make reform at the top unstoppable.
And as for those who stand in the way of progress, who refuse to accept that our profession can be characterised by diversity as well as diligence, to them I say prepare to change. And fast. Or else history will judge you just as it does those men who, when presented with Gwyneth Bebb – holder of a first class Oxford degree in law – looked, reflected and concluded that they simply could not see a 'person'.
Màiri McAllan is a solicitor at Harper MacLeod LLP