Maggie Scanlan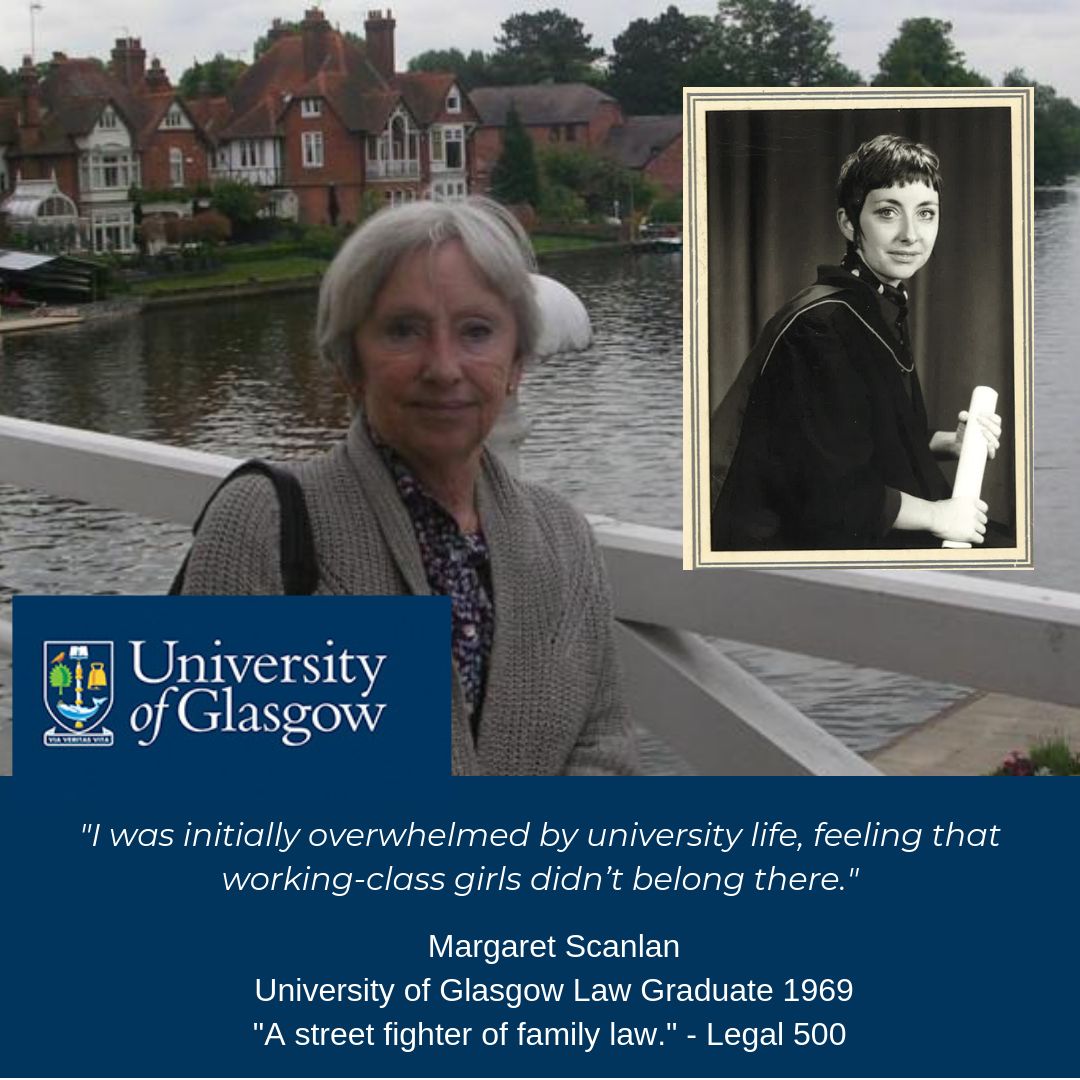 Margaret Scanlan née Denvir, known as Maggie to her friends, was a pioneer of family law in Scotland, instrumental in raising its profile and building a professional organisation, the Family Law Association, to promote excellence in its study and practice.
Maggie was born in the East End of Glasgow in 1948. She was an exceptionally bright girl who loved debating politics with her parents and friends and, even from primary school days, wanted to become a lawyer. She was educated at Charlotte Street school and despite her rebellious streak, which would be a hallmark of her career, being at odds with the strict convent school atmosphere, she excelled in her academic work.
She entered the University of Glasgow in 1965, the first in her family to go to university. She was initially overwhelmed by university life, feeling that working-class girls didn't belong there. She quickly adapted to, though, it especially the social side, and enjoyed all the university had to offer, including sneaking into the Men's Union for late night poker games where she taught the boys a thing or two about five-card draw.
On graduating she found it difficult to gain an apprenticeship. Discrimination against both Catholics, although Maggie was a staunch atheist by this point, and women stood against her. But in 1970 she appeared as a defence witness for a breach of the peace case against a friend. The defence lawyer, Harry Flowers, was impressed by her performance and, on finding out she had an LLB, offered her an apprenticeship there and then. In 1971 she married Michael, a himself a lawyer of note who would go on to become President of the Law Society of Scotland and, in 1973, her only child, Michael Jr, was born.
As was often the case in that era, Maggie had to choose between being a mother or lawyer and, in her son's early years, she chose to be mother. In the early 1980s she returned to work, going into private practice and specialising in family law. It was around this time that she joined with peers to form the Family Law Association. She was the first editor of its bulletin and also served as chair. Maggie's own expertise in family law was well known across the Scottish legal community and she was regularly cited in the Legal 500 as one of Scotland's finest family lawyers, being described in one instance as "a real street fighter of a lawyer", something she, privately, was exceptionally proud of.
In the 90s, she joined her husband's firm, Russells Gibson McCaffrey, where she would stay for the remainder of her career. Maggie took a keen interest in the practical aspects of the law and was a member of both the Sheriff Court Rules Council and the Scottish Legal Aid Board. Her commitment to the provision of legal aid in Scotland led to her being awarded an OBE in 2006.
Outside of the law, Maggie was passionate about politics and a proud feminist. She was a tireless campaigner for many causes, especially Strathkelvin Women's Aid where she offered her legal skills pro bono to those who needed them most. Maggie was also always mindful of the challenges she faced throughout her career as a woman in law and was always happy to support, encourage and advise women at all stages of their legal career. She worked to build a sense of solidarity for women in law and was always proud to see the next generation of female lawyers excel in their profession.
Maggie also had a tremendous sense of fun and mischief and could always be relied upon for a rambling anecdote or pithy putdown. She was a sought-after public speaker and addressed gatherings across Scotland, including at the University of Glasgow, with her direct and witty views on all things legal.
Maggie passed away in January 2018 and her death was met with sadness across the Scottish legal community and beyond. She was a first-class lawyer whose advocacy for family law and support for women in the law had a huge impact on the practice of law in Scotland. She was an exceptionally proud graduate of the University of Glasgow, not just for the education she received there but for the friendships she made and which continued throughout her life and career.
Her son ended up working for one of her former lecturers, Elspeth Attwooll during her time as an MEP. He asked Elspeth "Do you remember an undergraduate called Maggie Denvir?" Elspeth thought for a moment and said: "Small woman, talked a lot, didn't always show up for lectures.". Maggie was a memorable woman.