Kirsty Hood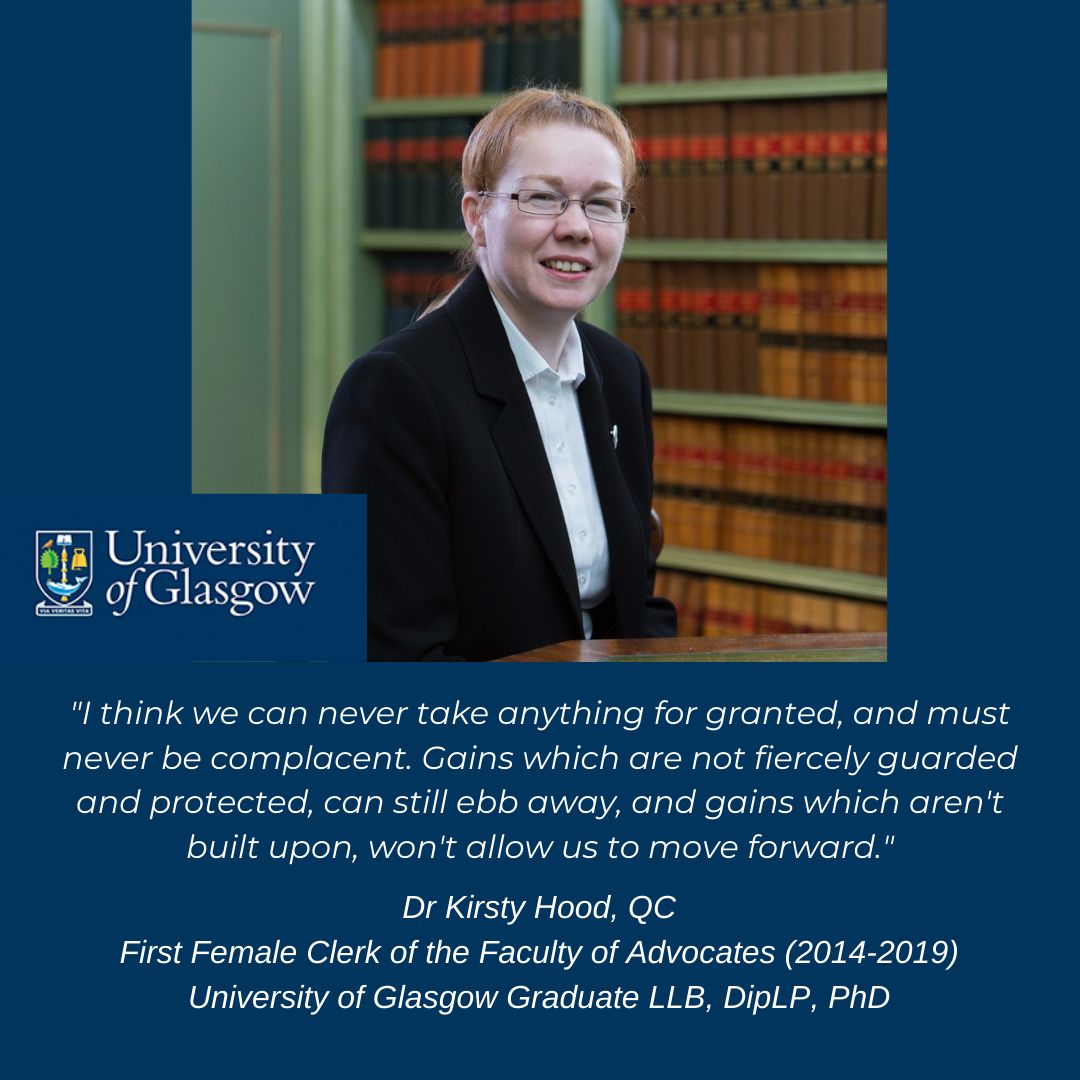 I am a proud Glasgow graduate, having obtained my LLB(Hons), DipLP, and PhD, at the University of Glasgow Law School. I consider myself fortunate to have been taught by so many dedicated and inspirational lecturers, both female and male.
After completing a Bar traineeship at an Edinburgh law firm, and thereafter the necessary period of 'devilling' (training) at the Faculty of Advocates, I called to the Scottish Bar in 2001. I became a QC in 2015. From 2014 to 2019, I had the great privilege of serving as Clerk of Faculty (an elected office-bearer position at the Faculty of Advocates) – and was, in fact, the first woman to hold that position in the Faculty's long history.
Some years ago, whilst looking for an article in the 1914 volume of the Juridical Review, my eye was caught by a short piece in the 'Notes' section of the volume. It was discussing a Bill which had just been introduced, to allow women to practise as solicitors. The author of the piece said that whilst it seemed to be assumed that women should then also be admitted to the Bar, "We venture to suggest that such an assumption is unwarranted, and that few members of either branch would admit that the same qualities are required in each. Speaking for ourselves, we are still among the unconverted"(!). It is just one of the many reminders of the struggle that our predecessors had in order to obtain the right for women to study at our universities, to practise as a professional, and to vote for our political leaders – and of the immensity of their success in securing those rights.
In the short space of 100 years, so many pioneers have achieved so many 'firsts' for women in the legal sphere – it is truly inspiring, and it has undoubtedly paved the way for women of my generation to enjoy success in the profession. It is also really pleasing to see so many events and initiatives happening now, that put equality and diversity issues front-and-centre of the conversation. However, I think we can never take anything for granted, and must never be complacent. Gains which are not fiercely guarded and protected, can still ebb away; and gains which aren't built upon, won't allow us to move forward. There is still much work to be done! I do find stereotyping particularly annoying – it seems to me that it is constraining for both women and men, for it to be assumed that because of our gender there are certain things that people will or will not be interested in, or be good at, or be able to do. I feel we must all, as a society, work harder to see each other simply as individuals with our own unique mix of skills and interests, likes and dislikes – rather than just make lazy assumptions.
I am proud to be a woman in law because lawyers have a key role in preserving the rule of law in our society – and this important and interesting job must always be open to all.