Isabel Sinclair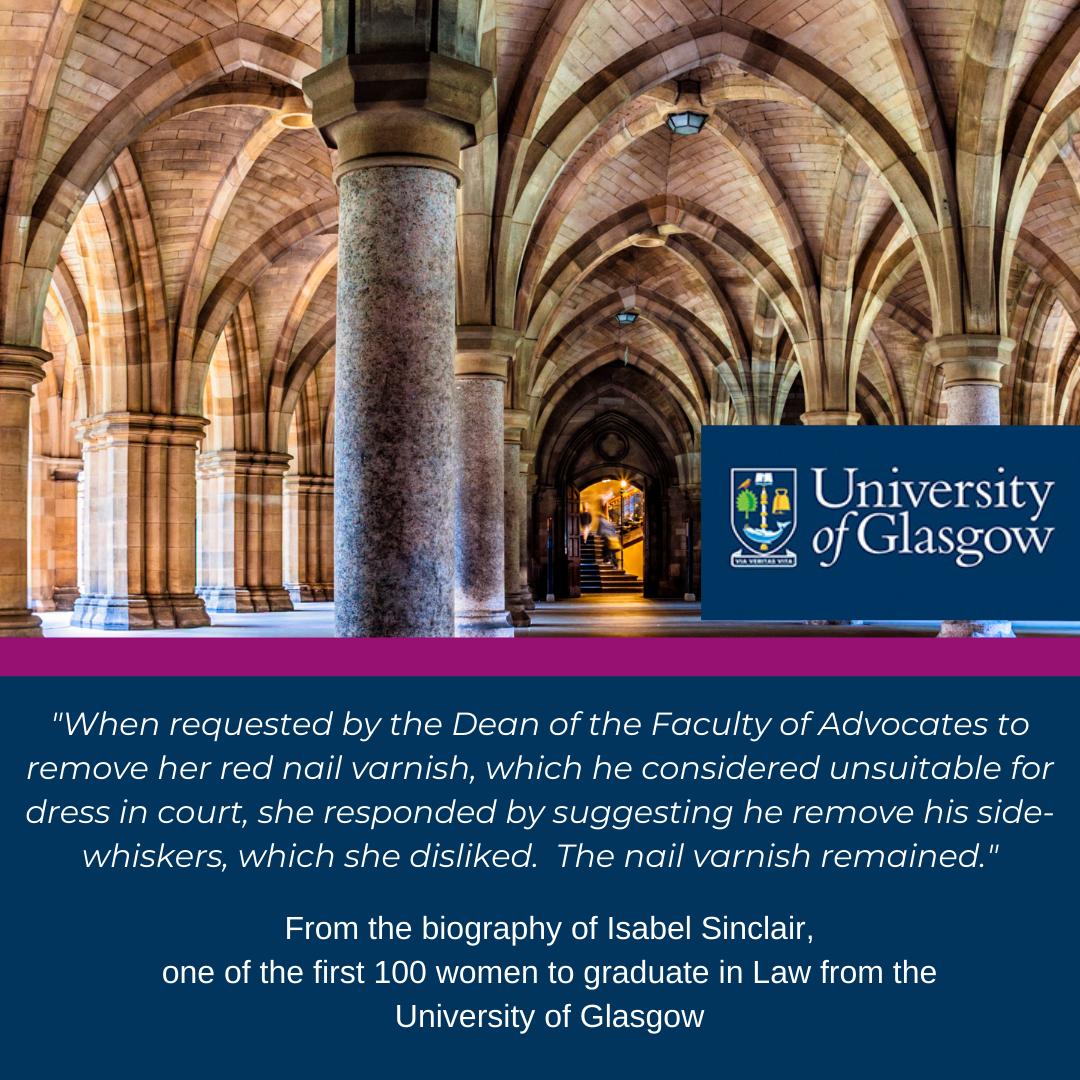 One of the first 100 women law graduates from the University of Glasgow, the trailblazing Isabel Sinclair is believed to be the first woman academic member of staff in the School of Law and only the second woman to take silk in Scotland and to be appointed Sheriff.
Born in Eastwood, Glasgow in 1911 and died in Edinburgh in 2005 aged 94, Isabel Sinclair was educated at Shawlands Academy was first admitted to the University of Glasgow in 1929, graduating with an MA on 24 June 1932. In the University's records her father's occupation was listed as 'confectioner's agent.' Upon graduation she forged a successful career in journalism but, following her 1938 marriage to James Gordon MacDonald, a solicitor, and then the onset of World War II, she returned to the University to study for a law degree (BL). She graduated in 1946, one of only two women to graduate with a law degree that year. We are still piecing together her subsequent contributions to the School of Law but thanks to research by University of Glasgow archivists, Catriona Perry and Moira Rankin, and our research collaborator, Pat Lucie, we believe she is likely to have been the first woman academic member of staff in the School.
In the University Calendar of 1950-51, Isabel L MacDonald is recorded as an Assistant in Public International Law, the first year that this subject appeared in its own right; it was previously taught with Private International Law. The University Court Minutes in 1950 indeed confirm that "Miss Isabel Sinclair" was appointed as the teaching assistant in PIL. It is intriguing that this was such a burgeoning area of law that it would now require a separate assistant; perhaps its growing popularity and relative novelty - at least in teaching a still emerging United Nations system - provided an opportunity to be pursued by Isabel.
Clever and determined, she was also to have a career at the bar and on the bench. Even, today these branches of the profession remain strongholds of men, but that ever more women join their ranks is thanks to path-defining women like Isabel Sinclair. She joined the Faculty of Advocates in 1949 and went on to take silk in 1964, becoming only the second woman QC in Scotland, the first being Dame Margaret Kidd KC. In 1968 she was appointed sheriff of the Lothian and Borders, serving for 11 years and retiring in 1979. Prior to that she was appointed Sheriff-Substitute of Lanarkshire at Airdrie, 1966–68, making her only the second woman to be made a sheriff in Scotland, again following in the footsteps of her 'sister-in-law', Dame Margaret Kidd. In an interview in 1996, published in The Herald newspaper, a then 85 year old Isabel is recorded as remembering Dame Margaret with great affection, as well as the atmosphere, excitement and fun of the time in the late 1940s when she followed in her footsteps.
Despite the lonely path she trod as a woman lawyer in the 1950s -1970s, a confident Isabel would not be put in her place in such a male-dominated profession. According to her obituary in The Scotsman and giving something of the flavour of this incredible woman, when requested by the Dean of the Faculty of Advocates to remove her red nail varnish, which he considered unsuitable for dress in court, she responded by suggesting he remove his side-whiskers, which she disliked. The nail varnish remained.
Sources
University of Glasgow Archives
https://www.heraldscotland.com/news/12025201.approaching-the-bench/
Who was who? OUP https://doi.org/10.1093/ww/9780199540884.013.U34989
Research continues into the career and story of Isabel Sinclair (MacDonald) and will be published in The University of Glasgow Story in due course. If you know any more about her or know someone who might, the School of Law would love to hear from you.