Holly McKenna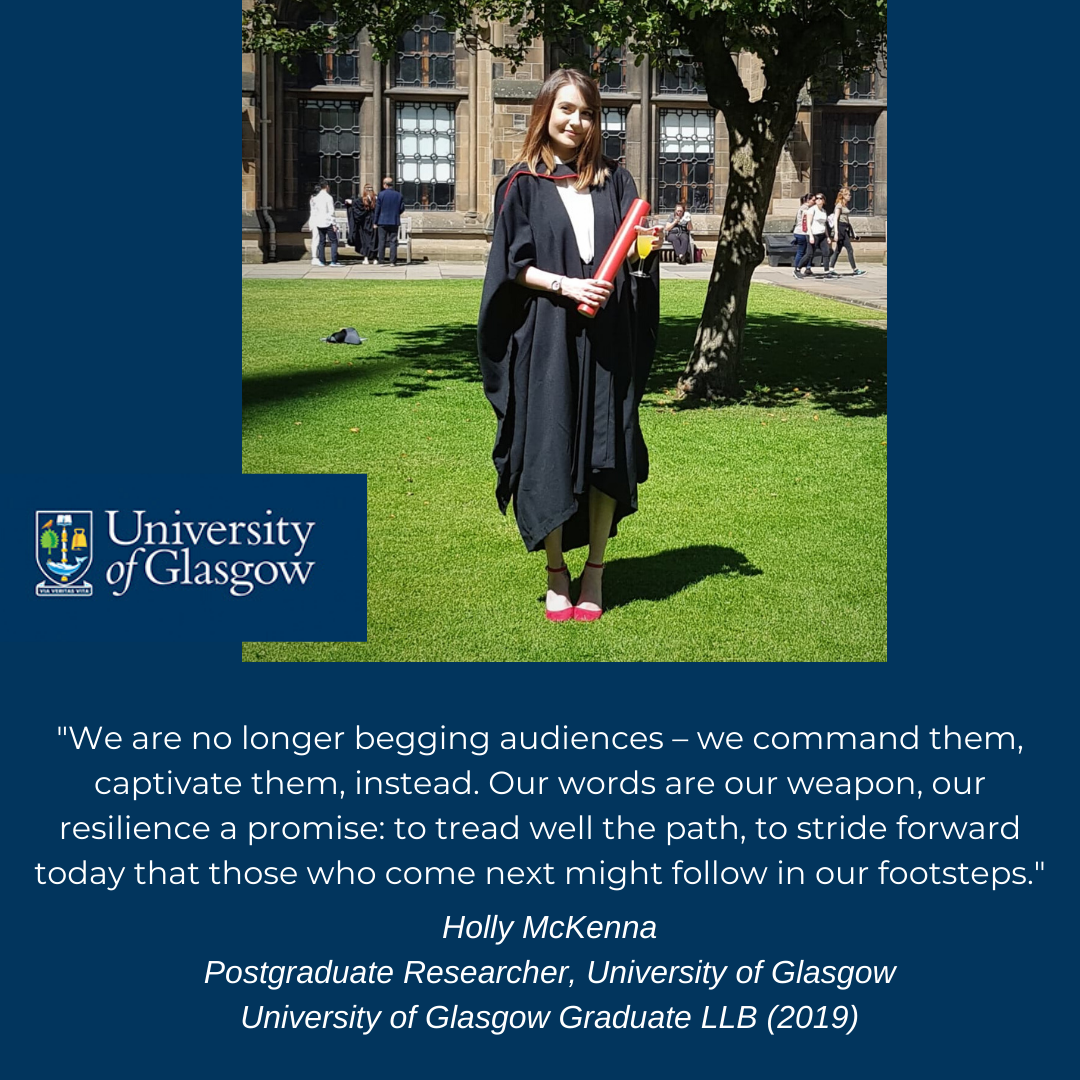 I was equal measures of shocked and excited to be asked to write a creative contribution for the First 100 Years project. The two loves of my life – law and creative writing – have both run parallel for many years but have never touched before, and to be asked to combine these in the name of supporting, empowering and celebrating women in my field is truly a privilege. Witnessing the arts beginning to take their place within the legal field (for instance in the incredible creative aspect of the Scottish Feminist Judgments Project, which I was fortunate enough to attend the book launch event of recently) is professionally thrilling and personally emotional for me.
I vividly recall my first proper experience with Law at the formative age of fifteen on a year-long placement at a solicitors' firm in Hamilton. Within the first few weeks the label of 'the wee work experience lassie' had stuck itself rather firmly to me, mainly thanks to several well-meaning but not entirely encouraging male senior partners. Towards the end of this placement, having requested to finish a week early as I had been accepted to a Creative Residency programme run by my local council, 'but I thought you wanted to be a lawyer?' was added to the list of well-intentioned but discouraging brushes I was tarred with. Apparently expressing my passion for creative writing and my excitement to have been granted a place on the competitive inaugural writing component of this Residency made my desire to study Law less credible.
Thankfully, my love of both creative writing and Law has not been tarnished and has instead blossomed into a part of myself that I am incredibly proud of and I strongly believe that I owe at least part of my First Class LLB (Hons) to the creative writer within me. The mindset and skills involved in writing creatively have informed the structure, flow and language of my academic writing and the desire to hone these even further has influenced my decision to undertake a research LLM at the University of Glasgow, which I am currently in the midst of. During my time as an undergrad and now, in my Masters, being able to get my point across and argue for change in the law has necessitated me digging deep into my legal skills and my creative side to create a balance between explaining, understanding and analysing the law, and expressing myself in an accessible, interesting and unique way.
Ultimately, however, I owe a great deal of my successes and current position to many strong and inspirational women in my life. My Mum, Gran and Auntie Honor, my three favourite women in the world whom I have witnessed work tirelessly for everything they have, are my idols. They have supported me through every endeavour and have always believed in me, even when my belief in myself was almost non-existent.
Latterly, in my university career, I have been blessed with the presence of so many phenomenal women in my friends, colleagues and teachers and I know that I will never have a shortage of incredible feminist influence. I have an outstanding female supervisory team for my LLM in Professor Fiona Leverick and Dr Rachel McPherson, whom I am very thankful to be working with this term.
The poem I have written is an ode to every single woman in law, past and present, but especially to the aforementioned women who have played huge parts in my professional and personal lives. I hope that it inspires, rouses and warms those who read it; equally being celebratory of the doors we have opened in the legal profession and a call to arms, both to ensure we keep those doors open and that we continue to create new ones for those who come after us.
It is my absolute honour that this piece should be published on the centenary of the Sex Disqualification (Removal) Act 1919 receiving Royal Assent and I wish to sincerely thank every hard-working member of the First 100 Years Project for affording me such a wonderful privilege.