Fiona Leverick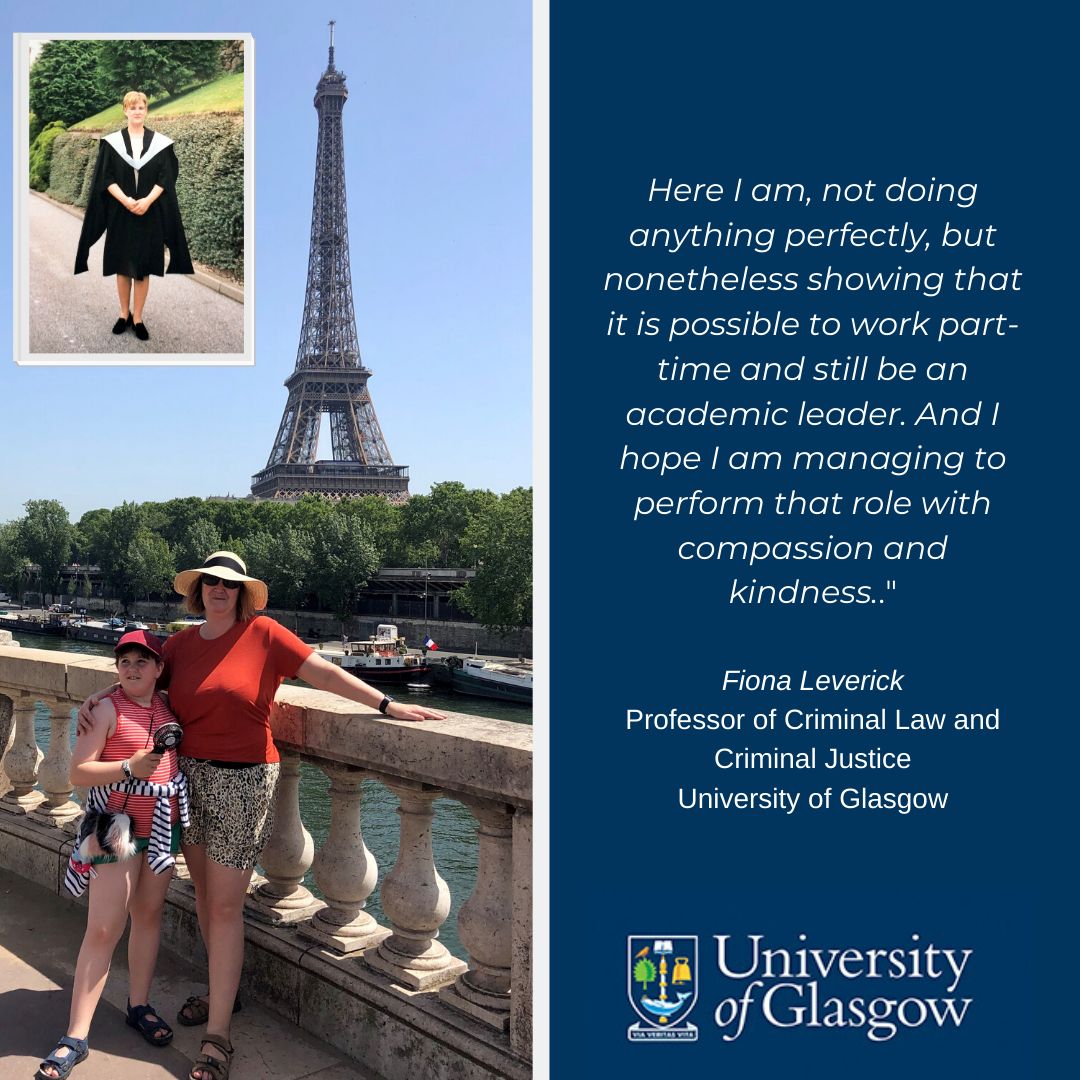 I've been a Professor in the Law School since 2013. I haven't always been an academic and my first degree was in psychology and marketing. I changed career in 1997, when I did a fast-track LLM and then a PhD in law. I went on from there to get a lecturing job at the University of Aberdeen, before moving to Glasgow in 2007.
I've been in the Law School at Glasgow University for 12 years now. In many ways, the picture for women looks rosy. At undergraduate level, female students have outnumbered male students for some years. There are also more women than men on our postgraduate taught courses, including on the Diploma in Legal Practice, and roughly equal numbers on our PhD programme. In terms of our staff profile, at lecturer and senior lecturer level, we have a good gender balance and lots of great female role models for other women thinking of entering the academy.
At senior levels, however, the story is mixed. When I left Aberdeen, the first female professor in the Law School had yet to be been appointed. When I arrived in Glasgow as a senior lecturer, all of a sudden I had some amazing professorial role models. Our first five female law professors (Noreen Burrows, Elizabeth Crawford, Sheila McLean, Esin Orucu and Olivia Robinson) were all in post when I arrived, and it is lovely to read their stories on 100 Voices for 100 Years. Professor Janeen Carruthers and Professor Rosa Greaves were also here – two more great role models. A few years after I arrived, the Law School commissioned portraits of the first five female professors and they now hang in a prominent place in the Law School Building, which had previously been dominated by pictures of men. It's a simple thing, but it is so important.
But we still have some way to go. All of the "first five" (as well as Rosa) have now retired. We have gradually worked our way back to having five female professors, but they account for only one in five of the total number of professors in the Law School. I'm hopeful that will change over time, as some of my amazing female colleagues get promoted, but change is taking too long to come. The long hours culture in academia that makes it particularly difficult for those with caring responsibilities (and, for that matter, those without them) to cover all the bases that they need to be promoted and that is something that concerns me.
I am increasingly aware of my own importance as a role model. I have a daughter at primary school and I work part-time and I hope that my story shows that it is possible to combine academic leadership with family life in a balanced way. But equally I wouldn't want to give the impression that it is easy. Some days, when I am leaving things half done at work to rush off to the school pick up, only to remember three important emails I didn't send and then try and send them at the same time as supervising my daughter's homework, or when I forget that my daughter has an important event at school because my head is dominated by what I'm going to put in the REF Environment Template, I don't feel like I am making a success of work or parenting.
But here I am, not doing anything perfectly, but nonetheless showing that it is possible to work part-time and still be a (female) academic leader. And I hope I am managing to perform that role with compassion and kindness. Academia can be a brutal place, where it can seem at times that the only feedback that comes our way is negative. I hope that my wonderful colleagues – male and female – know that they are valued and that I truly appreciate the work they are doing.