Esmee Shapiro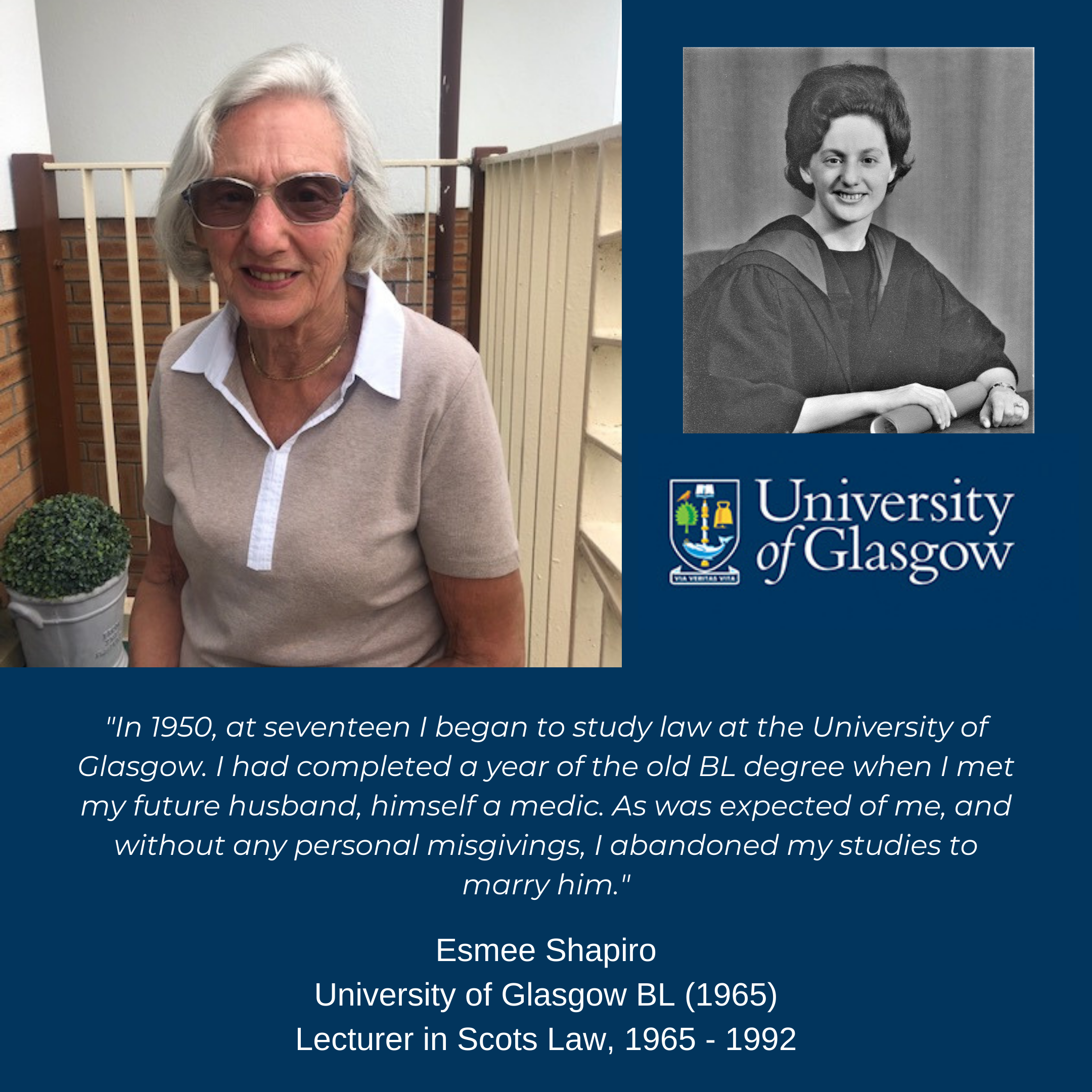 My story is one of happenstance. It is atypical, but true. My dream was to be a medic, influenced no doubt by the fact that I had an older brother who died while he was a medical student. This, of course, had a profound effect on the whole family. Understandably my parents did not wish me to pursue a medical career and so, by default really, I decided on law. It turned out that I loved it and made a career out of teaching it. I certainly didn't expect that!
In 1950, at seventeen I began to study law at the University of Glasgow. I had completed a year of the old BL degree when I met my future husband, himself a medic. As was expected of me, and without any personal misgivings, I abandoned my studies to marry him. In due course I became the proud mother of three children. When my youngest was a baby, I thought again about my studies, prompted by the thought that if anything happened to my husband, I would need a degree to get a job to make ends meet. I decided I wanted to try and finish the degree, but not until my son went to school. Much to my delight Faculty of law (as it was then) agreed to this.
The years passed and I found myself once again outside the Scots Law Lecture Theatre. From day one I loved the atmosphere. Everyone was so friendly. A real bonus was that studying came relatively easily to me. To my great surprise and delight I was awarded the Faculty Prize (The Ross Prize) in Scots Law. The Ross Prize was awarded after a student had completed the four private law subjects. At that time they comprised Private Law 1, Private Law 2, Criminal Law, and Scottish Legal System.
On the completion of my degree I was offered the opportunity to come back to teach Scots Law, first as an Assistant Lecturer and then as a Lecturer. I loved my thirty years in the Faculty of Law. Thank you to the late Professor David M Walker for giving me the opportunity of a lifetime. It genuinely felt like that to me. Thanks are due also to my late husband , who although initially, did not understand my wish to return to the University of Glasgow became my fan. I was so glad to be able to combine family life with a job I loved. The teaching for me was such a highlight. I embraced the opportunity to communicate the law to students in lectures and to engage with them in smaller groups. After some thirty years of teaching as a part-time lecturer I retired in 1992 but continued with some tutoring until 1995.
At the beginning of my lecturing career, I don't think there was much sisterhood. I do recall how Angela MacLean (Lecturer in Private Law) was very much the "mother" to us all and was unfailingly helpful both to those of us who were very career minded and others like myself who loved their work but felt responsible also for the smooth running of the home. In later years the sisterhood developed. It was and is still a very important part of my life. I felt that it was very much in evidence at the 100 Years' symposia celebrating women in law that were held at the University of Glasgow in 2019 and 2020.
I hope, that although I have not accomplished great things, I represent the "ordinary" graduate and have been able to contribute a little towards the Faculty of Law and to the story of women in the Law. This I do know, I was very lucky to have found what for me was the perfect combination of family and, I hesitate to call work. It comprised a lifestyle perfect for me. I do and always will appreciate how much the Law Faculty has done for me.