Erin Bibb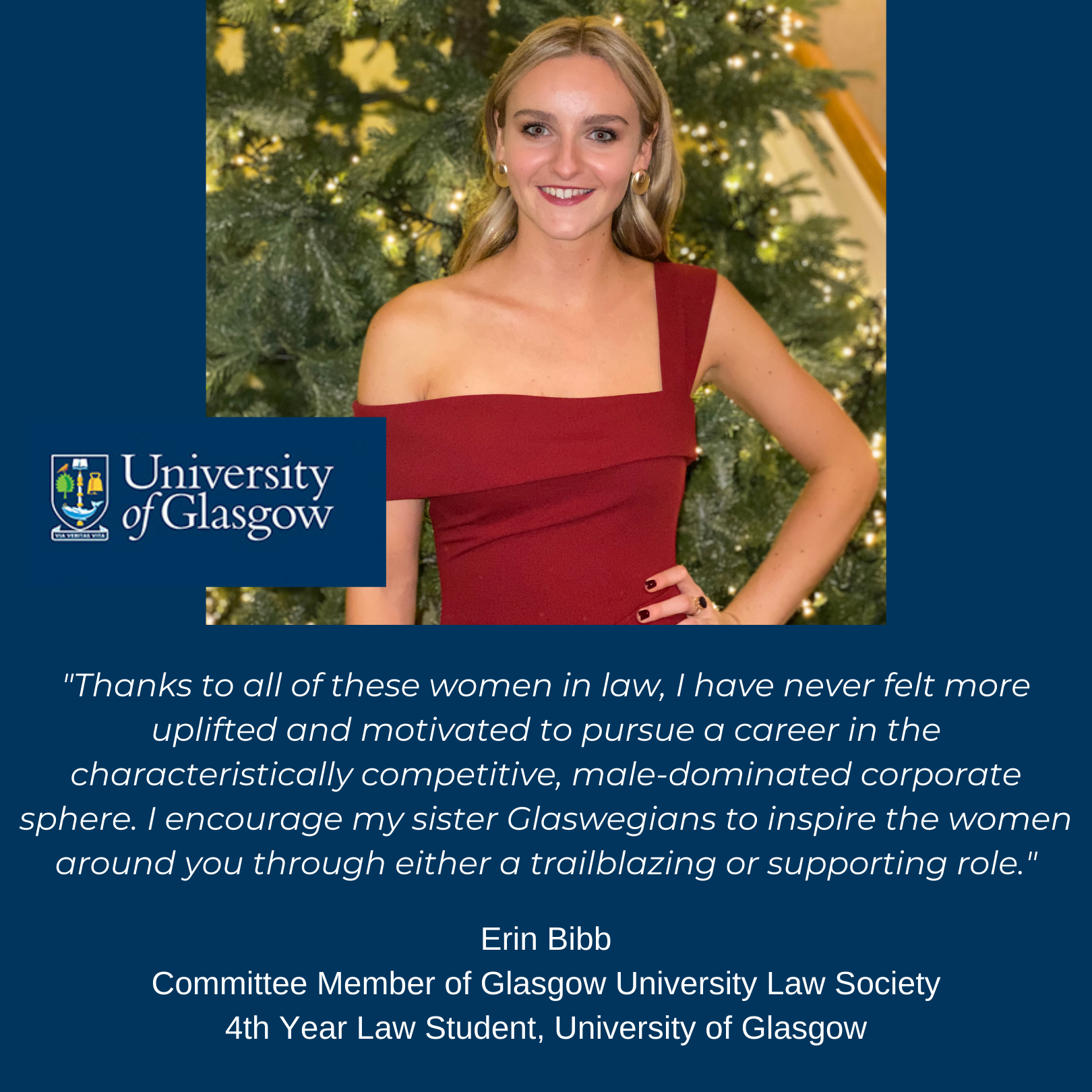 As children, many of us will have been asked to bring something into school for 'Show and Tell'. I remember standing up in front of a room of 7-year-olds to explain why my copy of Roald Dahl's 'Matilda' was such a great read: it centred around two headstrong female characters who supported one another to make a change in their lives, their relationship and mutual encouragement was what made it my favourite. In my brief experience of the legal sphere, I have been fortunate enough to have been surrounded by a number of inspiring female peers, professors and legal practitioners who have demonstrated their passion in ways that have inspired and motivated me, much like the characters in Matilda.
When considering which route to steer my legal career, I spent time in the Court of Session, marshalling The Honourable Lady Wise. Before arriving at the Court on Monday morning, I was somewhat intimidated by a woman who had recently delivered a highly controversial opinion, which dismissed a challenge from the Society for the Protection of Unborn Children and approved abortions at home in Scotland. When I questioned Her Ladyship on her bold judgment, she modestly admitted that she was glad to have inspired me, but it was simply the 'appropriate outcome based on the facts of the case'. Not only did Lady Wise confer a detailed evaluation of her reasoning from the judgment, her analysis spoke further, highlighting the necessity of having female figures at the forefront of decisions which foster such a lasting impact on female counterparts in a contemporary era.
I owe a similar experience to Harriet Balloch, a solicitor at a Scottish corporate firm, who highlighted the integral role of intellectual property law when dealing with contemporary commercial cases with software clients. Harriet not only instilled in me a fascination for corporate technology through the work that she carries out, but also went beyond her mentoring as a corporate lawyer. She introduced me to the interconnectivity of competition and IP law during my time in her team and shared her passion for the area by taking the time to walk me through notable European judgments. She pushed me to question the validity of the Court's methodology and thanks to Harriet, I chose to critique the European Commission's decision to create a 'new abuse' in the recent Google (Shopping) case for my undergraduate dissertation.
However, academic research and persuasive writing are not skills that can be fully honed in a few weeks' work experience. As such, 'critical analysis' is a term that most law students come to dread upon arrival of their fourth year at Glasgow. To that end, I could not have been more thankful for the guidance of Magali Eben. A leading female academic in European Competition law, Magali has tirelessly entertained my enthusiasm for her area of interest. Instead of instructing me on how to approach the dissertation, Magali introduced me to the UK branch of the Academic society for Competition Law, which spurred my intrigue further. Through Magali's fervour for a mutual passion, she has not only shown me the value of effective critical analysis but also encouraged me to develop my own ideas, emphasising that no question is a silly one.
Magali's trailblazing attitude transcends departmental boundaries: the School of Law at Glasgow is host to a number of influential women. Although Maria Fletcher should be praised for her commitment to European Union law, at a more personal level, Maria played a vital role in convincing me to continue studying law in my first year at university. I personally struggled with adjusting to the inevitable disparity between academic success at secondary school and at university: I was ready to leave my legal studies behind in the first few months of studying law. As my advisor of studies, Maria invited me to a meeting to discuss my options. She methodically suggested potential solutions to the problems I had flagged and reassured me that there was nothing wrong in accepting that Law was not for me. However, she stressed my potential. Maria shared a story of personal failure and how she prospered from perseverance. I am incredibly thankful to Maria for advising me to persist, as that meeting was pivotal in my committal to a career in law.
After having committed to such, it rings true that every Law student will find some trials tougher than others. Friends ultimately play the most integral part in cheering you across the finish line. I have been incredibly lucky to have female friends who have dusted me off after facing failure. Instead of wallowing in rejections, they have celebrated my achievements whilst motivating me to strive for the next challenge. It is with this foundation of female camaraderie and daily inspiration that I have had the courage to test my limits and apply myself in things I didn't formerly think I was capable of. In a sector which is historically saturated with white males, I see the urgency in injecting a dose of female talent into the next generation of lawyers. With this in mind, I have sought to motivate the Law School's current female cohort through my position as Academic Vice President of the University's Law Society. I am proud to say I have been part of a number of initiatives that aim to promote Women in Law, both with the Society and further afield.
Thanks to all of these women in law, I have never felt more uplifted and motivated to pursue a career in the characteristically competitive, male-dominated corporate sphere. Ruth Bader Ginsburg famously instructed female Americans to 'Fight for the things that you care about but do it in a way that will lead others to join you'. Therefore, as part of my 'Show and Tell' to mark UofG's celebration of a centenary of Women in Law, I encourage my sister Glaswegians to inspire the women around you through either a trailblazing or supporting role: Matilda would confirm that each is as important as the other.