Ellen Birt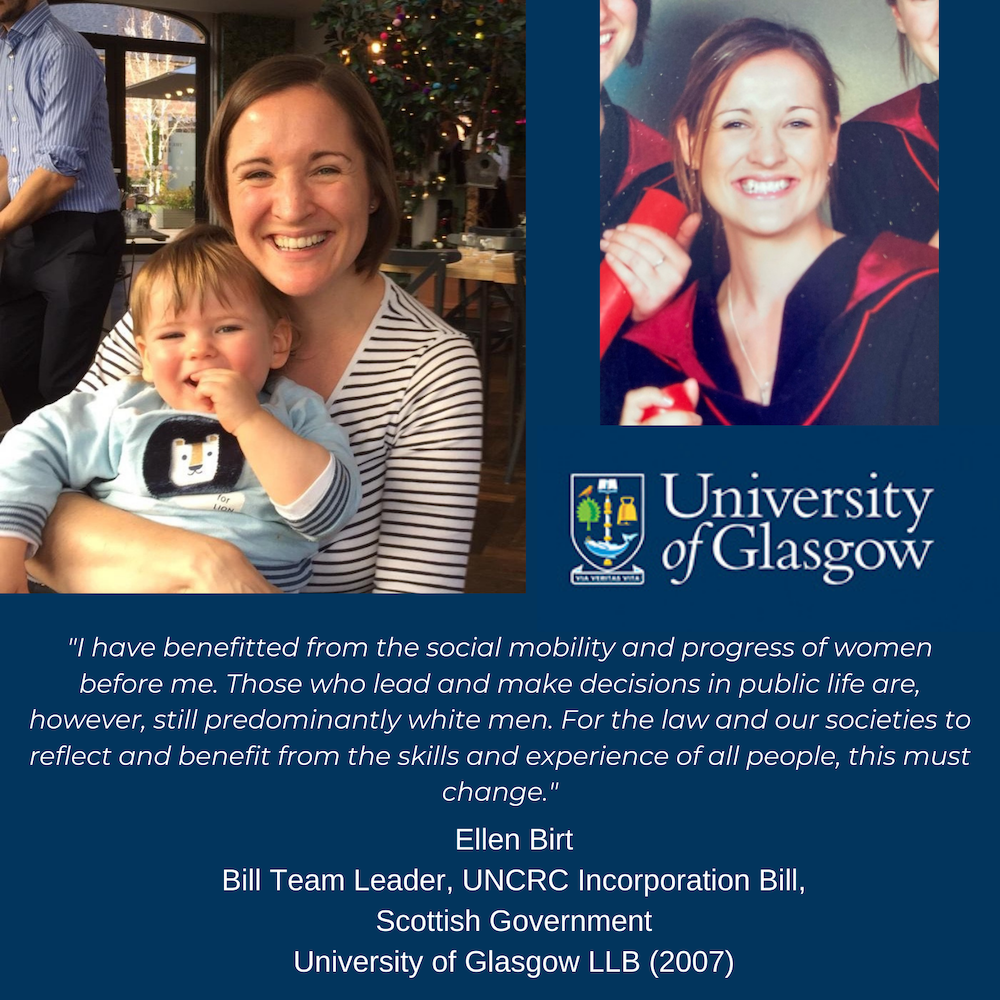 I feel incredibly lucky to have studied law at the University of Glasgow. I often wonder quite how I ended up doing the LLB. I always had a strong sense at school that I wanted to use my voice to help people and would argue with whoever would listen about what I thought was right or wrong. But I didn't know any lawyers, my only point of reference was in television programmes like Ally McBeal!
My Mum was a huge role model for me growing up, as a social worker I saw the passion and commitment she brought to working with children and families, those with mental health problems and people who ended up on the wrong side of the law. She showed me that the world was rarely black and white and that for many people the difference between failing and succeeding was having a strong champion in your corner.
I spent a lot of my time at school being told I was too loud, too talkative, argumentative. Sadly, these are criticisms that I think are often levied at bright, articulate girls when these are qualities which are admired in boys. When it came to thinking about university my Mum encouraged me to think about professions where these skills were an asset. In the end I applied for law and psychology and decided to take up a place at Glasgow University studying law.
I owe a great deal to my Aunt Jen too. I had never even been to Glasgow before, having grown up in Inverness and then Aberdeen. She had studied at what is now the Conservatoire and knew that Glasgow would offer me the chance to broaden my horizons in a way that studying at home wouldn't.
I found the early days of my time at university daunting. I remember sitting my first property law exam in the Bute Hall and feeling an overwhelming sense of anxiety looking at the grand surroundings and wondering if I belonged. I found the subjects in the early part of the degree pretty dry and at times wondered what I was doing studying tax law or contracts. As many others have highlighted in these contributions John Brown had developed one of the best Erasmus programmes at any law school and I got the opportunity to spend half of my 3rd year studying in Maastricht.
The first half of that year was also somewhat of a reprieve. As I was taking the necessary honours subjects in Maastricht I had the freedom in Glasgow to pick some non-law subjects and studied organisational behaviour and philosophy which both turned out to be pretty valuable when it comes to navigating office life! But it was in Maastricht that the love for my law degree really took off. I had the opportunity to study comparative law with the wonderfully eccentric Professor de Groot. I loved studying the human rights of women and girls and found the human stories at the heart of classes about law and looted art, harrowing and hopeful in equal measure. I think it was in Maastricht that I came to see that the law is not some remote concept but is intrinsically part of who we are as people and as societies. What and who the law protects, the sorts of behaviours it supports or condemns shapes our lives in fundamental ways and sets the foundations on which our societies are built.
Without my time in Maastricht I never would have had the confidence to apply to the Human Rights Project which was masterminded by Jim Murdoch and Maria Fletcher. They would develop a whole world, a series of life events which happened to a fictional applicant and then handed it over to two teams of students, one acting for the applicant and one acting for the Government, to argue the case before the European Court of Human Rights in Strasbourg. The investment of members of the judiciary in this project was pretty staggering. Sir Nicolas Brazta amongst others gave up his time to hear our case. The loud argumentative little girl inside me was enormously proud when he singled out my oral submissions for praise.
Towards the end of my time at Glasgow I was fortunate to get selected to undertake a placement with the Scottish Executive (as it was then). I would travel through to Edinburgh a day a week to shadow and learn from lawyers advising the Scottish Ministers and was grateful for the time that Paul Johnston, then a solicitor but now one of the Directors General in the Scottish Government, took to expose me to the full range of legal work that was possible inside Government. It was then I realised that some of the best human rights lawyers in Scotland work at the heart of government. The devolution settlement placed the European Convention on Human Rights at the centre of the role of the Scottish Parliament and the functions of Scottish Ministers and I knew then that if I wanted develop my passion for human rights further this was the place to do it.
I only applied for one traineeship! I was both delighted and surprised when I was accepted by the Scottish Government Legal Directorate. The traineeship gave me the opportunity to undertake the full range of government legal work - advising on the development of government policy and legislation, drafting subordinate legislation and instructing litigation in the Court of Session as well as a stint with the Parliament's legal team. I still think that the traineeship offered by the Scottish Government is one of the best going, offering the opportunity to engage in real legal work from the get go.
Ironically, I feel that I have grown to the largest extent as a woman in law outside of the legal profession itself and instead in other roles within the Civil Service. It was an enormous privilege to work with Michael Russell MSP, Cabinet Secretary for Education and Lifelong Learning, as his Private Secretary over the period of the Scottish Independence Referendum. In Private Office I got to see all sides of Government and how the law is developed and the interests that shape it. During my time with Mr Russell we took the Children and Young People (Scotland) Act 2014 through the parliament as well as the Higher Education Governance (Scotland) Act 2016. I supported Mr Russell's Ministerial engagements in relation to the referendum and saw first-hand how the lived experiences of the people he and other Ministers engaged with shaped their vision of what Scotland should be and stand for.
It is in my current role that I feel the ambition which I had when joining the Scottish Government has really been fulfilled. I knew then that I enjoyed working in law but that I also had a wider range of skills and enjoyed engaging with and supporting real people to realise their own ambitions. I have had the pleasure of leading the development of the United Nations Convention on the Rights of the Child (Incorportion) (Scotland) Bill which is currently before the Scottish Parliament at Stage 1. I work with a committed and passionate set of policy colleagues and legal advisers without whom we never would have managed to introduce such an impressive and boundary pushing Bill - especially in the crazy world that is 2020! I have learned that my legal skills are invaluable in being able to articulate a vision that can deliver on the aspiration and ambition of hundreds of children and young people, families and campaigners that have sought incorporation of the UNCRC for decades. I've learned that for me, the joy of being a woman in law is that I can be more than just a lawyer. This role in legal policy plays to all my interests and strengths - political interest and acuity, empathy and understanding for the lived experience of real people and a dogged determination to deliver.
As a professional woman I feel it is important to reflect on becoming a Mum. I am a Mum to a loving, boisterous and imaginative little 2-year-old boy. As a feminist I believe passionately in equality and had a whole host of expectations for myself of what being a working Mum should be. As is the experience of so many women, it turns out this is a massive struggle! Even with a committed and supportive husband who takes his fair share of the parenting load and even does the bulk of the cooking in our household. Thank goodness because my cooking is pretty terrible!
I have been fortunate that the Scottish Government has excellent family friendly policies. The wider societal pressures and norms are still hard to shake. They tell us it is a mother that should do the bulk of the parenting, particularly in the early years, and at times I am left feeling that equality simply means women have more to juggle. This needs the concerted effort of everyone who believes in true equality to break down. I have benefitted from the social mobility and progress of women before me. Those who lead and make decisions in public life are, however, still predominantly white men. For the law and our societies to reflect and benefit from the skills and experience of all people, this must change.