Eleanor Deeming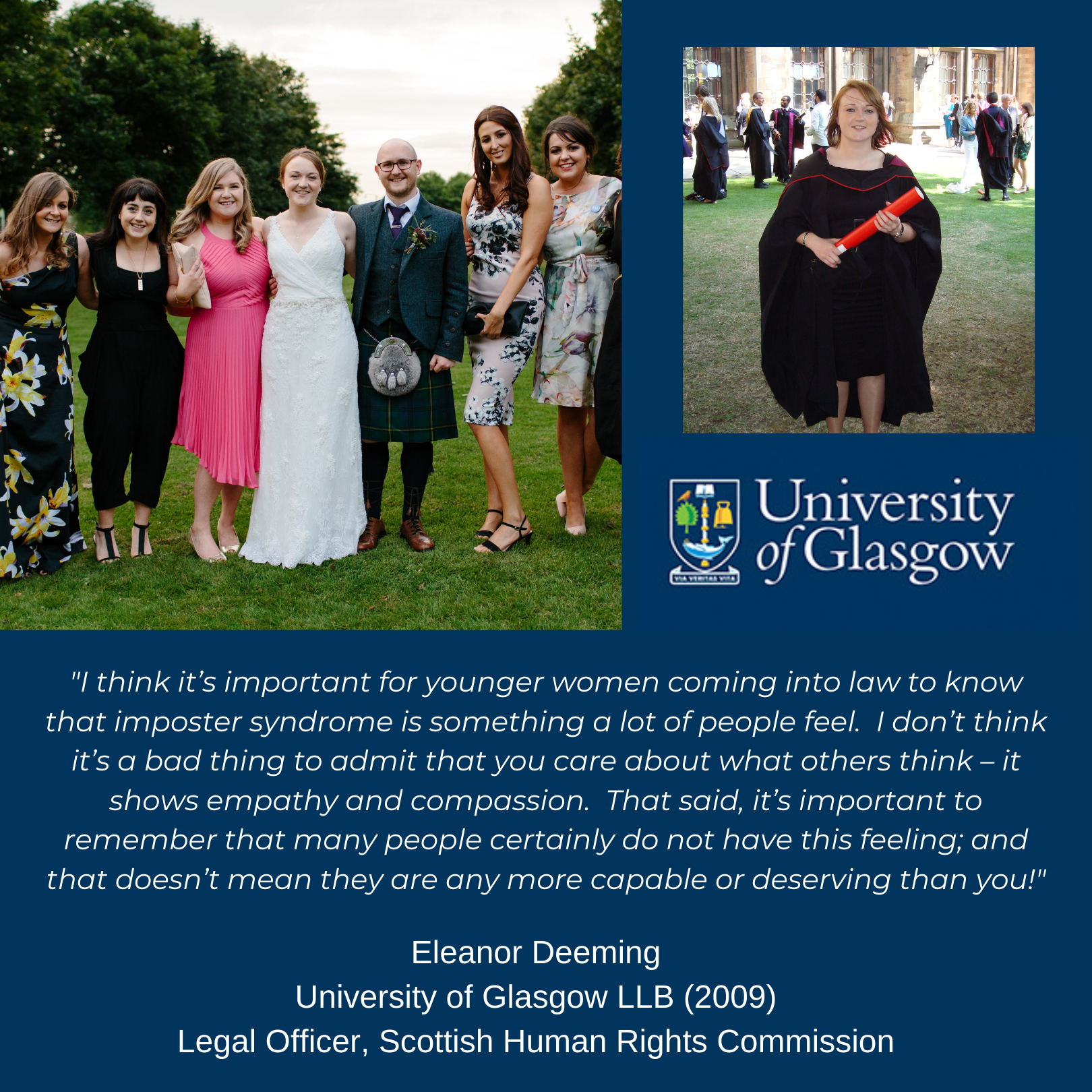 I started studying law at Glasgow in 2005 and I would say it was a slight shock to the system, evidenced by a near fail in my first exam (property law). At school, I think I had taken my confidence for granted, but I found myself hesitating and staying silent in tutorials while others seemed to be perfectly comfortable taking the floor. I think this was my first brush with "imposter syndrome"; something I have since found a lot of people, particularly women, grapple with. The definition of imposter syndrome is where a person doubts their skills, talents or accomplishments and has a fear of being exposed as not good enough. I think it's important for younger women coming into law to know that this is something a lot of people feel. I put it down to being proud of my work and eager to do my best, and I don't think it's a bad thing to admit that you care about what others think – it shows empathy and compassion. That said, it's important to remember that many people certainly do not have this feeling; and that doesn't mean they are any more capable or deserving than you!
I discovered human rights law in my 3rd year, and remember being encouraged by a friend to apply to the European Human Rights Project run by Prof Jim Murdoch. I still believe that studying that course set me on the path to where I am today. I made some fantastic friends, learned a fair bit about human rights law, but it was also the first time I really had to take on board criticism and feedback about my own work and performance. I think that being able to be honest and self-reflective is a great skill; it doesn't always come easily and I haven't always managed it, but it is always something I will try to do.
After Glasgow, I went to Bristol University to do an LLM in Human Rights Law. I had decided that I wanted to pursue a career in human rights, and I knew it was a competitive field, so I thought a Masters degree was the next logical step. If I'm honest, this wasn't the only motivator. I graduated Glasgow in 2009, at a time when the financial crash meant there were far fewer traineeships available and a lot of my friends who had already been offered one were being deferred. I wasn't "on the ball" like a lot my classmates, so I hadn't even started looking for traineeships and hadn't done any summer placements (I didn't know any lawyers, and honestly I don't think I knew that summer placements and work experience were often a path to traineeships). I felt that studying for a Masters was also a way to occupy myself with something worthwhile while I waited for the jobs situation to improve. Finally, my boyfriend at the time was offered a place on a graduate engineering scheme in Bristol, so that is largely why I chose Bristol University. So, while I would like to say that all this was a well thought-out career plan, I think it was just circumstance that all of these things aligned together and planted the seed that I should keep studying. Things worked out, in terms of studies and on the relationship side too; my "boyfriend at the time" is now my husband.
I had a great year at Bristol, and then went to Strasbourg for a summer to do an internship at the Council of Europe. The internship, like the majority were at the time, was unpaid. I am incredibly lucky to have parents that have been able to support me to do things like that internship. We are not rich but I recognise how much my parents have given me and I'm conscious that a lot of people don't have access to those opportunities. I also had help from a local scholarship programme supporting people from my area to pursue higher education (this trust also funded my Masters). I was able to do one unpaid internship; but I have met a number of people in the human rights world that have done successive unpaid stretches at organisations based in some of the most expensive cities in the world. These internships, it seemed to me, were almost a prerequisite to finding paid work. I feel strongly that all work should be paid. Yes, there are organisations that are underfunded and who rely on unpaid interns or volunteers, but this cuts off access to people who simply can't afford it and it means organisations, and the human rights field as a whole, miss out on their talent, expertise and experience.
After my LLM, I came back to Glasgow University to do the Diploma in Legal Practice and halfway through the year, I got a traineeship at a big commercial firm. Even though I didn't want to work in commercial law, I decided I wanted to get qualified and I thought a big firm would give me good training. I had a great traineeship and met a lot of good friends there. I really enjoyed the collective feeling you get in a big firm, which is intensified by working very long hours together and then socialising after work. At the time, I had no dependents or other caring responsibilities, so I was able to devote a lot of my time to work. Looking back, the vast majority of my fellow trainees were in the same position, and I think the experience would have been very different – and much more difficult – for someone with a lot of responsibilities outside of work.
I qualified into the litigation team and worked on some really interesting cases covering a lot of different areas of law. In particular, I learned a lot from one of the female partners, who became a bit of a mentor for me. I had been qualified for about two years when I found myself thinking more and more about how I would keep up with my job and the pressures that went with it if I wanted to have a family. There were a lot of people who seemed to be successfully managing both, but they worked incredibly long hours and I had a sense – particularly from talks given internally by senior people at the firm – that it was best to progress your career first and then have a family. Working in a truly flexible way still wasn't the norm and seemed to be strongly resisted.
Around the same time, a legal officer job was advertised with the Scottish Human Rights Commission. It was my dream job, and something I knew wouldn't come up that often. I didn't have that much practical experience of working in human rights and I almost didn't apply because I thought I wasn't qualified (there's that imposter syndrome again). I did apply and was shocked to be asked to interview. I didn't get the job but was glad I had put myself forward anyway. Then, a fortnight or so later, I was asked if I would consider covering a career break for another legal officer. This would be a temporary position for only 7 months.
It took me the length of a train journey from Edinburgh to Glasgow to decide to take it. I was worried about a huge list of things…money, my career, the likelihood of finding another job, whether other people would think I was reckless, whether I should be more loyal to my current employer, whether I really knew enough to do that job. Instead of validating those worries, my friends and family seemed to think it was a "no-brainer". In the end, I took the risk; all of those things were genuine worries, but they were nothing compared to the worry that I would regret not taking the chance.
My original post was only 7 months, but I met a lot of people along the way and managed to pick up consultancy work and more temporary positions in the human rights field. I then worked for a year for the Equality and Human Rights Commission in a policy role, before moving back to SHRC on a permanent basis. I loved working at the Equality and Human Rights Commission. Not only did I learn a lot from colleagues who are experts in different areas of equality law, but this was my first experience of being part of a strong and active trade union branch – something that I am still very passionate about and always will be.
I still have moments where I have to pinch myself that I ended up in a job that I love, working on a huge range of different human rights issues that I believe really matter. Working for the Commission is also a very different culture than what I experienced in private practice. I took a long maternity leave with my daughter and was supported to return on a flexible, compressed hours basis. I decided to move back to my hometown on the west coast of Scotland, even though our office is in Edinburgh. I knew that was best for my family, and the Commission offered the flexibility to allow me to do that. Like everyone, the pandemic presented a lot of challenges, but I was able to adjust my hours and split childcare with my husband without burning out. I feel lucky to be in this position, but I feel strongly that it shouldn't just be down to luck or a particular employer's outlook; this flexibility should be a right afforded to everyone, regardless of their job and regardless of the reasons they want or need flexibility.
Throughout my life and career to date, one thing that stands out is the support and inspiration I have had from the strong women around me. My mum was the head of Biology at a secondary school, so from an early age I took it as read that women, particularly mothers, could succeed professionally. Incidentally my mum was also the first of her family to go to university, and she is also a Glasgow graduate. When my grandmother died, I looked back on her life and was in awe at what she contributed to her workplaces, her family and her community. Finally, I am lucky to have a fantastic group of close friends – some I met in primary school, and some only a few years ago. In my friendship groups, there is a real sense of solidarity and empathy. We celebrate each other's success, but equally I'm able to share doubts, anxieties and rejections. My experience of female friendship makes me confident and hopeful that my daughter's generation will go from strength to strength.