Elaine Leitch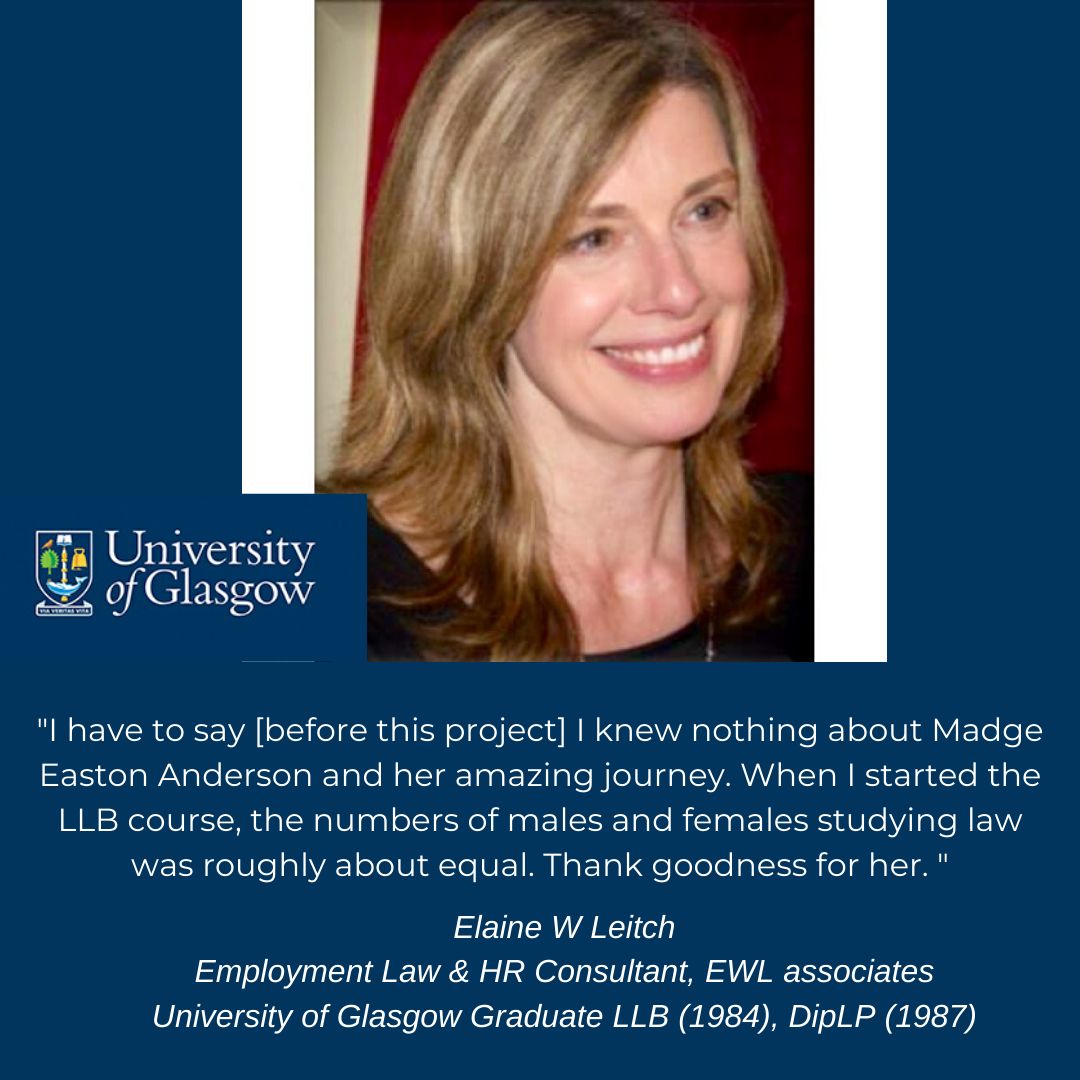 I graduated from Glasgow in 1984 with a 2:1 Honours in Comparative Law, having had the good fortune to be under the tutelage of Esin Orucu.
 I was the first person in my family to go to University. My father had done an HND in Chemistry at Paisley Tech (as it then was) and my mother had left school at 16 to go an work in a factory , albeit in the office as a clerk.
I had decided age 12 that I was going to be a lawyer. I was absolutely hooked on the series 'Justice' starring Margaret Lockwood, which aired in 1974 I think. I couldn't believe how learned, powerful and glamorous she was. Despite it being a TV series, that was going to be me!
I started at Glasgow on the LL.B course in 1980. I travelled for the 1st year as my parents had separated and I couldn't envisage leaving home and leaving my mother at such a vulnerable time for her. I travelled each day from Lochwinnoch to Glasgow in my beat up old car, parking as far away from University Avenue as I could, so that no-one could spot me. Ruthven Street was a favourite, although I amassed many parking tickets.
Because of traffic on the M8, I would often arrive for lectures late, in a mild state of panic, and would try to slip past Prof Cowie as he was lecturing on Constitutional law, or David Walker on contract law, without them noticing. It rarely worked.
I started my Diploma in the autumn of 1984, and then had to withdraw from the course in January 1985, when my mother was diagnosed with ovarian cancer. She passed away in the August of that year.
It was too late by then to apply to do the Diploma in 1985, so I got a job for a year working in a law Firm in Glasgow, and re-applied to do my Diploma in 1986. I was accepted. I had promised my mother I would go back and complete my studies, do my training and qualify to be a lawyer, and I was determined to do that.  I obtained my Dip.L.P in 1987 and completed my training in 1989. It had been a long old haul, punctuated by the loss of my mother and my parents' divorce, but I got there.
I have to say I knew nothing about Madge Easton Anderson and her amazing journey. When I started the LLB course, the numbers of males and females studying law was roughly about equal. Thank goodness for her.
I was back at Glasgow with my daughter on Saturday 19th October for the Open Day, and realised how lucky I had been, and what a privilege it was, to study at this magnificent institution. I had taken for granted the beauty of the Quadrangles and the architecture. I saw everything again through my daughter's eyes.
Thank you Madge (and Margaret Lockwood!) for your inspiration. I now have my own employment law practice, and feel blessed to be a lawyer.