Clare Connelly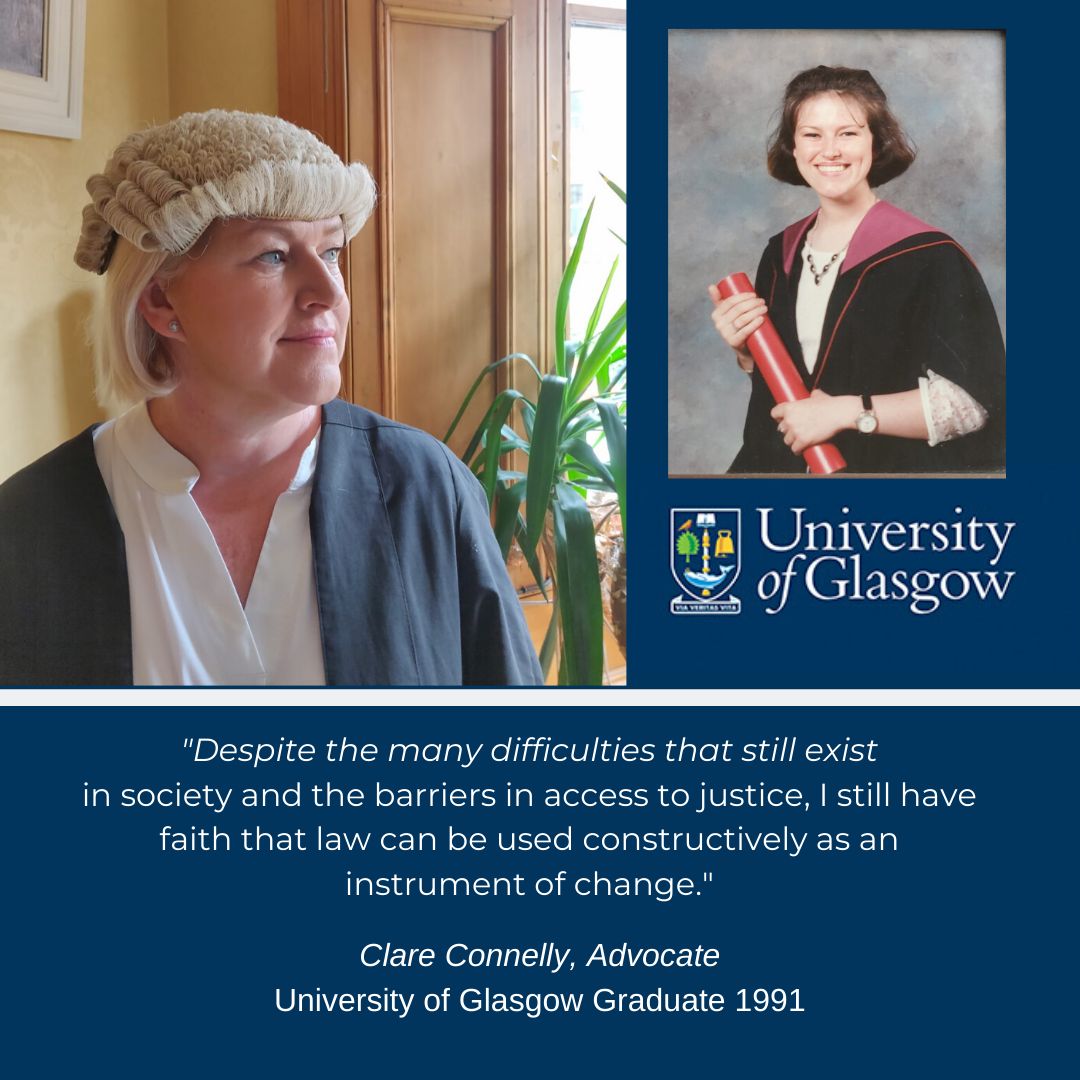 Having graduated with an MA (Soc. Sci) Hons from Glasgow University in June 1989, I commenced studying for the graduate law degree in October of that year. I was drawn to studying law as I believed that the law could positively be used to generate change and achieve equality and justice.
Following my graduation in 1991, I studied for the Diploma in Legal Practice. In November 1991, along with Alan Craig, we won the Scottish Client Counselling Competition. In March, the following year we went to the Lewis and Clark Law School in Portland Oregon and represented Scotland in the International Client Counselling Competition. We were the first Scottish team to win the international competition. Following this, my involvement in the competition, as a judge and a coach took me to Calgary, Vancouver, Florida and Belfast. In 1992, I commenced my traineeship with Strathclyde Regional Council, then the largest local government body in Europe. In 1993 I was admitted as a solicitor. Much as I enjoyed practice I was drawn back to academia and was appointed as a Lecturer in Law at the University of Glasgow in 1995.
During my time as an academic I taught a broad range of subjects including criminal law, evidence, criminal justice and medical law courses. I really enjoyed lecturing, especially to the 270 first year students studying criminal law. Having trained with Glasgow Women's Aid while I was an undergraduate, I was well aware of the legal difficulties encountered by women who were subjected to and sought to flee from domestic abuse. The dominant discourse of "it can't be that bad or she would leave" or worse, "she must deserve it" was, at that time evident both from the general populace and also from criminal justice agents such as police and lawyers. I carried out empirical research during a time when the study of violence against women became increasingly popular and the momentum for social and legal change grew.
As my main area of research was domestic abuse and given its prevalence and the misunderstandings around this issue, I designed an Honours course for fourth year pupils that focussed on the subject. The course examined what domestic abuse was, challenged the common sense assumptions that undermined its seriousness, examined what legal protection was available for women subjected to domestic abuse, the impact of domestic abuse on children and defences available for women who killed abusive men. This was the first dedicated course in the UK to examine domestic abuse in a legal context and educate future lawyers.
In 2002 the Scottish Government launched a National Group to Address Domestic Abuse in Scotland. I was invited to be a member of the Working Group in Legislation. Recommendations from this group led to the creation of the first dedicated Domestic Abuse Court. This pilot court was created in Glasgow Sheriff Court. It proved to be very successful in delivering a more effective response to domestic abuse and greater satisfaction amongst women, who were largely the complainers, in such cases.
The success of the dedicated domestic abuse court was heralded in Scotland. There was a desire to roll out this positive innovation across the jurisdiction, however, resources and demand meant that this would not be possible. In 2002, I was commissioned by the Scottish Government to design a "tool kit" that would allow an effective response to domestic abuse to be implemented in all courts across Scotland. In 2008, my toolkit was published, "Handling Domestic Abuse Cases- A Toolkit to Aid the Development of Specialist Approaches to cases of Domestic Abuse". This tool kit continues to inform the legal response to domestic abuse.
I have also had the privilege to work collaboratively with fellow academics in the area of domestic abuse. This included evaluating civil protection orders with Dr Kate Cavanagh and Professor Jane Scoular. This research documented the civil protection orders that were available to those subjected to domestic abuse and highlighted the ineffectiveness in legal response when such orders were breached.
Following this research, I was contacted by Rhoda Grant MSP and asked to assist in drafting legislation to improve the legal response to domestic abuse. This resulted in the Domestic Abuse (Scotland) Act 2011. Thereafter, I was asked to participate in training for the judiciary on the issue of domestic abuse, which involved speaking at training events and providing expert contribution to a DVD that has been used in Shreval training. In December 2013, whilst I was devilling at the Faculty of Advocates, I was appointed as a Legal Advisor to the Estonian Government by the Ministry of Justice, Estonia. My responsibilities included advising Government, Police and prosecution services on the development of the criminal justice response to domestic abuse.
Having the opportunity to make effective change in the legal response to domestic abuse has been one of the highlights of academic career in law. Others include the empirical study that I conducted with Professor Neil McKeganey into the link between drug use and offending. This research was part of the international I-ADAM study and our findings informed the creation of the first drug court in Scotland to provide a more effective response to drug related offending.
Another career highlight is the time I spent as Director of the Lockerbie Trial Briefing Unit. The "Briefing Unit" was established to facilitate accurate and informed reporting of the trial of two Libyan suspects accused of causing the destruction of Pan Am 103 above Lockerbie, the death of 259 passengers and crew and the death of 11 residents of Lockerbie. The trial was conducted in a Scottish Court in Camp Zeist, The Netherlands. The international interest in the trial of the two Libyan suspects, which was heard by 3 judges, led to my advising, both on and off air, national and international press and media including BBC World News, CNN, Al Jazeera, the Public Broadcasting Service USA and Canadian Broadcasting Corporation. I travelled to Camp Zeist for the preliminary hearings, the trial and also the first appeal. I also provided press briefings in Washington, New York, London and Edinburgh. I was an invited participant at a conference hosted by the University of Syracuse who tragically had lost a cohort of students in the Lockerbie disaster.
Having left academia, I called to the Scottish Bar in July 2013. I have a busy and challenging practice that includes civil and criminal law, appellate work and judicial review. I enjoy being instructed by many former students and it is quite thrilling to see how accomplished they are as lawyers.
I have thoroughly enjoyed my time at the Bar but there are some particularly memorable experiences and a few "firsts". I was sole counsel in the first case to establish that common law protections against suit, relied upon by the police and the Crown were not enforceable when a civil action for damages was pled on the basis of breach of convention rights rather than common law negligence. The case, McCaffer v Lord Advocate, PF Glasgow and Chief Constable, Police Scotland 2015 S.L.T. (Sh Ct) 44 sought damages for wrongful detention of the accused. The case was pled on the basis of ECHR rather than common law rights and protections. I successfully argued that the common law protections of immunity from suit and requirements to show malice do not apply where damages are sought for a breach of Article 5 of the Convention. A very memorable and lengthy experience was as junior counsel for the first accused in the longest criminal trial in UK legal history. I suspect this is an accolade I will hold for life as there are now provisions to prevent such an occurrence happening again.
My continued commitment to use law as an instrument for change has been given plenty of opportunity whilst practising at the Bar. I am currently instructed in a number of actions of damages arising from deaths in police and prison custody. The consequence of such actions goes beyond the compensation of family members to result in institutional change that protects lives in future.
I am committed to increasing access to justice and regularly carry out speculative or pro bono work to ensure that no person is prevented accessing justice through lack of means. I am currently representing approximately 600 pursuers in product liability actions involving pelvic mesh implants on a speculative basis. I also represent pursuers who have received metal-on-metal hip prothesis. My expertise in the area of product liability has recently been recognised by Chambers UK Bar Rankings.
I am very grateful for the opportunities that studying law at the University of Glasgow has given to me. Despite the many difficulties that still exist in society and the barriers in access to justice, I still have faith that law can be used constructively as an instrument of change. I look forward to the next 20 years and whatever changes or improvements in law that I have the opportunity to contribute to.