Charmaine Murdoch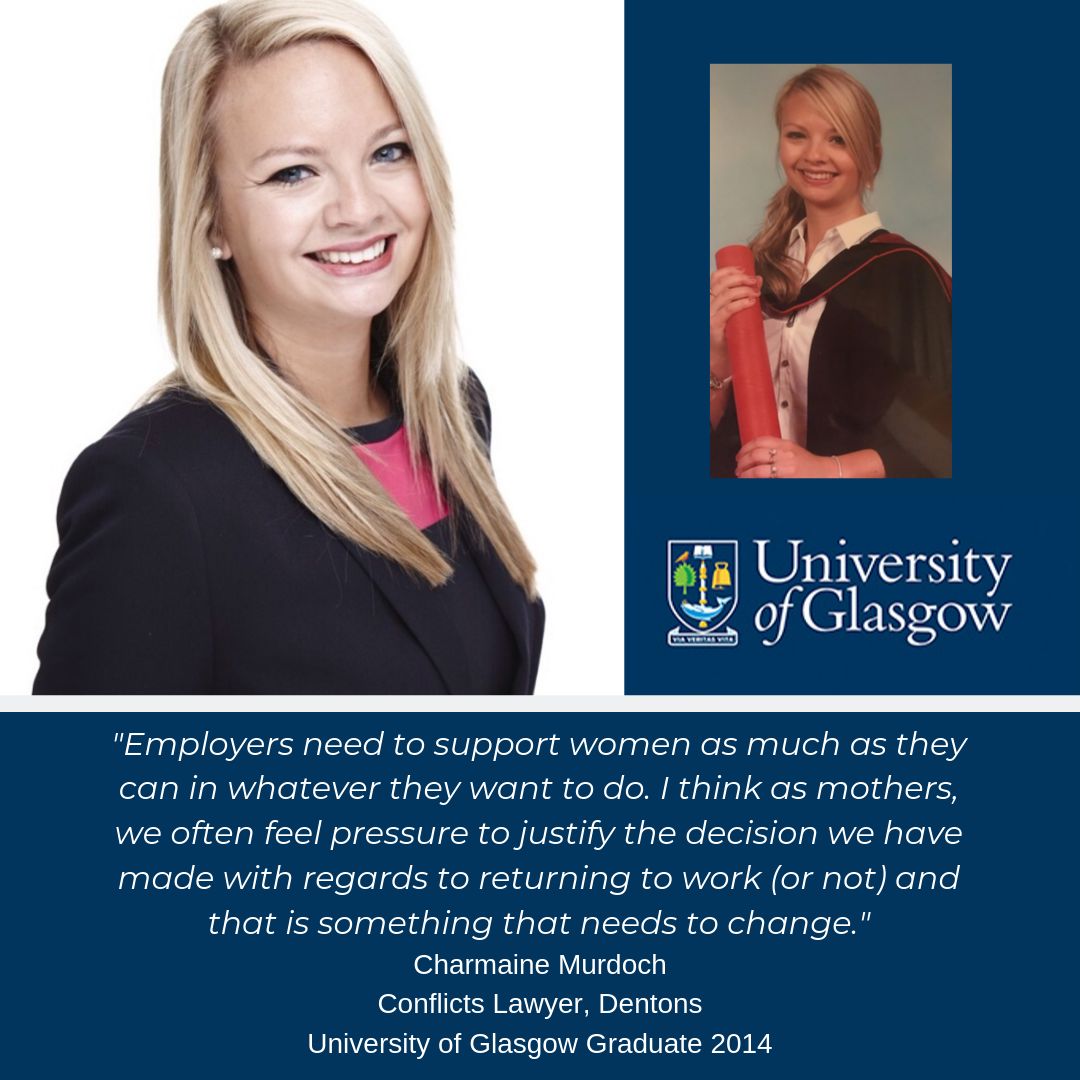 I graduated from the University of Glasgow in 2012 and completed my Diploma in Legal Practice there the following year. After completing my traineeship, I moved to Jersey where I worked as a corporate and financial services lawyer for two years. I then returned to Glasgow after accepting a role as a corporate lawyer at Dentons. After my daughter was born in 2018, I took 11 months maternity leave. I have now returned to work but have moved away from corporate law and had instead joined the risk function within the business as a conflicts lawyer.
I studied at one of Scotland's four state run music schools, and so it was a bit of a last minute decision for me to do law, having thought for a while that I would like to go to music college and become a classical musician. I wasn't sure that law would be for me so I started my degree as law with history. I quickly dropped the history angle as I found law much more interesting and contrary to what I was expecting, I was getting much better grades in law than I was in history! I joined university thinking that there were only two types of law – criminal law and law where you sue people for money. I quickly learnt that there was a lot more to it than that!
I thoroughly enjoyed my time at the University of Glasgow. My degree taught me so many things – how to work with all different kinds of people with different personalities, how to think for myself and how to learn from others. Third and fourth year is a great time for students to explore subjects that they are really interested in. I studied at Stockholm University in Sweden as part of my third year and found that this was a wonderful way to experience life in a different country at a different university. Unfortunately the honours course I did in Scandinavian Marine Insurance is yet to come in handy in my professional career but there is always hope! Back home in my final year, I particularly enjoyed studying a course called Mixed Jurisdictions. We learnt about mixed jurisdictions across the world and I did a project on South Africa which is where my maternal grandmother was from. I loved learning about the quirks of the Turkish legal system and now enjoy discussing this with my sister in law who is from Istanbul. Studying in Stockholm and then learning about different legal systems across the world made me realise how many options and opportunities there are for Scottish graduates across the world. I found so many of the female teachers at Glasgow University truly inspiring and was delighted to be taught about more than just criminal law and the law where you sue people for money!
Prior to learning about this project, I am embarrassed to say that I had never really thought about when or how women were allowed to join the legal profession in the UK. Women were well represented on my course at Glasgow University and in Sweden and I have worked with lots of fantastic female solicitors both here and in Jersey. It really is hard to imagine that it ever wasn't like this. It's so important to have a diverse range of people making decisions and it's frightening and saddening to think that that just didn't happen 100 years ago.
In my particular role, I think we have a great balance of men and women. Sure, there have been times in my short career so far where I have noticed that I've been the only woman in the room, but I certainly think that things are going in the right direction.
The main issue for me now is balancing my life as a lawyer with my life as a mum. I now work part time and my firm has been very accommodating in this regard. I know not everyone is so lucky. I thoroughly enjoy my job and feel that I have the balance right for me, and I am so grateful to my colleagues and family for supporting me in this. I feel so happy to be enjoying my job - this has become so much more important to me, as I want to be doing something that I feel is rewarding and important when I am spending time away from my daughter. I have been taught by some extraordinary women, I have learnt from some extraordinary women and I continue to learn from some extraordinary women in my current role. All I know is that when I'm learning from another woman, it makes me happy and I think that's because there is something wonderful and empowering about learning from someone like yourself. I am constantly in awe of how women around me balance everything in their lives, be it children, demanding jobs, family commitments or anything else.
I think balancing motherhood with work commitments is definitely one of the biggest issues for women in law now and I discuss this with my friends regularly. I heard someone say that society now expects women to work like they don't have kids and parent like they don't have a job. I think that sadly this is true for a lot of women in general and in some ways, particularly women in our profession. Employers need to support women as much as they can in whatever they want to do, be it work full time, part time or not return to work at all. I think as mothers, we often feel pressure to justify the decision we have made with regards to returning to work (or not) and that is something that needs to change. In terms of the next 100 years, I think that increased flexibility around working hours can only be a good thing and I hope that all businesses can move in that direction.
My own mum worked full time and long hours my entire childhood and returned to work 12 weeks after my brother and I were born. She has shown me that you can be a truly wonderful mother and have a rewarding career and I hope my daughter knows this too when she grows up. I want my daughter to have all the opportunities I have had and more.
I have absolutely loved reading the blogs which have been written as part of this project and it makes me proud to be a woman in law when I read about how successful other female Glasgow University alumni have been all over the world. Our legal history is full of incredibly intelligent women and this wonderful project helps us to remember them, reflect on what they have done for our profession and make aspirations and hopes for the future. We should be so grateful to Madge Anderson and others like her for their sheer determination and hard work as without women like her, I'm not sure where we would be.