Catherine Dyer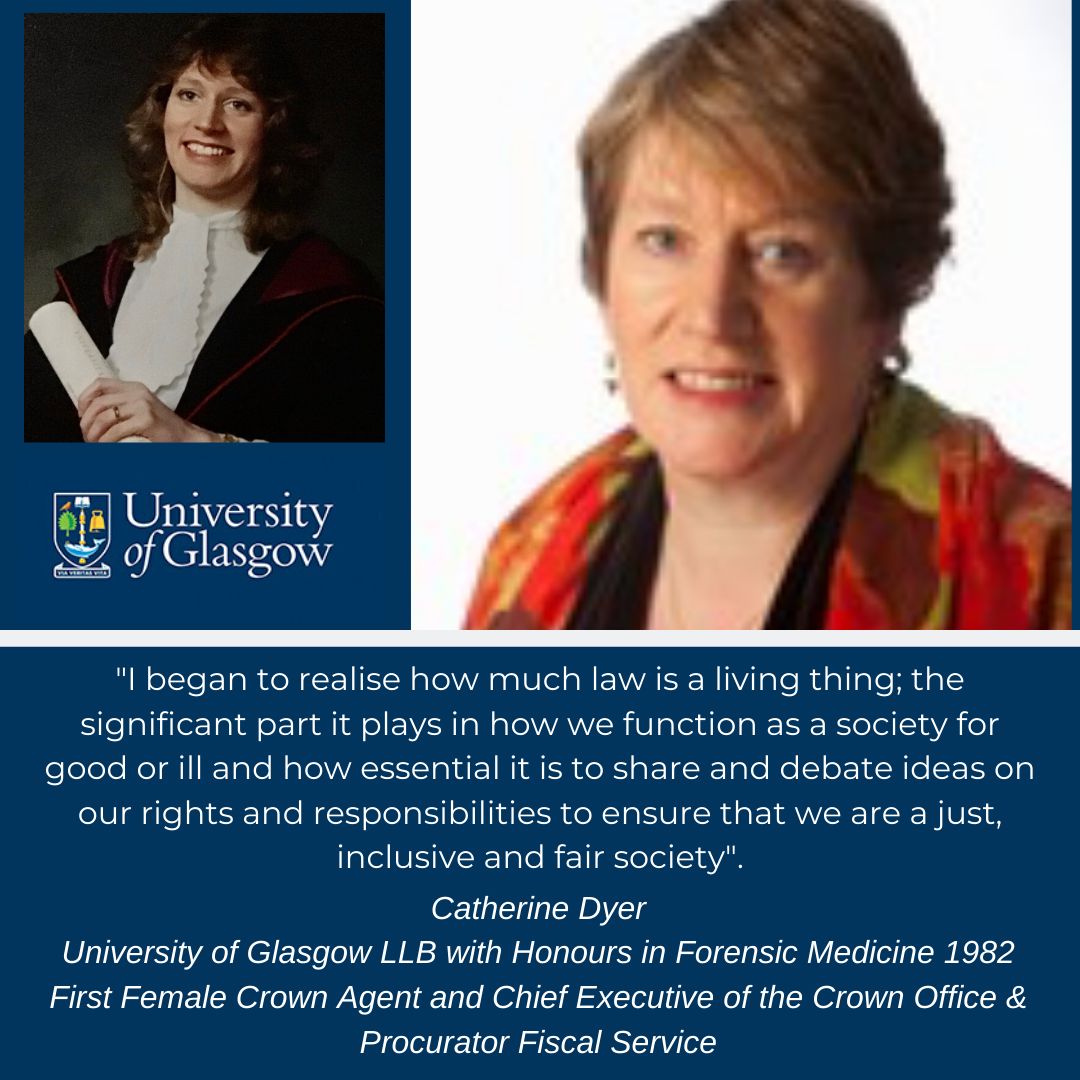 Looking back at enormous changes over the 4 decades since I started studying law at Glasgow in 1977, I realise how amazing many of these would seem to the pioneering women who first studied law 100 years ago - but I think they would be dismayed at how long it has taken for some changes to happen; and very disappointed to hear of challenges that remain in the Scotland of today.
Women remain more at risk of sexual assault and domestic abuse than men; hate crimes are still perpetrated. There is not proportionate representation of women or minority groups across senior jobs in many types of work, including legal private practice at partnership level and the judiciary; and gender pay gaps still exist.
It never occurred to me when I graduated LLB with Honours in Forensic Medicine in 1982 that I would end up as the first woman to hold the post of Procurator Fiscal in Glasgow (2003 - 2008), or the first female Crown Agent and Chief Executive of the Crown Office & Procurator Fiscal Service (COPFS) in 2010 - 2016.
After working as a solicitor in private practice I became a Procurator Fiscal Depute at Kilmarnock in 1986, returning to private practice in 1990. I rejoined COPFS, deciding ultimately that I preferred the team spirit, camaraderie, opportunities and challenges offered by its unique ingredients : acting in the public interest, considering competing rights of the victim, accused, local and national communities; building cases from evidence to meet the highest test of proof beyond reasonable doubt; unparalleled opportunities to appear in court and investigate deaths, as well as wide ranging specialist work and ability to move round teams, offices and courts across Scotland.
Apart from my own efforts and choices, I know my career is also the result of support, encouragement and inspiration of a great number of people; and the good fortune to have worked with dedicated colleagues across all sectors of the profession who also want to see our legal system serve Scotland well, while protecting those who are vulnerable and delivering justice for all sections of society. I only have space below to mention a few but there are legions!
The first year of the LLB was an absolute delight in Olivia Robinson's Roman Law class. Her wisdom and wit made the subject come alive, providing insight into one origin of Scots Law and the value in examining the building blocks of legal thinking.
She peppered anecdotes throughout lectures about her husband Sebastian and the trials and tribulations of the Robinson clan. It was so encouraging to hear that a woman could have a thriving family life as well as a full time career. There had been few examples of that possibility at school, despite many inspiring women teachers, as most with children either left or only worked part-time.
Later in my degree, lectures from Sheila McLean on Medical Ethics were fascinating, as was a presentation on the role of the Procurator Fiscal in investigation of deaths by the late Liz Munro (first permanent female Depute in Glasgow who became a Sheriff in 2004).
Before that my first year had ended abruptly at Candlemas. In hospital for a fortnight, I missed the first set of degree exams and wasn't well enough to return for the rest of that academic year. Angela McLean, my Regent, encouraged me to sit the summer exams. By sheer luck I passed some, including the dreaded Contracts taught by the formidable Professor David Walker (which I put down to reading the entire Sweet & Maxwell textbook the night before!) - but not surprisingly I failed others.
Falling between year groups for the rest of my degree probably played a part in my becoming involved in student life outwith the Law Faculty - but it may also have been because the end of the 70s and the early 80s were times of immense political, social and cultural change.
My first ever vote was in the 1979 referendum on Scottish Devolution, my second in the General Election that returned our first woman Prime Minister, with decades of seismic change in law, social and political policies and culture to follow.
I began to realise how much law is a living thing; the significant part it plays in how we function as a society for good or ill; how it evolves because of actions taken by individuals and communities; and how essential it is to share and debate ideas on our rights and responsibilities to ensure that we are a just, inclusive and fair society.
I joined Glasgow University Scottish National Association and the 79 Group and was elected to the SRC, where I met my future husband Kenneth, then Senior Vice President on sabbatical from his BSc.
Glasgow is still famous for parliamentary style debates. Back then debating with the likes of Charles Kennedy, Liam Fox, John Nicholson and Fiona O'Donnell (then Kenny) - who all went on to become MPs for different parties - proved that friendships can transcend deeply held but opposing views. It was also great training for thinking on your feet and practising the art of persuasion - both essentials for court work.
There were plenty of topics for debate around equalities and human rights.
Until 1980 Glasgow University Union admitted only men. Queen Margaret Union moved unilaterally to allow men membership but GUU refused to 'mix' until the University threatened to remove its funding.
Dominic D'Angelo, leader of numerous campus campaigns for equalities and gay rights, became first male president of the QMU. That year the Criminal Justice (Scotland) Act 1980 brought Scots Law into line with 1967 legislation in England and Wales; but hostility and discrimination remained, with many LGBT people hounded from their jobs and fearful of their sexuality becoming known. Section 28 of the Local Government Act 1988 made it illegal to "promote the teaching in any maintained school of the acceptability of homosexuality as a pretended family relationship" It was only repealed in 2000 by the new Scottish Parliament.
Similarly awful attitudes to women's rights and wellbeing remained widespread.
Discussing rape in a newspaper interview in 1978 Dr William McLay the Chief Medical Examiner for Strathclyde Police opined :
"Let's face it, chaps have been trying to loosen up girls with a drink or two for a long time. And when you hear of the situations these girls get themselves into missing buses home after a night on Carlsberg Specials, I think we are entitled to lose some sympathy"
And it wasn't until 1989, 7 years after I had graduated, that the Appeal Court decided rape could occur within marriage - thankfully not accepting the warning of the QC challenging the Crown's libel :
"If a charge of this nature is held to be relevant, it is more likely to break marriages than to help them in any way.....the difficulties in bringing a rape charge against a husband are too appalling to contemplate." (Stallard v HMA )
No wonder GU Women's Group felt the need to take active steps to support women. In a small room in a Glasgow city centre office block we covered the single Rape Crisis telephone helpline, prior to Rape Crisis Scotland being set up.
Their campaigning with Scottish Women's Aid has delivered significant legislation to better protect and support victims of sexual offending and domestic abuse; and the Scottish Government's Equally Safe programme to eradicate violence against women and girls. Progress - but every new case reminds us there is still much to do.
My traineeship was in Cambuslang with Gerry Carroll, an exceptionally generous teacher as well as an exacting one. He said I was bound to make mistakes - but to tell him only when I had found a solution; never rely on other's assertions, always check authorities at source and Crown libels for sufficiency and relevancy.
If a client said they didn't want to be represented by a woman (as happened quite a few times) Gerry was happy to lose them. This was despite his constant - necessary - focus on the bottom line (another thing I learned from him). Bosses of many female contemporaries were not so supportive.
Most trainees conducted their first defence in a District (now Justice) Court trial; Gerry thought you learned more from good Sheriffs and PFDs. My first appearance was at Glasgow Sheriff Court; unusually for that time, the legal cast was all female - Sheriff Daphne Robertson presiding with Frances McMenamin (now QC) acting for the Crown. I lost but learned!
Morag Galbraith arrived as an assistant (now Sheriff Shankland). Despite the relative lack of newly qualified women practitioners appearing in Glasgow in the early 80s, some male Sheriffs apparently found it hard to tell us apart ( she was the tall slim one - unfortunately I was neither...), but we had a great time covering all kinds of court work between us and dashing back to the office for more appointments with clients - as well as working out the solutions to our mistakes together before alerting Gerry!
The more I appeared in criminal cases, the more curious I became about prosecution work. Johanna Johnson, then a Depute in Glasgow (now Sheriff and Temporary High Court Judge) had been in the year below me at school and was very enthusiastic about COPFS. I decided to apply.
Kilmarnock was a veritable baptism of fire. Sheriffs Smith, Russell and Croan (collectively described by a local wit as 'one horseman short of the apocalypse' ) could reduce experienced, confident agents visiting from Glasgow to mere shadows of their former selves. Prosecutors received no quarter either. I quickly concluded that to survive I had to be absolutely on top of my cases while appearing calm and unfazed by their antics and foibles.
COPFS was not the equal opportunities employer that it is today. The PF welcomed me saying he knew that as a married woman I 'was just working for pin money' and would give up work if I had a baby. No amount of arguing could change his prejudices.
Venting frustrations about his sexist views cemented friendships with the other women Deputes serving there in my time. Both their CVs make it clear that they weren't in it for 'pin money' either! - Carole Cunningham (later Children's Reporter, solicitor in private practice and highly regarded safeguarder before becoming Sheriff) and Kate Frame (holding many senior posts in COPFS, including PF Aberdeen before becoming the first woman Police Investigation & Review Commissioner).
Amazingly 2 years later that PF agreed with my line manager that I was 'fitted for promotion'. However telling him I was expecting my first child did not result in congratulations: 'I thought you might have been good enough to go to Crown Office but that won't ever happen now'. By the time I went on maternity leave (1989) I felt, having survived all that, I could survive anywhere!
A posting to Glasgow cut commuting time but, despite being assured that maternity leave would not affect my progression, the Crown Agent decided unpaid maternity leave should delay promotion. PF Sandy Jessop wrote arguing vigorously on my behalf but the decision was not changed. So I left.
Serendipitously, Gerry was looking for an assistant and it was great to work with him and Morag again. She now had a daughter 6 months older than my son. We babysat for each other, bemoaned that our salaries only just met childcare costs, discussed the disgrace of able, experienced women in other firms being passed over after taking maternity leave and the scandal of female partners being told by male partners not to bother coming back.
It wasn't only men who disapproved of full-time working mums. Returning to COPFS at Hamilton was great apart from the barbed aside of 'is that you off to play mummy' from my female boss when I went to tell her I had received a call from nursery saying my son was seriously unwell.
By 1995 I was in the High Court Unit at Crown Office, just after the arrival of my second son, with the elder started school. Commuting from the West meant leaving home at 0630 and was only possible because my very supportive husband, then a teacher, got the children up, out to school and nursery, back home, fed and bathed before I returned.
It was back to Glasgow to end the 90s, firstly heading up the Deaths Unit. Meeting face to face with bereaved families, relying on you to carry out effective investigations to give them answers about why their beloved relatives have died - victims of medical mishaps, tragic workplace accidents, drugs and alcohol overdoses and suicide, is as front line as it gets.
Then I joined Fiona Miller (who has 4 children) to lead our two teams, working on initial processing of 2000 criminal cases reported each week to Glasgow - and in the busiest custody courts in Scotland. As Principal Deputes, we were also both on call (then unpaid) for several nights and weekends each year, attending murder scenes and post-mortem examinations (often working with Jeanette Joyce one of the first women Chief Superintendents and pathologists Marie Cassidy, Marjorie Turner and Jeanette McFarlane).
Only being super organised and having the support of family and friends enabled us to do that on top of a full working week.
A short time Edinburgh as one of the Assistant PFs followed, before my first actual PF post at Linlithgow, the result of Linda Ruxton becoming a Sheriff.
In 2001 I was seconded to work with Jonathan Pryce from Scottish Government reviewing all aspects of COPFS, following criticisms by the Justice Committee.
Our 'Pryce Dyer' report examined casework, structures, processes and management, making recommendations for radical modernisation which were accepted by the Lord Advocate and Crown Agent in 2002.
Robert Gordon took up the new post of Chief Executive, working closely with Norman McFadyen as Crown Agent (becoming the first person to hold both posts when they were amalgamated subsequently). I expected to return to Linlithgow but they asked me to lead the modernisation programme. The first of many opportunities that both gave me which broadened my horizons.
As Director of Change Management I moved from working as a front line prosecutor, gaining invaluable experience in organisational improvement.
Prosecution cases will fail, despite starting off with sound legal decisions, if all necessary preparatory tasks are not properly executed or changes in evidential circumstances not addressed. Focussing on improving case preparation - as well as quality, consistency and timeliness of decision making - meant that I learned a lot of 'techie' detail overseeing IT projects!
In December 2003 I applied to become PF Glasgow. It was rewarding and challenging in equal measure; responsibility for all the work of the entire Glasgow staff, in what were often referred to in the media 'as the busiest courts in Europe', numerous high profile cases and the added arrival, literally overnight, of resource intensive Disclosure obligations arising from the 2005 cases, Holland & Sinclair.
In May 2008 Norman asked me to become Chief of Strategy & Delivery, a new post focussing on further 'future proofing' prosecution work. That included testing by Deputes of iPads instead of paper files in court, as well as new electronic management systems analysing case preparation and readiness.
In 2010, for the first time ever, the post of Crown Agent & Chief Executive was advertised externally rather than, as previously, being restricted to COPFS staff. I knew that if I was successful at interview I would be guaranteed my most busy, challenging job yet. That proved to be very true!
The post acts as senior legal advisor to the Lord Advocate and Solicitor General on prosecution matters, head of profession with responsibility for all staff, and efficient running of COPFS within budget.
Elish Angiolini was Lord Advocate when I became Crown Agent. She is the first woman, solicitor and career prosecutor appointed as Solicitor General and then Lord Advocate.
Alongside the deepest public spending cuts ever seen by COPFS, we experienced steep increases in reports of sexual offences and domestic abuse, while Cadder v HMA derailed thousands of serious sexual offending and domestic abuse cases relying on 1975 Act section 14 interviews of suspects for corroboration, each of which needed to be reassessed.
Only innovations introduced over previous years allowed us to absorb all that additional work.
Working collaboratively with partners was also essential, including inspirational women such as Brigid Campbell of Justice Directorate, Eleanor Emberson, CE of Scottish Court Service, and Deputy Chief Constable Rose Fitzpatrick. That led to the establishment of Scotland's Justice Board.
As a Diversity Champion for the Scottish Government I chaired the Public Sector Employers' Diversity Network. It was great news when COPFS was evaluated for the first time ever against the Stonewall Work- Place Equality Index in 2012 and named as a Top 100 UK Employer, retaining that status each year thereafter, alongside Top Scottish Public Sector Employer for the four following years and further awards from the UK Employers Network for Equality & Inclusion.
Membership of the International Association of Prosecutors and becoming a Director of the International Society for the Reform of Criminal Law brought further learning from other jurisdictions and contact with more great female role models such as Claire Loftus, first woman to be DPP Ireland in 2011.
Late onset Multiple Sclerosis was my final career challenge. The generosity of practical support from the Civil Service as my employer, and that of family, friends and colleagues made it viable for me to continue for much longer than I would have been able to otherwise.
Looking back on a full and varied career I know that I, the profession and Scotland owe much to those women pioneers who pushed for equalities and human rights. Honouring their memory demands that Scots Law continues to deliver further equalities - and doesn't take another century to do so!