Carol Gammie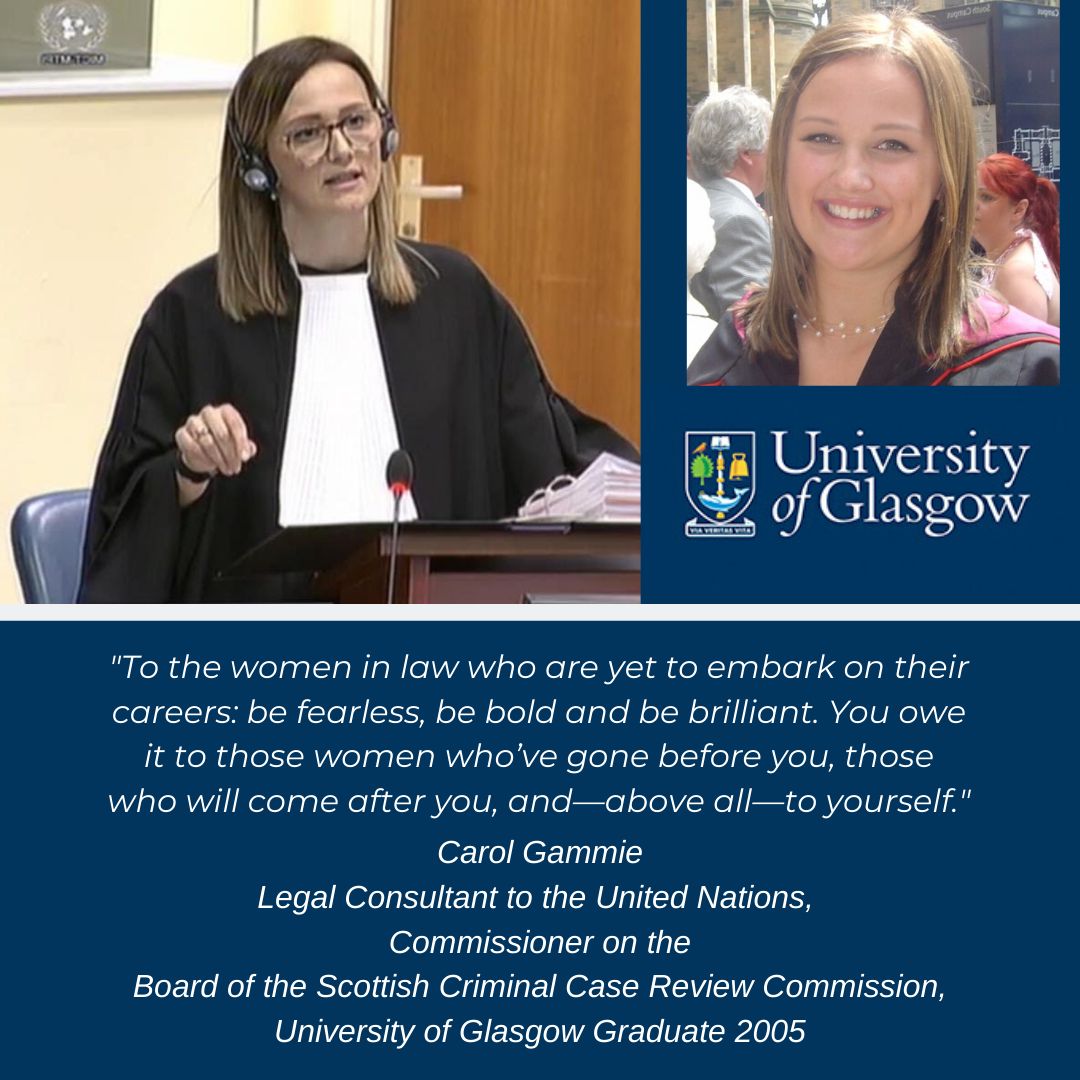 I grew up on a farm in the North East of Scotland. Not a lawyer in sight. The men in my life were hard-working farmers – "men's men" – and the women were generally in more tactile roles: teachers or housewives, but none the weaker or less complex for it. I wasn't ostensibly raised a feminist, but my natural curiosity about the world, and my place in it, was strongly encouraged by my supportive parents. I had my own boiler suit and I trailed around the farm after my Dad: helping him move cattle, watching calves be born, and even clambering into the hard-to-reach parts of a combine harvester to pull a jam of straw out. I remember my Mum eschewing dolls in favour of Lego, and other "educational toys" (always the teacher) and her unspoken assurance that I could achieve whatever I set my mind to.
So off I set to Glasgow University, almost entirely uninitiated in the world of law, to study my undergraduate degree. To be frank – partially because of Glasgow's other charms and the new-found freedom of being a student far from home – I stumbled through the first three years: working hard, yes, but without much focus on my future career. This focus, however, began to sharpen while studying through the ERASMUS scheme in Rotterdam, where I discovered my love for international law. I abandoned any vague intentions I had of strategically choosing "sensible" honours classes (that would best equip me for a career in Scots law and make me an attractive trainee prospect) and threw myself headlong into public international law. I haven't looked back.
Pursuing my passion in law has led to wonderful professional experiences: from sitting in court with Slobodan Milosevic (I worked with Lord Bonomy, and the future Amal Clooney, as a legal intern on the Slobodan Milosevic trial at the ICTY) to many years later working as Prosecution Appeals Counsel on the preparatory work on the Radovan Karadzic case, before finally making it into the courtroom as a UN war crimes prosecutor, on the Stanisic and Simatovic case. I've liaised with domestic prosecutors in Croatia, interviewed human rights professionals in New York, taken witness statements from victims of torture in Zagreb and led evidence of war crimes in the UN courtroom. It has been a varied and fascinating career. It's not been without a price: years of pouring over evidence about the horrors of war is mentally exhausting, and the pace is relentless. When I became pregnant with my second child, I decided it was time to say goodbye to my time in The Hague and make the move back to Scotland. I now continue my work with the UN on the Stanisic and Simatovic prosecution part-time, as a remote-working Legal Consultant. This has opened up time for me to explore domestic opportunities and to return to the world of Scots criminal law (I trained with COPFS and then practiced criminal defense for almost 5 years before going to The Hague). In September 2019, I was appointed to the Board of the Scottish Criminal Case Review Commission.
While I haven't always held an unwavering belief in my abilities that my parents tried to instil in my younger self, I do now understand that even feeling a little bit like "the sky's the limit" professionally is something to be proud of, not ashamed of. I have worked with some truly amazing, fierce female brains, yet I have learned that women in law (myself included) are often quicker than our male counterparts to apologise, to accommodate or to compromise. Sometimes these tendencies make us better lawyers, or at the least, better co-workers; but sometimes these tendencies undermine our talent, intellect and instincts.
My career has been defined by the people I have worked with: and on the whole, they have been determined, sharp and hard-working individuals who do their jobs with good-humour and dedication. I have been, and still am, fortunate to work with some of the most fantastic (and fair-minded) male lawyers. But it is the women that I have worked with that I have learned the most from. It cannot be ignored that—generally—we are paid less, we are the expected care-givers, so we apologise for working when we have a family (unthinkable for a man), and we frequently encounter belittling attitudes and expectations from clients and, occasionally, co-workers. This is changing – even in my short career, I have seen improvements. I now realise, however, that a big part of this shift is rooted in how we perceive our own professional worth and abilities.
So, to the women in law who have gone before me: thank you. You have blazed a trail, confounded expectations and made being a woman in law today a more rewarding and accessible career to us all. To the women in law who are yet to embark on their careers: be fearless, be bold and be brilliant. You owe it to those women who've gone before you, those who will come after you, and—above all—to yourself.
Biography
Carol Gammie graduated from the University of Glasgow with an LLB (Hons) in 2005. She went on to complete a five-month internship with the UN ICTY, working with the judges on the Milosevic trial before attaining an LLM in Public International Law from the University of Liverpool. She spent around 7 years in Scots criminal before returning to The Hague to work for the UN ICTY, and its successor the IRMCT for approximately 5 years. She currently lives in Glasgow, working as a Legal Consultant to the UN and, separately, as a Commissioner on the Board of the Scottish Criminal Case Review Commission.