Caitlin Alexander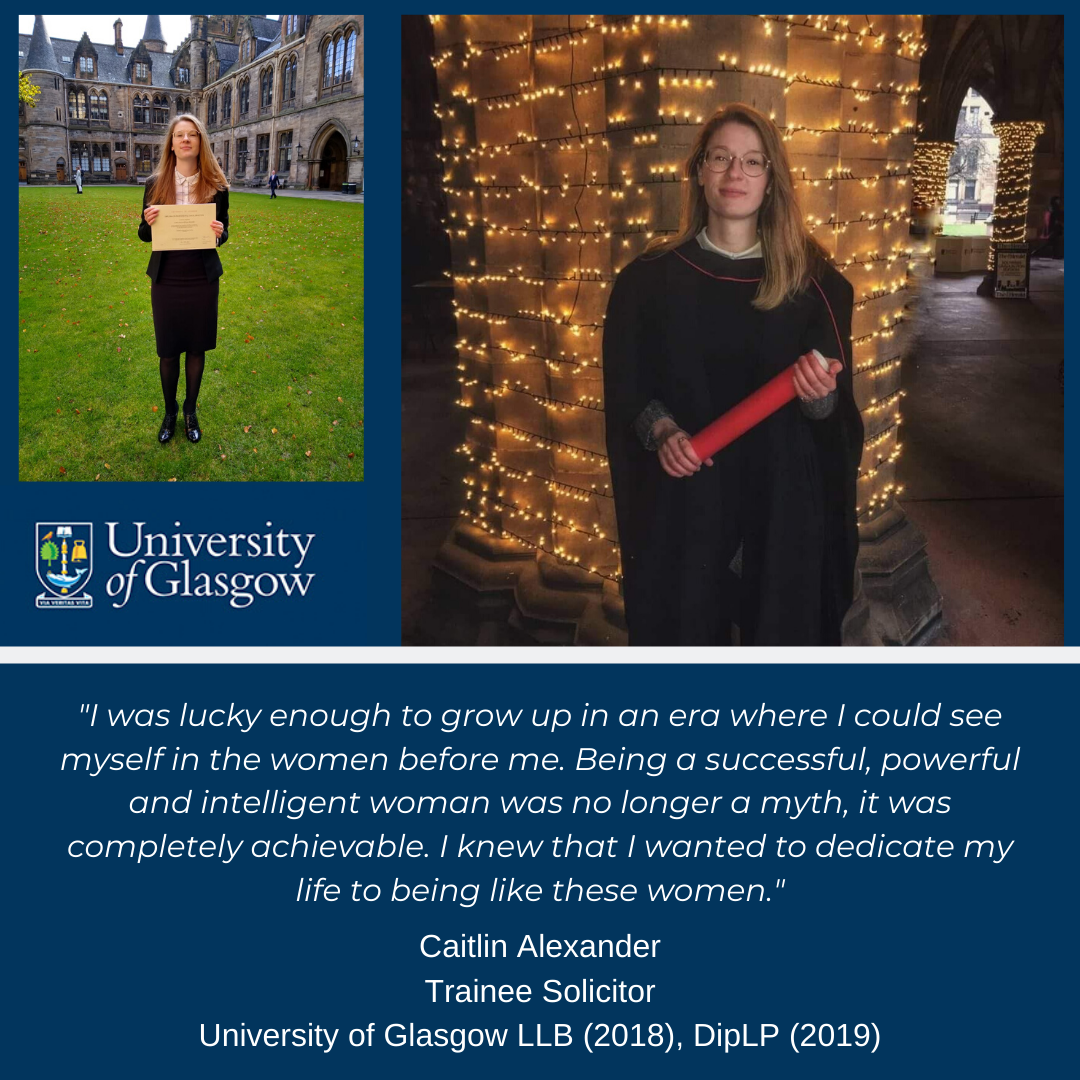 Biographical information – I am currently a Trainee Solicitor, mainly working in Immigration Law. I graduated in 2018 with my LL.B. and in 2019 with my Diploma in Professional Legal Practice.
So, here I am, sitting in the midst of a global pandemic thinking about how surreal it is to be writing about my own life when I can see the devastation that is consuming others'. I was asked to write this contribution over 7 months ago and was absolutely delighted to contribute to such an amazing and inspiring project. However, I kept putting it off. For those 7 months, I would ask myself: 'can't I just write about someone else, someone inspiring?' or 'some of my university lecturers, and even judges, have written for this project, how can I write something even remotely comparable to what they achieved?'.
I know, I know, I sound like such a woman, don't I? It really is just ingrained in us, part of the female condition even, to downplay our achievements. Reading the amazing 'voices' written before mine, I couldn't even imagine competing. But I was missing the point, wasn't I? It isn't a competition. It is an opportunity to unashamedly speak about successes and share viewpoints. It is an opportunity to stand in solidarity. It is an opportunity to acknowledge and applaud the achievements of many women.
So, I decided to 'woman up'…
On the run up to applying to universities, I wasn't sure exactly what I wanted to do - I just knew that I wanted to help people, to make a change. I have always been somewhat sceptical, constantly questioning the way that things are, so I was acutely aware of injustice from an early age and had immense empathy for minority groups.
I have been very lucky in the sense that I am from a country where education is free so I felt it important that I use this opportunity as best I can. I wanted to use this as much as possible to, eventually, give a voice to those who are not heard.
I was also lucky enough to grow up in an era where I could see myself in the women before me. I had role models – Lady Hale, Ruth Bader Ginsburg, Baroness Helena Kennedy. Being a successful, powerful, and intelligent woman was no longer a myth, it was completely achievable. I knew that women could be outspoken, pioneering, and innovative because I had seen it before. I knew that I wanted to dedicate my life to being like these women.
Whilst in school, I undertook some work experience in psychology and some with law firms and decided that I felt more drawn to the law. For me, Law appealed to my critical mind and I felt like becoming a Solicitor was the way that I could make the bigger impact.
I am partially sighted, and have been since birth, so was anxious about the difficulties of studying such a literature-intensive course. Studying Law with a disability was immensely difficult. I had my fair share of mental breakdowns, hospital admissions and promises of dropping out. But, every time I felt like I couldn't complete my degree, I reminded myself that I would be wasting a massive opportunity. I reminded myself of my goals to make a difference and thought of those who were yet to find their voice that I would be letting down.
In my third year at university, I studied abroad in Oslo because it offered subjects which I was incredibly interested in, for example, Women's Rights and Gender, Sexuality and Violence. Through studying subjects such as these, I heightened my knowledge of structural violence, making me even more passionate about striving to tackle the root causes of inequality.
During my time in Oslo, and for years prior, I had been struggling with my sexuality. Living in such a heteronormative world, I had unknowingly subscribed to the norm that women liked men, period. I had been shaped, since childhood, by compulsory heterosexuality so it was a difficult inner battle between what I was taught by society that I wanted versus what I actually wanted. And even before that, it took me a while to decipher what I actually wanted because I was barely even aware that relationships other than those with someone of the opposite binary gender were valid. By dismantling society's 'default' heterosexuality, tackling my own internal homophobia and dealing with mental health issues, I am now SO much happier as an out, queer woman.
Throughout my 5 years at university, I sought opportunities to work with various minority groups so that I could heighten my own awareness of their struggles and how intersectional they are. In 2015, I raised money for a children's charity and climbed Kilimanjaro. I volunteered in Glasgow High Court with victims/survivors of rape and serious sexual assault during in order to emotionally support them. I have also worked a lot with refugees/asylum seekers and have used my own experiences to support those who are partially sighted, as well as the LGBTQ+ community through various charities, NGOs and law centres.
As a result of my volunteer work, I was honoured, in 2019, as a 30 Under 30 Inspirational Woman by the Young Women's Movement in Scotland.
After I finished my Diploma in Professional Legal Practice, I spent 6 months coordinating a project on EU Citizens' Rights with Citizens Advice. This project was aimed at reaching out the most vulnerable EU Citizens in the area, advising them of their rights post-Brexit and assisting them with claiming those rights.
Now, I am a few months into my Traineeship. I work mainly in Immigration, giving me exposure to a vast range of vulnerable clients. Due to being LGBTQ+ myself, I am particularly interested in cases where clients are fleeing persecution based on their sexual orientation. Despite the emotional toll that the job takes on me, it is worth it to be able to put all of those years of hard work into a career which I know is making a difference.
For me, it is important to educate others on issues which are riddled with prejudice and bias. For the past few years, in my free time, I teach workshops at the University of Glasgow on sexual violence. As part of this, I participated in a national campaign with Rape Crisis Scotland to end sexual violence on campus.
As well as this, I write for a blog, The BaRE UK, which I now chair the meetings for. We aim to change narratives and deconstruct myths in order to educate people as to the realities surrounding racial inequality.
In the future, I hope to continue working in human rights and social justice as well as contribute to education and policy. I believe strongly in tackling the root causes, in confronting institutional inequality rather than simply how it manifests. I believe in trying to dismantle the structure so that problems don't arise again.
I really do have high ambitions, but nothing seems unreachable when you are constantly bolstered by the truly awe-inspiring and heroic women that I am proud to call colleagues and friends.
"I'm proud to be a woman in law because I believe that it is imperative for women to be represented in professions where they have the power to affect change. As a society, we cannot reach our full potential until everybody has the chance to heard. Until then, progress will be significantly stifled."