Anushya Kulupana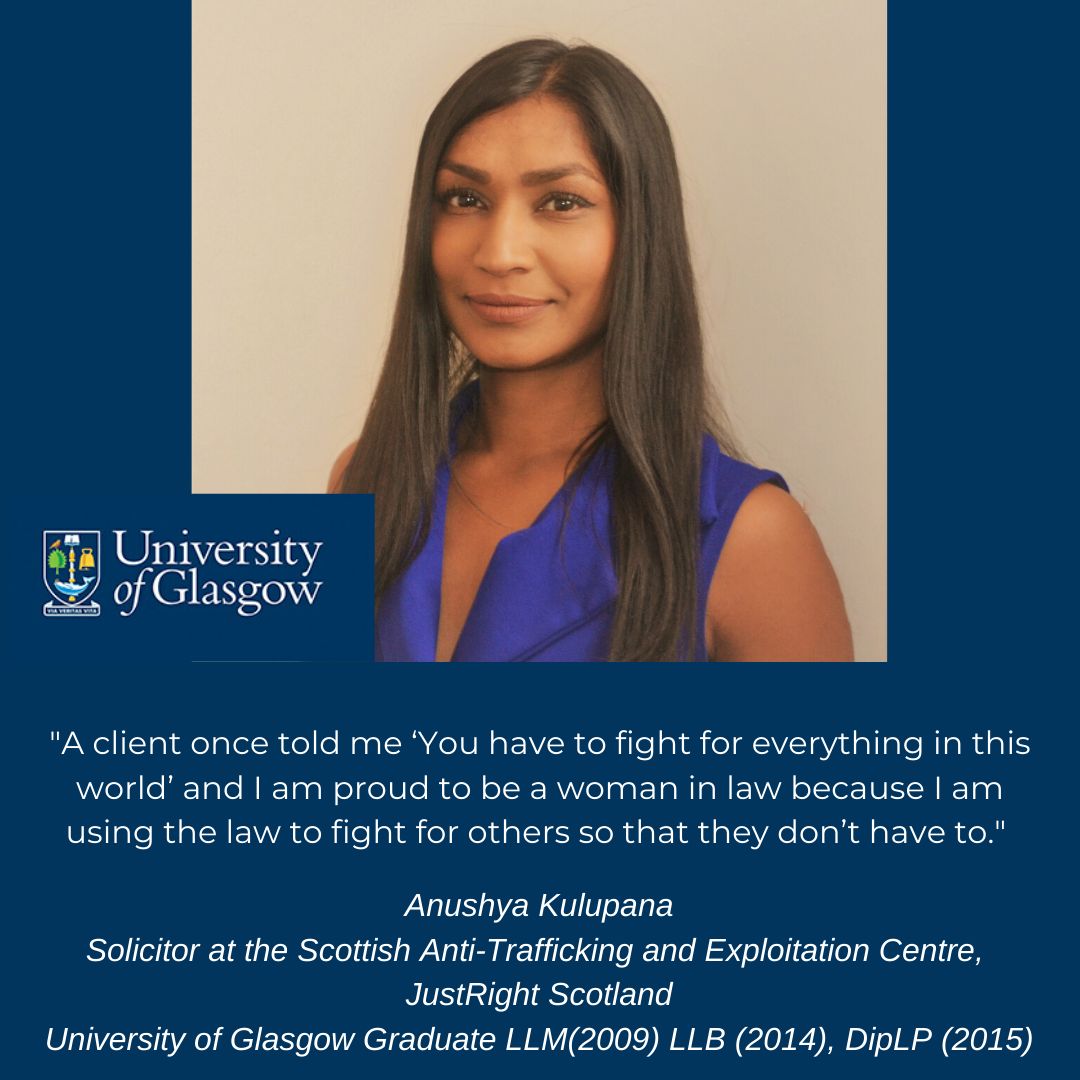 I was late to the law…
I never considered a career in law when I was trying to decide what I wanted to do when I grew up. I went to university to study genetics, with big dreams of curing the incurable, of discovering a miracle. But my interest in DNA ended up supplanted by a love of Mansfield, Woolf, and Lawrence, and I graduated with a degree in English.
Growing up in a developing country embroiled in a civil war, I was taught to value life, to be ever conscious of the suffering of others and to give what I had to those without. My parents and grandparents were constantly helping whoever came to our door in need. I hung about corners when my parents worked at free medical clinics, listened in on conversations about building schools, and picked out clothes and toys to be given to children I would never meet. As I grew up, I volunteered my time to various charities and by the time I left university, I knew that I wanted to be a force for positive change. To 'make a difference' as they say.
Path to the law…
I started working with survivors of rape and childhood sexual abuse. Here I was exposed to a world that saw the law, or more accurately, the operation of the law, as excluding those who most needed protection, where women's voices went unheard in a world created by men. I then moved into working with asylum seekers and refugees where most of the people I assisted had fled terrible persecution only to have their humanity stripped away by a hostile environment and draconian policies in the UK. Much of my work involved using the law to advocate for clients to secure their rights to financial and housing support and I started to see the law as an invaluable tool to securing access to justice for the most vulnerable and marginalised in society. I also discovered that I had a certain aptitude for understanding and applying the law, and completed an LLM in Human Rights Law to enhance my knowledge and practice.
After a few years I felt I needed a change. I was becoming frustrated by the limitations of what I could do. Sure, I was helping in the short-term, but I couldn't resolve the bigger issue my clients faced: not having permission to stay in the UK. I wanted to empower people, to provide long-term advocacy. I wanted to affect change on a wider scale. So, I started working with women who had been trafficked and commercially sexually exploited, providing intense psychosocial support to traumatised women who had experienced the worst that humanity had to offer. I was constantly amazed by the strength and resilience of the women I worked with and will forever be humbled by being allowed to play a part in their journey to recovery.
I also started working closely with human rights lawyers to ensure the women were fully supported to have their voices heard in the complex legal processes they had to navigate. After three years of watching them work and seeing the impact they made on the women's lives, I was inspired to pursue a career in law.
Back to School…
In 2012 I enrolled on the accelerated LLB at Glasgow University's School of Law. Glasgow University was the natural choice because of its excellent reputation but I can't deny the kudos of studying there didn't play a part in it! Still, it wasn't an easy decision to make. I was very nervous about going back to university at what I felt was a late stage of life and I still cringe when I remember my first lecture, where I took out my notebook and pen only to see everyone else opening their laptops…
And financially, it was not easy. I had a mortgage and bills. I had fees to pay. I worked part-time as a funding officer then as a caseworker at a law centre and with the help of my partner who was and is a bottomless well of support, managed to complete the degree and the diploma. I completed my traineeship at a professional regulator where I was lucky to be trained by lawyers experienced in almost all areas of law. The downside was that I had to commute to Dundee to do it and the two years felt like an eternity!
Once qualified, I returned to the refugee sector and worked in private practice as an asylum and immigration lawyer. Before, I had only really experienced how the legal profession and institutions treated other women. Now it was my turn to see what it was to be a woman in law.
A female in the profession…
The profession is never short on anecdotes of male bosses refusing to accommodate the needs of new mothers or accusing them of ruining their careers because they started a family. I must admit I was quite surprised that this type of 'Mad Men' behaviour was alive and thriving, in of all professions, the legal profession. More disheartening is the fear of being blacklisted by the profession so rather than challenge the behaviour, women just find another job and mark it all down to experience. Hopefully more and more women entering the profession and rising through the ranks will be the catalyst to eliminate this type of conduct.
The personal challenges I have faced as a female lawyer have been many, but one of the biggest has been working with male clients who I have often felt did not afford me the same respect they did my male counterparts. I quickly learned to adopt an authoritarian and somewhat abrupt manner to stop being constantly interrupted or have every bit of advice questioned. I also found the best way of terminating meetings which clients wanted to drag into the night because it was more convenient than returning the next day, was by saying (and I'm not proud of this) my husband was waiting for me at home! The difference in treatment may also be down to me being of an ethnic minority or a combination of both, but that is a conversation for another day…
And now…?
I recently started working at the Anti-Trafficking and Exploitation Centre at human rights law charity JustRight Scotland, which just so happens to be almost 100% staffed by women. I represent women, men, and children who are victims of trafficking, work to influence policy and enhance the legal education offering through delivering training across the country. We are very much focussed on working in collaboration with key organisations in this field, to ensure a human rights based approach to legal representation and to maximise access to justice.
I feel privileged to have the opportunity to learn from bright and fearless lawyers who are experts in their field, and to work with them and others to improve the human rights landscape in Scotland.
A woman in law…
A client once told me 'You have to fight for everything in this world' and I am proud to be a woman in law because I am using the law to fight for others so that they don't have to.
I am proud to be a woman in law because I am one of a long line of women who are fighting to make this world a safer and less hostile place, one day at a time.