Ania Salinas Cerda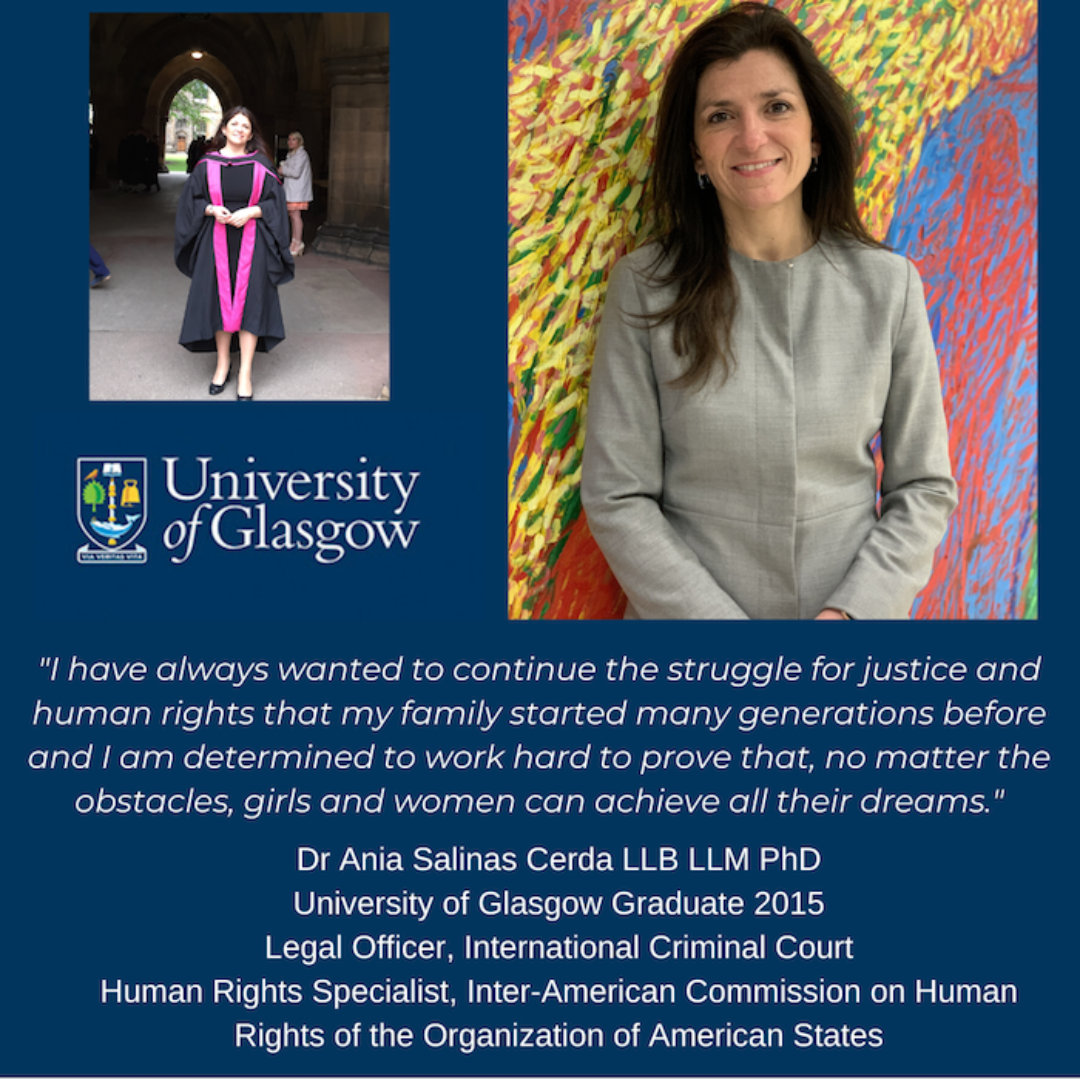 In retrospect, it would probably be reasonable to affirm that two facts shaped and determined my options in life and work. I was born in Chile during Pinochet's military dictatorship, in which most of my maternal family suffered persecution and had to live in exile. I also became a single mom at 17 years of age, just 5 days before starting Law School. It seems obvious indeed that these made me who I am. I have always wanted to continue the struggle for justice and human rights that my family started many generations before and I am determined to work hard to prove that, no matter the obstacles, girls and women can achieve all their dreams. Everything is possible.
I studied law in Concepción, in the south of Chile. I always combined study and work. During Law School, I assisted my grandfather in his law practice. He was a former Judge who had been involved in the communist party for decades and who, at the time, mostly helped others like him, recently returning to Chile from exile, to "clean" their papers to be able to find a job. After graduating from Law School – where I am proud to have managed not to fail a single exam! – I continued working as a lawyer for some years, until I was able to fulfil my dream and focus my career on issues related to transitional justice, human rights, and international criminal law.
After doing some post-graduate studies and research in Chile, Northern Ireland, Greece, Italy, and Japan, I was fortunate enough to go to the University of Glasgow to write my PhD in International Criminal Law. I would be always indebted to the Adam Smith Research Foundation and the School of Law for believing in me and granting me the two scholarships that allowed me to move to Glasgow with my daughter. My supervisors, fellow students, and staff at the School of Law were also magnificent in supporting and giving me the strength and confidence not to give up even during the hardest (and loneliest) times of drafting. All the strength, skills, and knowledge that I acquired through the process brought me, in 2010, to the International Criminal Court, where I have been working as a Legal Officer in Chambers ever since. I am even more fortunate to be currently on a special leave from the Court, which allowed me to come to Washington DC, where I am working as a Human Rights Specialist at the Inter-American Commission on Human Rights of the Organization of American States.
After moving through different countries and having to start all over again, a few times, due to different languages and school systems, my daughter is now a successful junior doctor working at the Royal Free Hospital in London. Following her mom's steps – and the way she grew up knowing girls should follow their dreams – she is also, at the same time, studying for a Master's degree at the University of Oxford. She is single and has no children as yet. From my experience, most probably, she understood that young maternity was not a smart example to follow. I am extremely proud to say that we are very close friends and have a fantastic relationship.
I married a bit later in life, at least for Latin American standards, at 37 years of age. My husband is also a lawyer, so law and books are at the center of our lives. Although he is a Dutch lawyer and a professor of Dutch and European administrative law, after a few months of a long-distance relationship, he decided to join me in the Washington DC's "adventure" and he is here with me now working and writing from home, and building networks with American Universities.
Nowadays, I try to combine, as much as is possible, my work at the Court/Commission with teaching some courses at different Universities. I go to China, for example, every year since 2013 to teach Human Rights Protection and International Criminal Law at Beijing Normal University. In my free time, I enjoy travelling, jogging, baking, reading and doing some handicrafts, such as knitting or embroidery, but as you now know, what defines me and what I am certainly proud to be is a Woman in Law.