Dr Jochen Schenk
telephone: 7178
email: Jochen.Schenk@glasgow.ac.uk

School of Humanities, Room 301, 2 University Gardens, Glasgow, G12 8QQ
https://orcid.org/0000-0001-5904-0005
Research interests
I am currently most interested in the contentious issue of cultural cohabitation in the Eastern Mediterranean during the twelfth and thirteenth centuries. My next book project aims to explore the varieties of contact and cultural transmission between different cultural groups within the crusader Latin East and their significance for creating, manifesting and shifting social boundaries. I am keen to explore possibilities to trace the impact of these interactions on medieval Europe, as well as to highlight their far-reaching demographic consequences within the broader region of the Eastern Mediterranean. It is to this end that I am currently sketching out a collaborative project dedicated to the examination of social mechanisms and human agencies employed and expressed by medieval societies when dealing with war-induced migration movements and large-scale human dislocation.
My fascination with the cultural and social history of the crusader states can be seen as a natural outcome of my decade-long research into the medieval military orders, and especially the Order of the Temple, which, after all, was founded in the Latin Kingdom of Jerusalem and played a major role in the history of the crusader states. My first book examined the social context of Templar communities in France, and subsequent research has focused on the military orders' religious significance, their social composition, and their role in state building in the Middle East. I am still very interested in the military orders, in particular their significance as part of the religious landscape of Medieval Europe and their complex cultural history.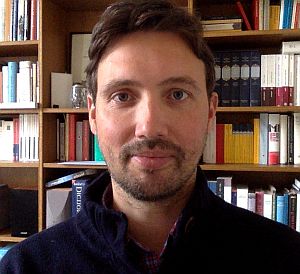 Biography
I first came to Glasgow in 2013 as a Lecturer in Medieval History, having spent the previous seven years as a Andrew W Mellon Fellow at the Pontifical Institute of Mediaeval Studies in Toronto (2006-7) and as Research Fellow at the German Historical Institute London (2007-2012) and the Albert-Ludwigs-Universität Freiburg (2012-13). I received my PhD in Cambridge in 2006. In 2017, after a one-year pause, I re-joined the university as Lecturer in Medieval Transcultural History, a job title that describes perfectly my increasing fascination with the complexity and diversity of cultural encounters during the middle ages, especially in the Eastern Mediterranean.