Network for Oratory and Politics
Speaking to the People from the ancient world to the modern day.
A one-day workshop with academics and practitioners of oratory.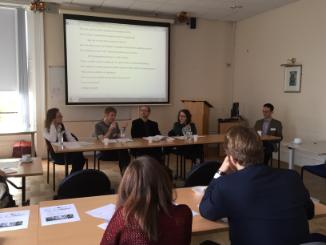 You can now read our blog about the event, or read our tweets as it happened on Storify!
This workshop gathered together experts in political oratory to discuss the distinctive features of public oratory to the people in different historical periods and from different perspectives. Our speakers were Rodger Evans, a speechwriter regularly preparing speeches for politicians addressing the public, Alan Finlayson, an academic specialist in modern political speech, and Amy Russell, an ancient historian adding the historic perspective from another vibrant political culture of speech: ancient Rome.
Through these three view points, we discussed the distinctive features of addressing the people in public – then and now – and what that might tell us about political oratory and the cultures in which such oratory is performed. ‌
Listen to an audio recording of Amy Russell's talk, 'A World of Ciceros?'