Prehistory and Natural Places

Prehistory
Only a few traces of prehistoric activity in the uplands have so far been recorded. The Gray Stone, a prehistoric standing stone, 2.13m high with a roughly triangular plan, lies to the south of Knowes farm. Over time this monument has been reinterpreted; according to local stories, the Gray Stone is said to have been the gravestone of or memorial to the Mormaer of Atholl, who died at the Battle of Duncrub in AD 965.
There are also hints of a largely invisible later prehistoric settlement in this landscape. Two possible, previously unrecorded, hut platforms, have been recorded.
Natural places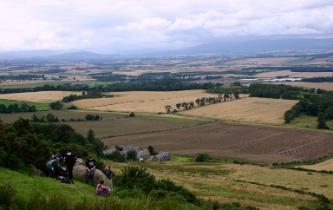 A natural boulder depicted as 'The Grey Mare' on maps as far back as 1866, but known to locals as 'The Mare and Foal', because of a smaller stone immediately to its south-east is situated on the north west slopes of Boghall Hill. Unless obscured by vegetation, it would have been a highly visible landmark to viewers at Boghall Farm, or to travellers along a putative Medieval route following the base of the Ochils. Conspicuous stones such as this commonly had a range of associations, such acting as a boundary marker in a land charter, marking a place for paying rent or holding a fair, or showing to those in the know where illicit whisky was distilled.