Pre-Improvement Cultivation and Farmsteads
Pre-Improvement Cultivation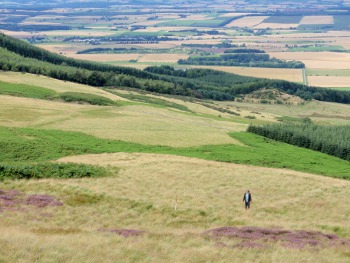 A striking aspect of the archaeology of this landscape has been the complexes of turf enclosures and dykes, as seen on Boghall and Casken hills. Some of the dykes are remarkably substantial, such as one recorded east of Knock of Boghall which measured 1.5m wide and 0.5m high. The complexity and sheer number of enclosures in the uplands suggest that they were constructed for the 18th-century practice of 'tathing', where livestock were grazed in specific enclosures which would be cultivated the next year, thus ensuring they were properly manured. A clear relationship between braided trackways and turf enclosures on Keltie Estate further supports this scenario. The braided cattle tracks appear only on the steeper slopes, where there was the most erosion from the animals' hooves. They typically fan out from the break of slope, where it was very clear that the animals were diverted round the outside of the enclosures, or in one case funnelled in between them. The tensions between the cultivators and the herders taking their animals to and from their upland summer pastures are very clearly visible on the ground.
Also associated with the turf enclosures were areas of rig and furrow cultivation, some were well-preserved and characterised by broad rigs, while other areas were defined by narrower rig. The identification of different types of cultivation, as well as short-lived extensions of cultivation beyond the head-dyke, attests to the varied history of agriculture on these slopes. Crops (such as oats, bere barley and legumes) were thought to have been grown in this environment, but by the late 18th century very little of the uplands were cultivated.
Also found in relation to the turf dyke complexes, were small, turf-built structures, found normally isolated or in pairs, with typical and consistent dimensions of 8–9m x 5–6m. These structures are clearly larger and more elaborate than shielings, and do not show the expected clustering of shielings. Examples at both Casken Hill and Boghall are often associated with broad rig and furrow, which may date to as late as 17th or 18th century.
Farmsteads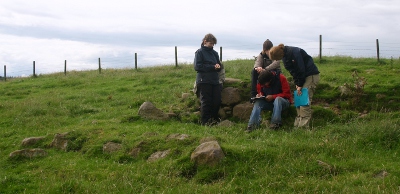 Unsurprisingly 18th to 20th century farmsteads have been found in the uplands, but there are also examples with an earlier history. About 1km to the southeast of Knowes Farm, is the medieval farmstead of Blaeberry Hill. Blaeberry Hill is the modern name of an abandoned settlement, possibly the one depicted as Blackberryhill on Stobie's map of 1783 and may be been documented as early as 1565. This is a complex farmstead with traces visible within a forestry enclave. The clearest structure at the date of visit had a range of five roughly square rooms, each measuring about 5 x 5 m, with another rubble structure built over the two northerly rooms. The most striking feature of this settlement was a substantial perimeter V-shaped ditch with low flanking earthen dykes and an entrance on the northern side. This feature is strongly reminiscent of enclosures defining settlement and cultivation within medieval royal or baronial hunting forests.