The Wider Landscape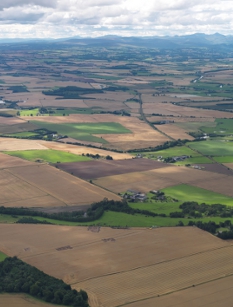 Understanding the surrounding landscape context forms a significant strand of the SERF project. So far there SERF has developed a number of specific projects dealing with the varied archaeological remains in the wider landscape, which in the future is planned to be more extensive.

Moving away from the cultivated valley bottom, research has explored the remains of some of the hillforts of Strathearn as well as the upstanding traces of early Medieval chapels. The surviving evidence of more extensive landscapes of settlements, field systems and routeways have been identified and teased apart in some upland survey.
The SERF Study Area
The framework for the SERF landscape study area comes from the ancient parishes which have been in existence for at least 800 years and probably much longer. The antiquity of these divisions provide a stability for the study without being arbitrary and at the same time invite further investigation into the changing organisation of the landscape. The importance of the ancient parish is that it defined the community, so the alteration to the extent and location of the parish reflects changes in society as a whole. The administrative history is also relevant for understanding the emergence of medieval lordship and the creation of landed estates, which have had a huge influence on why Strathearn is the way it is.

The initial idea was to examine the parish of Forteviot flanked by Dunning and Forgandenny, because it forms a coherent block of ground running from the top of the Ochils down to the Earn. As we looked into the history of the parishes it became clear that behind the simplified modern boundaries was a complex evolution involving of detached areas and the incorporation of lost parishes.