Kourion's Amathous Gate Cemetery, Cyprus
The Excavations of Danielle A. Parks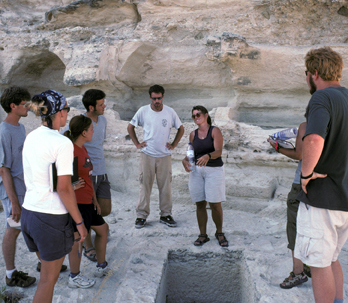 Danielle A. Parks leading a site tour
The excavations at Kourion's Amathous Gate Cemetery in southern Cyprus, directed by the late Dr Danielle Parks (Brock University, Ontario), took place each year from 1995 to 2000, with study seasons from 2001 to 2008 and 2017 to 2019. The fieldwork was sponsored by the American Schools of Oriental Research, Brock University, Ontario, and the Cyprus American Archaeological Research Institute, and worked under the aegis of the Department of Antiquities of the Republic of Cyprus.
The project is now in publication phase, with an international publication team, directed by Dr Michael Given (University of Glasgow), with the support of Dr Smadar Gabrieli (University of Sydney and University of Western Australia) and Dr Chris Mavromatis. The project is affiliated to the American Schools of Oriental Research. This phase has been funded very generously by the Shelby White and Leon Levy Program for Archaeological Publications.
This website gives an overview of the project, summaries of the successive phases of the site, and acknowledges our funders and supporters and our field and publication team. If you have any queries about the project, please contact Dr Michael Given.
‌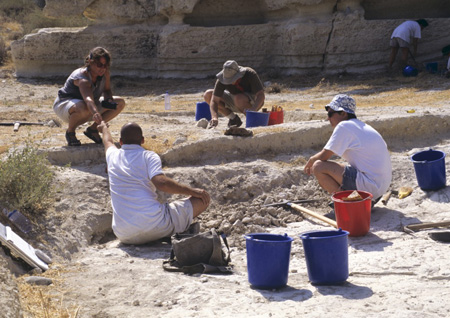 Excavating in Area B
KAGC Bioarchaeology Field School, Summer 2022
Students who wish to further develop their human osteology skills and work with unique bioarchaeological collection may apply to join us. This opportunity may count towards credit, field school experience/training, and/or internship.

Learn advanced bioarchaeological methods in the following:
Manage and analyse commingle remains (MNI methods)
Fragmentary osteology
Dental anatomy
Skeletal pathology
Dental pathology
Dental and skeletal non-metric traits
See the Odyssey Field School website for more information
Acknowledgements
We are particularly grateful to the Department of Antiquities and its successive directors for their encouragement and official support for our project, particularly Dr Demos Christou and Dr Marina Solomidou-Ieronymidou, and similarly to the Cyprus American Archaeological Research Institute, its staff and its successive directors, especially Dr Tom Davis.
We are very grateful to all of our funders:
During fieldwork and study seasons we received invaluable help from friends and colleagues in Cyprus and elsewhere. In particular we would like to thank the staff of the Kourion House Museum, the Mukhtar and people of Episkopi Village, and the Western Sovereign Base Area Archaeological Society. We are also grateful to William S. Andreas, Anthea Garrod, Frank Garrod, Bill Meredith, Demetrios Michaelides, L.I. Sisson and Stuart Swiny.
The Neutron Activation Analysis was carried out at the Archaeometry Laboratory, Missouri University Research Reactor, University of Columbia-Missouri, with the National Science Foundation Grant BCS-0504015. We wish to thank Michael D. Glascock and the MURR staff for their help with this analysis.
The photographs in this website are by project photographer Chris Parks.