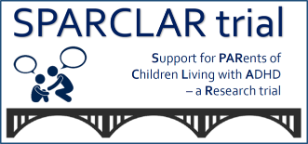 ‌
SPARCLAR - measures
Feasibility indicators
Are parents of children recently diagnosed with ADHD willing to be randomised to Parents InC or Incredible Years?
Can sufficient numbers of families be (a) recruited and (b) retained such that a full-scale RCT is likely to be feasible?
Are research procedures and measures feasible and acceptable to participating families?
Primary efficacy outcome measure
Parental Sense of Competence Scale (PSOC) is a 17-item questionnaire showing good validity across several studies and widely used as a measure of parenting self-esteem14. It will be collected at baseline and at 12-months post-randomisation.
Secondary efficacy outcome measures
Eyberg Child Behaviour Inventory (ECBI): measure of behaviour problems of children aged 2-16 to be completed by parents or carers.
Strength and Difficulties Questionnaire (SDQ): self-report measure of behaviour of children aged 2-17 to be completed by parents/carers/children aged 11yrs or older.
General Health Questionnaire (GHQ): self-report measure of common psychiatric conditions to be completed by parents or carers.
ADHD Symptom Rating Scale-version 1 (ASRSv1): symptom checklist consisting of 18 DSM-iV criteria to be completed by practitioners with regards parents.
Parenting Daily Hassles Scale (PDHS): 18-item self-report measure of the frequency and intensity of 20 potential parenting 'hassles' to indicate parents stress.
Goal Based Outcomes (GBO) from the Child Outcomes Research Consortium (CORC):
EQ-5D_5L: a self-report measure of parent quality of life.
PedsQL: a self-report measure of child quality of life.
Participant service use (diary and questionnaire).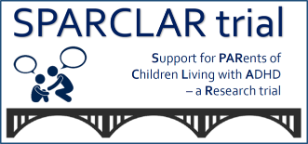 ‌