MEASURES - more information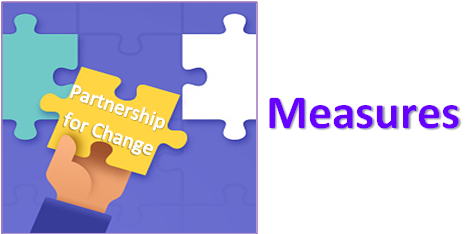 QUESTIONNAIRES / MEASURES
The overall research question for the study is can we coproduce CAPS and test the feasibility of an RCT? Here are following questionnaires we will be using...
Reactive Disorder and Disinhibited Social Engagement Disorder Assessment (RaDA)
RaDA is a semi-structured interview for assessing the symptoms of Reactive Attachment Disorder (RAD) and Disinhibited Social Engagement Disorder (DSED). RAD is a condition in which the child is unable to establish healthy attachments, the child feels unsafe and alone as a result of disruption in their early life. DSED is when a child may actively approach and interact with unfamiliar adults.
The Parent Infant Relationship Global Assessment Scale (PIRGAS)
The PIRGAS is a research base rating instrument covering all full range of parent/infant relationships used for research purposes to describe the strengths of a relationship as well as to capture the severity of a disorder. A clinical interview with the parent coupled with observed behaviour patterns allows the clinician to place the relationship into one of nine categories, ranging from well adapted (100-91) to grossly impaired (10 and under). Relationship difficulties are assessed based on the intensity, frequency, and duration of maladaptive interactions and a score below 40 marks a disordered relationship. Three aspects of the parent/infant relationship are evaluated in order to classify a disordered relationship: the behavioural quality of interactions, affective tone, and psychological involvement.
The PIRGAS is influenced by developmental, psychodynamic, family systems, relationship, and attachment theories, as well as clinical case studies, observation in naturalistic settings, and assessments based on attachment theory.
Strengths and Difficulties Questionnaire (SDQ)
3-16 years olds. The SDQ is a brief behavioural screening questionnaire. It exists in several versions to meet the needs of researchers, clinicians and educationalists. It is a self-report inventory behavioral screening questionnaire for children and adolescents ages 2 through 17 years old, developed by United Kingdom Child Psychiatrist Robert N. Goodman. The SDQ is available online, and has been translated into more than 80 languages, including Spanish, Chinese, Russian and Portuguese. The PhenX Toolkit uses SDQ as its child protocol for General Psychiatric Assessment and for Broad Psychopathology.
Pediatric Quality of Life Inventory (PEDS-QL)
2-18 years. PedsQL (Children's Hospital and Health Center, San Diego, California) is a modular instrument for measuring health-related quality of life (HRQOL) in children and adolescents. The PedsQL 4.0 Generic Core Scales are multidimensional child self-report and parent proxy-report scales developed as the generic core measure to be integrated with the PedsQL Disease-Specific Modules. The PedsQL 4.0 Generic Core Scales consist of 23 items applicable for healthy school and community populations, as well as pediatric populations with acute and chronic health conditions. click here for more information
Adverse Childhood Experiences (ACE) Questionnaire and the Maltreatment Classification System (MCS) - Guidance Appendix.
With consent, case records of participating families will be reviewed and scored against the Adverse Childhood Experiences Questionnaire Questionnaires and the Maltreatment Classification System.
MEASURES - more information