IHW launches invisible disabilities poster campaign
It's now a year since the Institute of Health and Wellbeing ran a powerful event about invisible disabilities, highlighting the impact in work and study environments, and how managers and colleagues can best support those affected.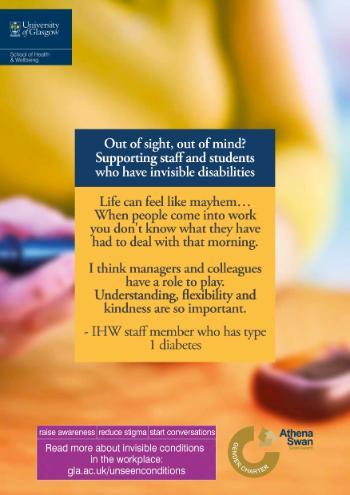 The event centred around six incredible colleagues and alumni from across the University, who spoke openly about their experiences living with invisible disabilities and conditions, including the challenges they face in the workplace.
From these accounts, we have created a poster campaign and a dedicated online resource to raise awareness about invisible disabilities and conditions, and to highlight the importance of working together to build a supportive and inclusive environment for all staff and students.
Each of the "lived experience" speakers who contributed to our event has kindly allowed us to feature their observations and insights on one of six posters, which we are delighted to share with you now.
We hope you find these posters thought-provoking. Please take time to visit the campaign page where you will be able to view all six posters, plus the presentations on which they are based and those delivered by University of Glasgow central support services.
If you would like to speak to someone in confidence about an invisible disability, either your own or if a staff member or student you manage/supervise has an unseen condition, please contact IHW's Cindy Gray, Kate O'Donnell or Asha Costigan.
---
First published: 14 March 2018