Dr John MacDonald
Lecturer in Earth Sciences

(School of Geographical & Earth Sciences)
telephone: 01413305558
email: John.MacDonald.3@glasgow.ac.uk
505a, Gregory Building
https://orcid.org/0000-0002-8609-804X
Research interests
Postgraduate Research Opportunities
I don't have any funded PhD or MSc by Research projects available at the moment but I am always happy to hear from prospective students who wish to undertake an MSc by Research or PhD in my fields of interest (see below).
Research Interests
My main research interest revolves around carbon and carbonates. I use a range of analytical methods, from X-Ray Computed Tomography (XCT) to novel isotope geochemistry techniques such as clumped isotopes, to address a range of research questions:
atmospheric CO2 capture with slag and rocks
pollution from legacy industrial wastes
carbonate mineralisation in hydrothermal fluid flow and geothermal energy systems
carbonate hydrocarbon reservoir diagenesis
I have a particular interest in legacy industrial waste products, particularly the breakdown of iron and steel slags, both from their potential for capturing atmospheric CO2 as well as the challenges they pose with pollution.
Additionally, I retain an interest in Precambrian gneiss complexes which I studied during my PhD, ranging from mineral deposit formation to zircon geochemistry.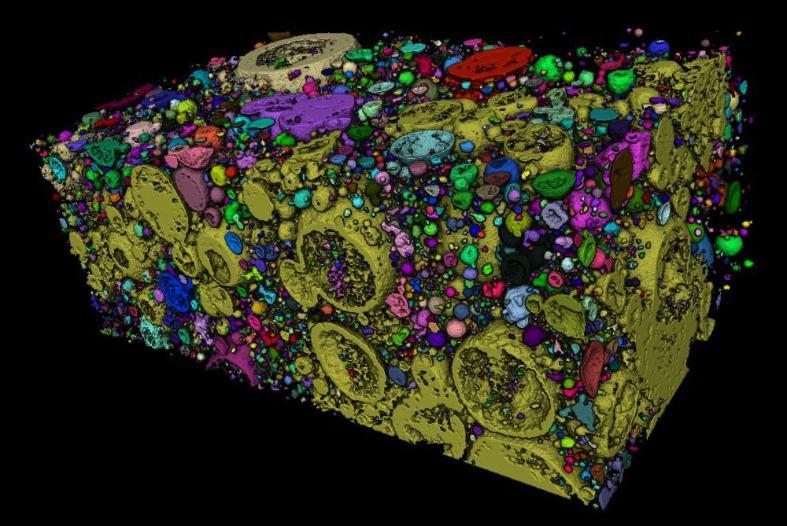 Image: reconstruction from XCT data of mineralised CO2 in pores in steel slag.
Biography
2015-present - Lecturer in Earth Sciences, School of Geographical and Earth Sciences, University of Glasgow
2013-2015 - PDRA in the Carbonate Research Group with Dr Cedric John, Dept. Earth & Environmenetal Science, Imperial College London
2008-2013 - PhD student with Professor John Wheeler, Dept. Earth & Ocean Sciences, University of Liverpool
2004-2008 1st class BSc (Hons) in Earth Science,
School of Geographical and Earth Sciences, University of Glasgow
Find me online:
Grants
'Legacy Wastes in the Coastal Zone'; NERC Highlight Topic; 2020-2024; £880,000; (Co-I, led by Newcastle)
Carnegie Research Incentive Grant: 'Clumped isotopes' in calcite: a new method for tracking fluid flow in lavas and its implications for geothermal energy generation. 2016-2017, £7030
£2200 from SAGES+ for clumped isotope analysis of steel slag-derived tufas
£2400 from SAGES+ for µCT analysis of cement waste to investigate atmospheric carbon capture
£750 from SAGES+ for microstructural analysis of carbonated slag
£750 from SAGES+ for experiments on capturing wastewater metals with carbonate precipitation
Image: photomicrograph showing fracture-filling minerals in a hydrothermal system.
Supervision
Chris Holdsworth (MSc by Research, 2017-2019), "Understanding temperature and mineralogical controls on mobility of metals in high-pH environments: an alkaline steel slag leachate analogue"
Eilidh Milne (MSc by Research, 2017-2019), "New methods for solution chemistry and laser ablation dating at Glasgow: A Highland geology case study"
Jose Porfirio Del Angel Lozano (PhD, 2019-2023), "A Comparison of Passive Atmospheric CO2 Capture with Steel Slags in Mexico and the UK"
Faisal Khudhur (PhD, 2019-2023), "Determining processes of CO2 capture with steel slags: implications for mitigating rising CO2 levels"
Savanna Van Mesdag (PhD, 2019-2023), "Anthropogenic biodiversity and geodiversity – can legacy industrial waste help offset falling global biodiversity?"
Euan McIntosh (MSc by Research, 2017-2019), "The Loch Maree Group – Economic Mineralisation and Tectonics"
Teaching
L1 Sediments and Seas
L2 Sedimentary lectures and practicals
L2 Environmental Geoscience lectures
L3 Environmental Geochemistry field classes
Residential field classes to Arran and Aliaga (Spain)
Video: teaching on the Environmental Geochemistry field class
Professional activities & recognition
Editorial boards
2015: Subject Editor for the Journal of the Geological Society
Professional & learned societies
2015: Committee Member, Mineralogical Society (Applied Mineralogy Group)