Dr John MacDonald
Senior Lecturer in Anthropogenic Geomaterials

(School of Geographical & Earth Sciences)
telephone: 01413305558
email: John.MacDonald.3@glasgow.ac.uk

505a, Molema Building
https://orcid.org/0000-0002-8609-804X
Biography
Biography
2015-present - Lecturer in Earth Sciences, School of Geographical and Earth Sciences, University of Glasgow
2013-2015 - PDRA in the Carbonate Research Group with Dr Cedric John, Dept. Earth & Environmenetal Science, Imperial College London
2008-2013 - PhD student with Professor John Wheeler, Dept. Earth & Ocean Sciences, University of Liverpool
2004-2008 1st class BSc (Hons) in Earth Science,
School of Geographical and Earth Sciences, University of Glasgow
Find me online:
Research interests
Research Opportunities
"Rocks of the Future: how do anthropogenic rocks form and what challenges and opportunities do they pose?" - a mix of field and geochemical analysis to understand the processes whereby artificial ground becomes lithified to form anthropogenic rocks - the rocks of the future. This could be a PhD or MSc by Research.
Additionally, I am always happy to hear from prospective researchers who would like to work in our group.
Research Interests
My main research interest revolves around carbon and carbonates, focusing these days on atmospheric CO2 drawdown and mineralisation. I use a range of analytical methods to investigate 2D and 3D microstructure and geochemical processes to address a range of research questions on:
atmospheric CO2 capture with slag and rocks
pollution from legacy industrial wastes
carbonate mineralisation in hydrothermal fluid flow and geothermal energy systems
I have a particular interest in legacy industrial waste products, particularly the breakdown of iron and steel slags, both from their potential for capturing atmospheric CO2 as well as the challenges they pose with pollution.
https://www.youtube.com/watch?v=2jb-ViAfOAY
Video: context to my research on atmospheric CO2 mineralisation.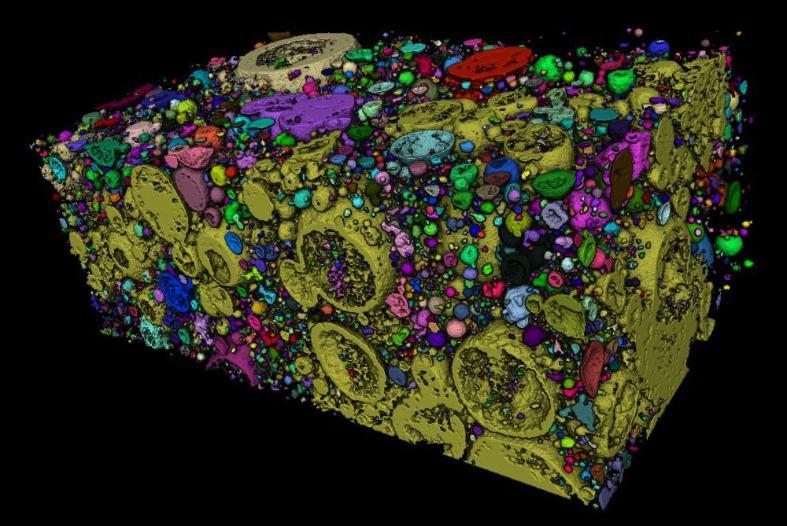 Image: reconstruction from XCT data of mineralised CO2 in pores in steel slag.
Grants
'Delivering a Climate Resilient City through City-University Partnership: Glasgow as a Living Lab Accelerating Novel Transformation (GALLANT)'; NERC changing the environment strategic project NE/W005042/1; 2022-2027; £10.2 M (co-I)
'Legacy Wastes in the Coastal Zone'; NERC Highlight Topic project NE/T003200/1; 2020-2024; £1.5 M (co-I, led by Newcastle)
Carnegie Research Incentive Grant: 'Clumped isotopes' in calcite: a new method for tracking fluid flow in lavas and its implications for geothermal energy generation. 2016-2017, £7030
£40914 from University of Glasgow for Covid recovery pilot data collection on coastal slag bank properties
£2200 from SAGES+ for clumped isotope analysis of steel slag-derived tufas
£2400 from SAGES+ for µCT analysis of cement waste to investigate atmospheric carbon capture
£750 from SAGES+ for microstructural analysis of carbonated slag
£750 from SAGES+ for experiments on capturing wastewater metals with carbonate precipitation
Image: photomicrograph showing fracture-filling minerals in a hydrothermal system.
Supervision
Postgraduate Research Opportunities
I am always happy to hear from prospective students who wish to undertake an MSc by Research or PhD in the following fields of interest:
atmospheric CO2 capture with slag and rocks
pollution from legacy industrial wastes
Current Students:
Teaching
L1 Earth Science - Pollution
L2 Earth Science - Sedimentology
L2 Earth Science - lead residential field classes to Isle of Arran
L3 Environmental Geoscience - various field classes
L4 Environmental Geoscience - environmental policy and planning
MSc Earth Futures - sessions on golbal challenges and research methodologies
Video: teaching on the Environmental Geochemistry field class
Professional activities & recognition
Editorial boards
2015: Subject Editor for the Journal of the Geological Society
Professional & learned societies
2015: Committee Member, Mineralogical Society (Applied Mineralogy Group)