Halting mangrove decline with restoration and rehabilitation
Dr Thorsten Balke and colleagues from Glasgow University, together with local collaborators in Southeast Asia are assessing establishment thresholds for various mangrove species, and developing low-cost field methods to assess hydro-geomorphic site suitability prior to mangrove restoration and rehabilitation efforts. This will improve the efficiency of mangrove restoration and help to increase coastal resilience of tropical tidal coastlines.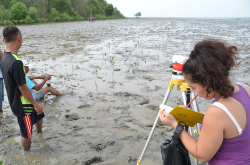 Mangroves provide a multitude of ecosystem services such as coastal protection and carbon storage, yet we are losing mangrove habitats at an alarming rate. Restoration of mangroves has moved to the top of the global agenda yet is often unsuccessful on the ground.
The project is funded by the Newton Fund and the Global Challenges Research Fund.
---
First published: 28 August 2019