Dr Sajjad Hussain
Lecturer in Glasgow College UESTC (Systems Power & Energy)
telephone: +44 (0) 141 330 2439
email: Sajjad.Hussain@glasgow.ac.uk
https://orcid.org/0000-0003-1802-9728
Research interests
I have a PhD in Wireless Communications and Signal Processing. My research interests include Cognitive Radio and Cognitive Radio Networks, Smart Grid Communications and Control.
Cognitive radio and cognitive radio networks
Cooperative and cluster based spectrum sensing algorithms in Cognitive Radio Networks (CRNs) for Cognitive Radios (CRs) equipped with Multi Input Multi Output (MIMO) capabilities are developed. Thus the antenna diversity is exploited to improve the sensing results. Also, Bayesian compressive sensing framework for spectrum reconstruction in Rayleigh fading environment is proposed to reduce the computational complexity of reconstructing ultra wide band spectrum. Moreover, trade-off between spectrum cost and quality of service for a CRN operator is developed to provide delay tolerant services to CRN users. With the objective of minimizing leased spectrum cost, the user requests are served with the sensed spectrum or put in a time bound queue in case of free spectrum unavailability. A novel Medium Access Control (MAC) layer protocol is also proposed for time critical applications in Industrial Wireless Sensor Networks (IWSNs).
Smart grid communication and control
Efficient control strategies are explored to provide a balance between electricity cost and consumer satisfaction in smart grid scenario including DC micro-grids. The optimization is achieved using Lyapunov optimization as well as sliding mode control. An intelligent energy management system is proposed which takes into account the randomness in availability of renewable energies and schedules the user load services accordingly. The user load which is classified into delay tolerant and non-delay tolerant categories is served based on the availability of renewable energies. Moreover, a fluid flow model is introduced as a candidate for characterizing the dynamics of a Stand-alone DC Micro-grid (SDMG) while Sliding Mode Control is used to balance supply and demands.
Grants
International Partnership Development Fund - University of Glasgow: The fund supports research collaboration between University of Glasgow and UESTC, China on the development of 5G SON indoor testbed.
Learning and Teaching Development Fund - University of Glasgow: The fund supports staff-student partnership to improve assessment and feedback process.
Supervision
I am interested in supervising research students in the areas of:
Cross opitimizations algorithms in Cognitive Radio Networks
Communication and control in Smart Grids
5G enabled Industrial Wireless Sensor Networks
Moreover, I am open to discuss any ideas related to futuristic wireless communications paradigm.
Teaching
Currently I am involved in teaching the following courses:
Digital Communications
Microelectronics Systems
I have also taught the following courses in past:
Cognitive Radio Communications
Software Defined Radios
Smart Grid
Stochastic Processes
Digital Signal Processing
Publications
Number of items: 46.
2019
2018
2017
2016
2015
2013
2012
2011
2009
2008
This list was generated on Sat Aug 24 15:58:55 2019 BST.
Number of items: 46.
Articles
Book Sections
Conference or Workshop Item
Conference Proceedings
This list was generated on Sat Aug 24 15:58:55 2019 BST.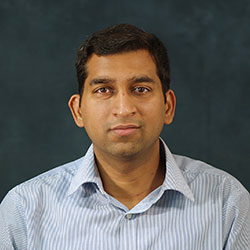 School of Engineering, Room 418, James Watt South,